Neutral
Join Date: Feb 2015
Location: Phoenix, AZ
Posts: 14
After market muffler
---
Looking for suggestions on what aftermarket exhaust pipe to use.
I had the Supertrapp but that thing blew apart twice. I now have the fmf Q4 with the powerbomb header.
---
94 KLR,tank guards,sw motech centerstand,Doo done, african switch,mirror dampners, powerpegz, twisted throttle fuses, aluminum skidplate, Bigcee shark disc and jug holder and subframe upgrade, progrip grips,maier handguards/brushguards, avon distanzias,fmf q4 exhaust, headlight guard, handlebar risers, billet rear brake reservoir bracket and guard, dual star shifter,garmin 2820 gps, tmod,disc cover, pcv mod,corbin flat
OverDrive
Join Date: Nov 2009
Location: Lander, Wyoming
Posts: 6,475
Quote:
Looking for suggestions on what aftermarket exhaust pipe to use.
Chunteriv,
The FMF Q4 muffler is a good choice, imo also.
If you are riding a 2008 or newer, you Won't Need the PowerBomb header.
The 2007 and older models seem to Like either the PowerBomb header or the newer 2008 and up header. And they are Both 'Shiney'. A used e-bay 2008 and newer header, complete with Heat Shield is probably less expensive.
Be certain to get a new, head to header pipe GASKET, also.
---
pdwestman
Modify at "YOUR OWN RISK"!

Still riding my 1987 KL650-A1. 85,000+ miles & counting
4th Gear
Join Date: Apr 2011
Location: Kansas
Posts: 1,205
LEXX from rckymtnatv
---
Kawasaki KLR650 - Adventure Lite
Tagged KTM250XCF-W - Rocket
Tagged KLX300 - Trail Tractor
'84 XR250R - Retro Ride
RMZ250 - Dirty
CRF80 - Kids
CRF70 - Kids
I've been looking at getting a pipe. I was leaning towards a Lexx due to the end cap being held on with screws and not rivets (ease of repacking hopefully). My $0.02
---
2013 KLR

16 Tooth sprocket, Doo done, DirtRacks Crash Bars, Bestem 929 top case, Kawasaki tall winscreen, Acerbis Supermoto front fender, LED dash lights and license plate light
Neutral
Join Date: Oct 2015
Posts: 1
Staintune (Australia) are second to none. Light, indestructible, run suppressor in or out (sound) and no repacking.


Sent from my iPhone using Tapatalk
Neutral
Join Date: Sep 2015
Posts: 1
Staintune muffler
---
Great product BUT!!!! I put lowering link 1 1/2 inch on & the tyre rubs on the pipe, great smell of burning rubber
I took it back to them & they bashed the pipe with a hammer to fix it
but on refitting & trying it the same happened, they then wanted to charge $300 to make a new pipe, so I HAVE MODIFIED IT MYSELF WITH HAMMER & VICE so just be aware
other than that a great pipe
5th Gear
Join Date: Aug 2010
Location: Kelowna, B.C.
Posts: 2,810
I've done quite a bit of research on this and have tried a few different silencers. I currently have a Q4 on one KLR and a LeoVince X3 on the other. Thoughts;

- 1) use a gen 2 header; it's mostly just looks but it stays looking decent compared to the clamshell welded gen 1 unit. I don't believe the powerbomb or any other header pipe gives you a noticeable power boost.

- 2) Several of the big name pipes are too loud (2 bros, Yosh, etc.) I try to stay under 96db (and our trail system polices this)

- 3) There are several things to consider
- sound; lower the better
- spark arrestor
- USFS compliance
- weight
- fit
- quality
- maintenance (most need repacking.....only ones that don't AFAIK are the stock one, the LeoVince X3 and the Staintune)
- cost


sooo....the Staintune is said to be a good quality unit but it is ridiculously expensive (and this coming from someone who has spent over $3k in mods on each KLR), and I couldn't get answers to some of my questions regarding fitment, weight and noise level.

The FMF Q4 is .....acceptable as far as noise, relatively inexpensive, fits perfectly, has USFS approved spark arrestor, its very light and is clearanced to miss the rear caliper when the rear suspension bottoms. Only downsides IMO; it isn't the quietest and will require periodic re-packing (the frequency of which is often overstated)

The LeoVince X3 is quieter than the Q4 by a couple decibels and doesn't require repacking....still has good tone (no more sounding like a briggs and stratton lawnmower engine). as a two pce design it is a bit more of a PITA to mount and install and it's also a couple lbs heavier than the Q4. Back to back drag racing suggests that the additional db reduction doesn't reduce power compared to the FMF.

I've also heard good things about the bargain basement LEXX unit though some replace the springs with better ones and the packing can also be improved. Like the LeoVince it comes with a variety of tips though IIRC you have to buy the enduro tip separately...which is the one you want.

Hope this helps,
Dave
5th Gear
Join Date: Aug 2010
Location: Kelowna, B.C.
Posts: 2,810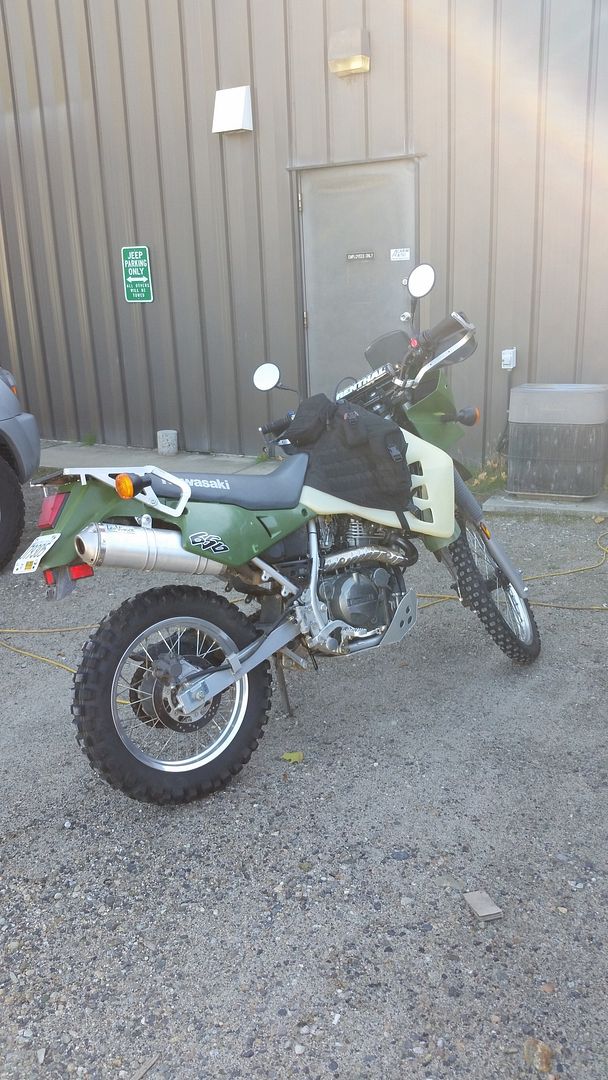 5th Gear
Join Date: Aug 2010
Location: Kelowna, B.C.
Posts: 2,810