2nd Gear
Join Date: May 2008
Posts: 153
New jacket
---
Hey everyone. I'm looking for a new riding jacket. I don't want a 3/4 length. I want a street style jacket, but without all the writing and fancy name flashing. I want some built in padding, and ventilation for the warm weather. Let me know what you guys are wearing.
Rick
I use Field Shear and like it alot. The dual sport set up came with liners that work great for the cooler weather and the outer stuff opens up enough for 95+ riding in the summer. I wish I could remember where I got it at though.
Neutral
Join Date: Jun 2007
Posts: 2
I've got a Power Trip mesh jacket I got from newenough.com. I like it a lot, but I got the black and grey one and wish now that I got a lighter color for the hot weather. (But it matches my '07!) It has the zip out liner, but really if it's colder than 50 f I need to throw on a windbreaker over the top to stay warm enough.
Hmmm . . . just noticed that UFO in that picture!
5th Gear
Join Date: Sep 2006
Posts: 4,700
I have a bunch of jackets. I pick them up, try them, and end up selling them and going back to the standard of all motorcycle jackets, my old Aerostich Darien..
Why have I tried other jackets? Because I'm too cheap to just buy a new Darien.
I bought my Darien used on eBay (again, I'm cheap) and it's served me very, very well and continues to serve me daily.
It's waterproof, breathes very well, has padding, can zip in a heated vest or liner... It does everything... I guess the only complaint I have about it is that it's faded and it's blue..
I hate the fact that most pictures I have of myself riding motorcycles, I'm wearing the old Darien.
Copper Harbor, MI a few years ago
Bonzia Rally a few weeks ago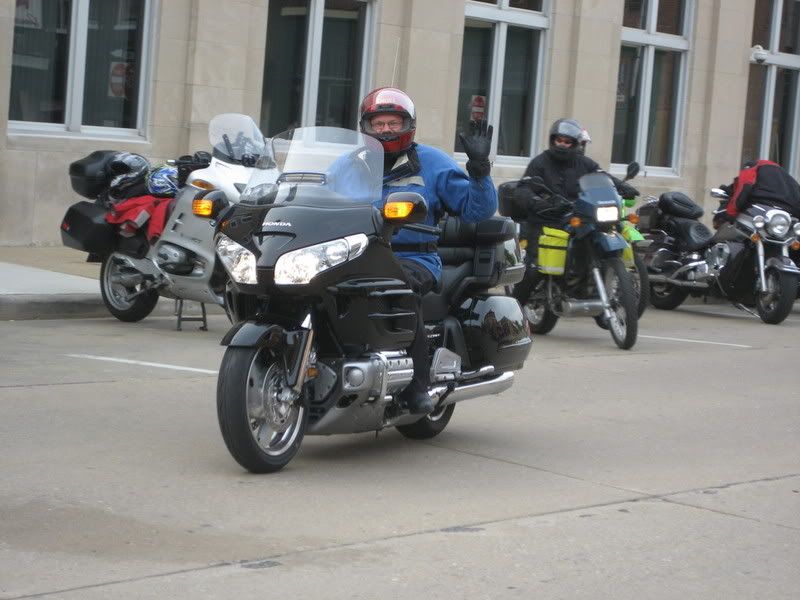 Roaming with the little woman last fall
I hate to admit this, but I have 2 brand new jackets that I haven't ever worn in my closet.. Why?? Cuz I grab the Darien..
I'm going to be at Aerostich on the 12th of July, when another member here, Double A will be buying his new HiVis Darien.. I'll be wanting one too, but because I'm cheap, and the fact that my Darien jacket's fine, I won't buy one...
I think..
Guest
Join Date: Aug 2008
Posts: 8
Jacket Research
---
Hi everyone. I did lots of research and checked with some friends. My research led me to a Fieldsheer Aviator Jacket from Revzilla in Boise. I used the jacket for the first time this morning and it repelled a light rain really well. Temperature was about 48 and I did not feel the cold. I got the Black/Yellow/Silver color and I'm happy with my purchase. The liner comes out so I think it will be nice for warm weather also. I paid $125.
I use a Rhyno, matching pants as well. Comes with removable inner linners and has boby protection built into the back, shoulders, elbows as well as the knees and hipps.

I recently drove to Duluth to the Areostich Rally and on that trip it rained for six hours. The outer shell was completely soaked and the inside remained dry.

As this suite is now 5 years old, I am not sure if they are still available...priced then at $800.00 cdn.

It can also be worn as a warmer weather snow mobile suite...work great to -15 C.
---
BackRoader
2011 BMW R1200GS
2010 HD Heritage
2004 Kawasaki KLX400SR
1978 Yamaha XS650SE
1967 Honda CD125A
Guest
Join Date: Aug 2008
Posts: 8
Jacket and Pants
---
To go along with my Fieldsheer Aviator, I just ordered a pair of the Fieldsheer Apollo 2 riding pants, and after I use them, I'll let you know my thoughts. It's already getting cold up here in the Rapid City area so I expect that I'll be throwing these on for my daily morning ride to work.
---
'06 KLR650
'06 DL1000 V-Strom
VTX1300R....Gone
Guest
Join Date: Aug 2008
Posts: 8
Fieldsheer Apollo pants
---
I've now used these pants on and off over the last few weeks. Pants are warm and the pads are all in the correct place. The only issue is that they fit tight down near legs so you can't take them off or put them on with boots. I still think they are a good value and they've kept me warm on cold rides (35 degrees a few days ago). good luck!