Neutral
Join Date: Nov 2015
Posts: 4
Looking to buy tires. Help me.
---
I just purchased a 2009 KLR with 3,200 miles that needs both front and rear tires. I plan to ride about 50/50 on and off road. Any suggestions based on your experiences? I plan to ride from Iowa to the Fort Collins Colorado area on non-paved roads as well sometime next summer. What do you think?
I just used up a set of Michelin T63's.

It's a full-on knobby. Barely street legal and they stick like glue on and offroad.
Best tires I've ever run but the tradeoff was mileage. Got 3,000 front and rear.
The rear was going bald and the front cupped, flipped around, and wore itself down.

If your thing is aggressive dirt riding, these are the ones for sure.

For aggressive street riding don't waste your money as they will scrub down to nothing
in one summer.

I ride very hard on the pavement doing panic stops, wheelies, race launches just for
fun, very low lean angles, top speed checks, etc.

On mother nature they tracked most predictably and didn't break loose unless I was
trying to by giving it some throttle and kicking out the rear end.
They suck in loose sand and mud but I think that's the 430 lb elephant/ motorcycle
they are mounted to. At about 35 mph they ride up on the sand and get very nice
n' controllable. Killer traction for hillclimbing, rocks, semi packed trails.

I'm trying the less aggressive Shinko 705 next on the back. Back to the full dirt,
non-DOT knobbies on front cuz I get them free from motocrossers who toss them
out after a few races in great condition.

There's some really good tires under a hundred bux for a variety of dual sport uses.
BikeBandit.com ships crazy fast and has excellent customer service.
---
This is my son, with whom I am well pleased." ----God
Cheap don't get the 705. I think you will not like it so much. I have them on my wee and hate them. Loud, turn in too fast, not the greatest grip, etc. I have had them step out too many times as well and am ready just to toss them after 2K miles.

I have another set of rims for the wee and have the kenda big blocks which believe it or not are quieter and smoother than the 705's. I'm looking at getting the shinko 804/805 combo on the KLR.

I hope this review is accurate. A member on ADV did this.


---
'01 KLR 650, '09 Suzuki DL650, '08 Suzuki Bandit 1250, '16 CRF1000L, '09 KLX 250s
OverDrive
Join Date: Jan 2011
Location: NW MO
Posts: 5,453
You can't go wrong with Shinko 244's.




4th Gear
Join Date: Apr 2011
Location: Kansas
Posts: 1,205
I'm an aggressive dirt rider, however on the KLR I really like the Shinko 705 or 244. Great 50/50 tires. 705's don't like the mud though. (and I don't either on the pig)
---
Kawasaki KLR650 - Adventure Lite
Tagged KTM250XCF-W - Rocket
Tagged KLX300 - Trail Tractor
'84 XR250R - Retro Ride
RMZ250 - Dirty
CRF80 - Kids
CRF70 - Kids
Neutral
Join Date: Nov 2015
Posts: 4
Thanks all. I want to train to eventually cross the country or a good part of it off-road. This might be a little crazy and even more crazy when you consider that next month I will turn 65! I suspect most of you are considerably younger.
Quote:
705's don't like the mud though.
So true. I thought they could and I ended up rubber up 4 times in 20 minutes. I think my michelin PR2's would have been better or just as good.
I do find that they want to turn in a bit too quick. Just a tad earlier than I expect which takes some getting used to. I thought it interesting that the video I put up the rider had the same experience. From my last 3.5k trip, 1.5 months ago, my fingers tips are still numb from the tire buzz.
Some folks are dumb enough to take sport touring bikes on street tires though!
---
'01 KLR 650, '09 Suzuki DL650, '08 Suzuki Bandit 1250, '16 CRF1000L, '09 KLX 250s
Neutral
Join Date: Nov 2015
Posts: 4
I bought some Michelin T63's in combo. I read a lot of reviews and for the money they seem like a good buy for 50/50 riding. As with any decision there probably will be some trade offs that I will learn about soon enough. But then again trade offs are why most people buy a KLR 650, right?
5th Gear
Join Date: Jan 2011
Posts: 4,716
I'd recommend Kenda K270s or Shinko 244s for the OP; good mileage, passable on both pavement and off road, and . . . AFFORDABLE! 50/50? They're 50/50! Some say the K270 is squirrely on pavement; haven't experienced that myself, but . . . maybe I don't ride aggressively enough on the slab to encounter the phenomenon.
I have Kenda Trakmaster IIs on a separate set of rims; outstanding off-road, but . . . the front tire washes out with serious consequences on hard surfaces (please don't ask me how I kinow this!). This tread is a full-on DOT knobby; pavement mileage probably isn't that great.
Finally, I have a new set of Continental Trail Attacks awaiting any forthcoming long pavement-heavy riding . . . ideal road tire, good in the wet pavement circumstance, not so much in mud, don't trust it too fully off road, but it may be better than I give it credit for--I've kept close to the pavement with previous Trail Attacks;
looks
street-biased to me.
Forced to choose only ONE tread, I'd go for K270/Shinko 244; Dunlop 606s get good reviews, but I have no experience with 'em.
So . . . feed at the tire smorgasbord table where you find the tastes most favorable. Only . . . I don't "get" the Beverly Hillbillies fashion statement, long-range tourers with spare tire casings lashed to their rear rack . . . maybe in Papua, New Guinea, but not within reach of next-day shipping. Maybe that's just ME!
5th Gear
Join Date: Aug 2010
Location: Kelowna, B.C.
Posts: 2,844
I agree with Damocles that the K270's/Shinko 244's are true 50/50 tires. My usage is more heavily biased to offroad, including single track so they aren't "dirty enough" for me. If I was doing a bit more pavement, the T63's or TKC80's would be solid choices but for now I run the D606 rear and an MT21 front. I used to run D606's front and rear but the MT21 front is quieter and doesn't wear funny on the pavement like the D606 front does. This combo offers great dirt traction and I've been satisfied with the street performance....but like all things dual sport, there is a compromise and they don't last all that long if your doing lots of asphalt.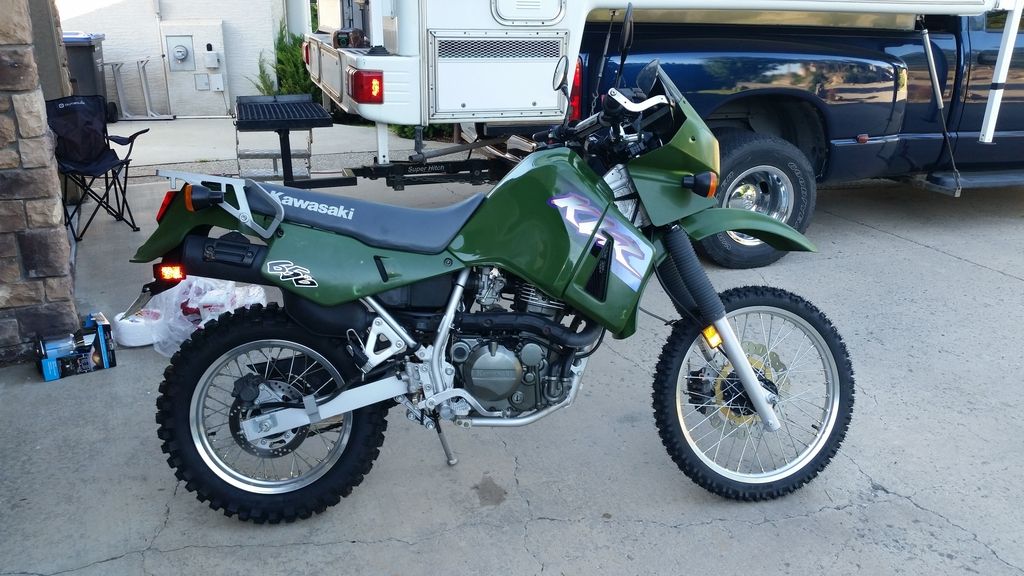 Cheers,
Dave