Givi Rear Case
---
Hello All! I would appreciate your opinion about which GIVI REAR CASE looks better in my black/green 08 KLR???

Thanks,

gelima
Moderator
Join Date: Mar 2007
Location: Fort Sask , Alberta, Canada
Posts: 3,489
I'm using the E30
---
My Kaw Barn - 2004 KLR, 2006 Concours (sold), 1997 Bayou 400.
"It's a friggen motorcycle, it's not supposed to be comfortable, quiet or safe. The wind noise is supposed to hurt your ears, the seat should be hard and riding it should make you shit your pants every now and then. "
<--- Please fill in the 'Location' on your personal profile page. User CP/Edit Your Details

This information makes it much easier for other members to answer/comment on your posts.
V46 - Monokey®
---
What Do You Think Of The Givi V46 - Monokey® ??? Do You Think It Ill Look Good?

Thanks,

Gelima
Neutral
Join Date: Apr 2008
Location: Ruidoso,NM
Posts: 8
I'm running the E-33. I think it's a perfect size for the bike. I can fit alot of stuff in it. Twisted throttle had the set-up with the "Alu-rack".
Thanks, I will take a look. I'm looking for somenthing that doesn't look to big for my KLR.

GELIMA
V46 monokey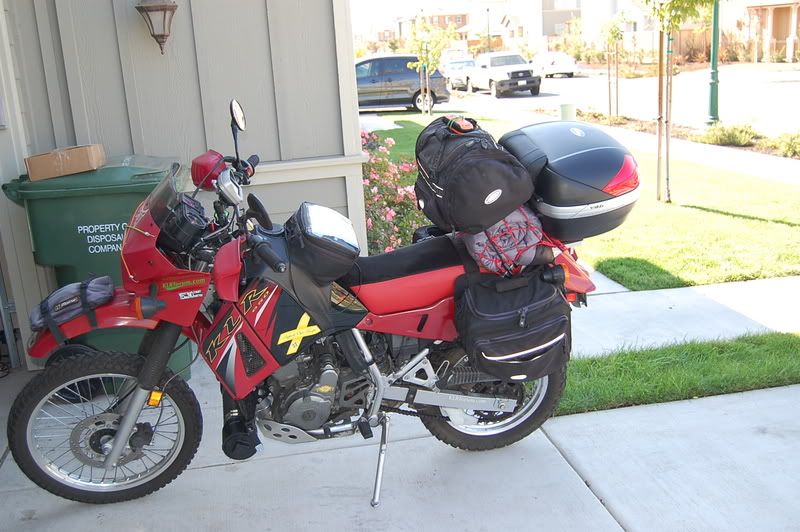 MB4
---
PPMC # 3

Yo! To the brothers.

RIP Darin, Ben, Carey


"I am the muffin man"
---
Last edited by Mark B (4); 02-25-2009 at

06:31 PM

.
What kind of GPS is that? I am trying to decide on one for the Strom...Am looking hard at the new wide NUVI series. Yeah I know they aren't waterproof, but figure I could put it in a map pocket on a tank bag when is wet out.
It is a waterproof Tom Tom Rider 2. I like it for the bike, it comes with a Cardo Scala Blue tooth for all of the cell phones. I was doing 75 on the freeway when my wife called, and she could not believe that I was on the bike... That's how clear it is. (did I just jack the thread?)
MB4
---
PPMC # 3

Yo! To the brothers.

RIP Darin, Ben, Carey


"I am the muffin man"
LOL actually I think I was the jacker. Thanks for the reply. Apologies for the jacking.
Join Date: May 2009
Posts: 12
I have the V46 also and can flip it back and forth from my KLR to my other bike. Looks great on both.