View Poll Results

: Center stand or No?

I support center stands
8
57.14%
I oppose center stands
6
42.86%
Voters: 14. You may not vote on this poll
Undecided...
---
Kinda Undecided myself... have never cared for nor paid much attention to Oil/Oil Pressure and've also seen friends that have a DOPE Book on their Engines including even the exact amount of Oil added 'twixt and during changes... I mean DATA YA'LL.
I'm not stupid, so've always changed Oil/Filter timely, etc, but've never been one to hawk any of the oil details on any of my vehicles ['cept my '76 Vega at 16YO... don't monitor THAT oil situation and you have not a Vega, but a Nova ('No Go' in espanol)].
So far I guess I've been lucky as I often read that many of you 'Data-Freaks' have staved off 'Inevitabilty Mr. Aaaanderson' by knowing the status of your Scooter (and her Oil) at all times!
I've read plenty (from mostly you folks, aka Forums... or Fori if plural?) that spend a GREAT DEAL o' time on the Oil Window.
Now don't get me wrong, all that haggling all ya'll do trying to decide 'how to measure fork oil in a KLR' as well, is time VERY WELL spent so us other folks don't blow up our bikes or ourselves (BTW, suspension fully compressed and spring removed... 'least that's my understanding).

I'm 55 and can still pull the throttle to me, balance the bike, check the Oil window and be confident about my assessment... but!

Times are a changin' and some day (though not THIS day) I won't be so dexterous and Yogi-like that I can do those moves very much longer [Oil Chain w/o Center Stand, Check Engine Oil Level (right to the top of the glass when Bike's level on a KLR, right), or maybe even bump-start a Bike]. I ain't plannin' on dying tomorrow, but I'd do well to make adjustments before I HAVE to make adjustments.

All that to say this, and don't be sensitive Old Guys; I'm one, too... I'll get a Center Stand when I'm older and can't check my Oil Level without hurting myself anymore.

Actually, it sure is a sensible, Farkle, is it, to have on a Bike. Any time I can lessen the risk of a thing (Oiling the Drive Chain), especially since when I'm riding I've already raised up my Risk Level higher than normal, I think it a good thing.

I think maybe I'm just not ready to admit I might like to have a Center Stand, especially when I fancy myself a ParisToDakar LeaderBoard name...


Geez I crack myself up...
5th Gear
Join Date: Jan 2011
Posts: 4,512
While facility checking oil level, and servicing the chain may be advantages of a center stand . . , the most critical benefit, to me, is . . . convenience in removing/installing wheels, servicing FLATS when in the field.
Yes, I know . . . trail jacks are clever; field expedients (appropriately-sized stones, etc.) sometimes are handy, and one can simply lay it down for wheel access. Otherwise, a center stand lends a touch of dignity and elegance to a taxing and disagreeable procedure!
5th Gear
Join Date: Aug 2010
Location: Kelowna, B.C.
Posts: 2,536
The bike is not perfectly level when checking the oil on a centerstand......just sayin' ;-)

Dave
OverDrive
Join Date: Nov 2009
Location: Lander, Wyoming
Posts: 6,013
Many driveways & gas station pads are or can be as un-level fore & aft or side to side as any bike on any center stand, including some OEM center stands.

I've had some customers KLR's in my shop with center stands which had no lever arm on the left. I did not have enough lead in my ass or lift in my RH arm to deploy their stand by myself, even tho the stand was the proper length when deployed. The 'curl' of the forward edge of the stands feet can make a Huge Difference in deployment!
---
pdwestman
Modify at "YOUR OWN RISK"!

Still riding my 1987 KL650-A1. 85,000+ miles & counting
I'm a stand up kind of guy. Love what it gives me in or out of garage.
Pretty in Pink, dunno why
Join Date: Feb 2009
Location: Redondo Beach
Posts: 7,834
Quote:
...Actually, it sure is a sensible, Farkle, is it, to have on a Bike. Any time I can lessen the risk of a thing (Oiling the Drive Chain)...
I can get my bike lifted onto the stick I use as a trail jack and begin oiling the chain faster than anyone can even get their bike up onto the center stand.
And I'm old and decrepit.
---
Tom
[email protected]
"I decided I could lose nothing by the soft approach. If that didn't produce for me—and I didn't think it would—nature could take its course and we could bust up the furniture."
-Philip Marlowe
"'Why'
and
'How'
are words so important they cannot be too often used."
-Napoleon Bonaparte
Sting like a butterfly.
Noli Timere Messorem
5th Gear
Join Date: Aug 2010
Location: Kelowna, B.C.
Posts: 2,536
Do you guys really do that much maintenance trail side? 99% of my maintenance is done in my garage.....with my three bike stands/lifts standing by. I can see the desire for a centerstand if you were planning on doing a tire change or two during the course of a ride that didn't consist of any single track - but that isn't something I've ever done.

I just completed the local HUMM Monashees event this weekend with three KLR's on our team; did about 17 hours worth of riding over the course of two days; about 10% pavement, 60% gravel roads and 30% trails (by time, not distance).... the only thing we did that you could even use a centerstand for was I sprayed the chains with WD after day 1.....just tilted the bikes over on the sidestand until the rear tire was off the ground, spun the tire and sprayed away.....took about 10 seconds per bike.

Dave
2nd Gear
Join Date: Apr 2018
Location: South of Charlotte, NC
Posts: 338
I don't even consider my center stand to have anything to do with the trail. I'll just lay the bike down on the trail. Center stand is for convenience IN the garage. I don't have to lug out that damn lift which is a bear, just pop that stand and prop either wheel off the floor with a piece of wood under the skid plate. Easy smeazey.
5th Gear
Join Date: Aug 2010
Location: Kelowna, B.C.
Posts: 2,536
Quote:
Center stand is for convenience IN the garage.
That I simply can't fathom.
I push the bike over to my work bench, push the lift/jack under the bike with my foot and step on the pedal until the bike is at the level I want. ......MAYBE you could lift it a second or two earlier with a centerstand though you'd have to futz around if you're removing the front tire instead of the rear.
but even if the centerstand was as useful as a bike jack, it still isn't worth all the other negatives IMO.
I have one of these;
and two of these;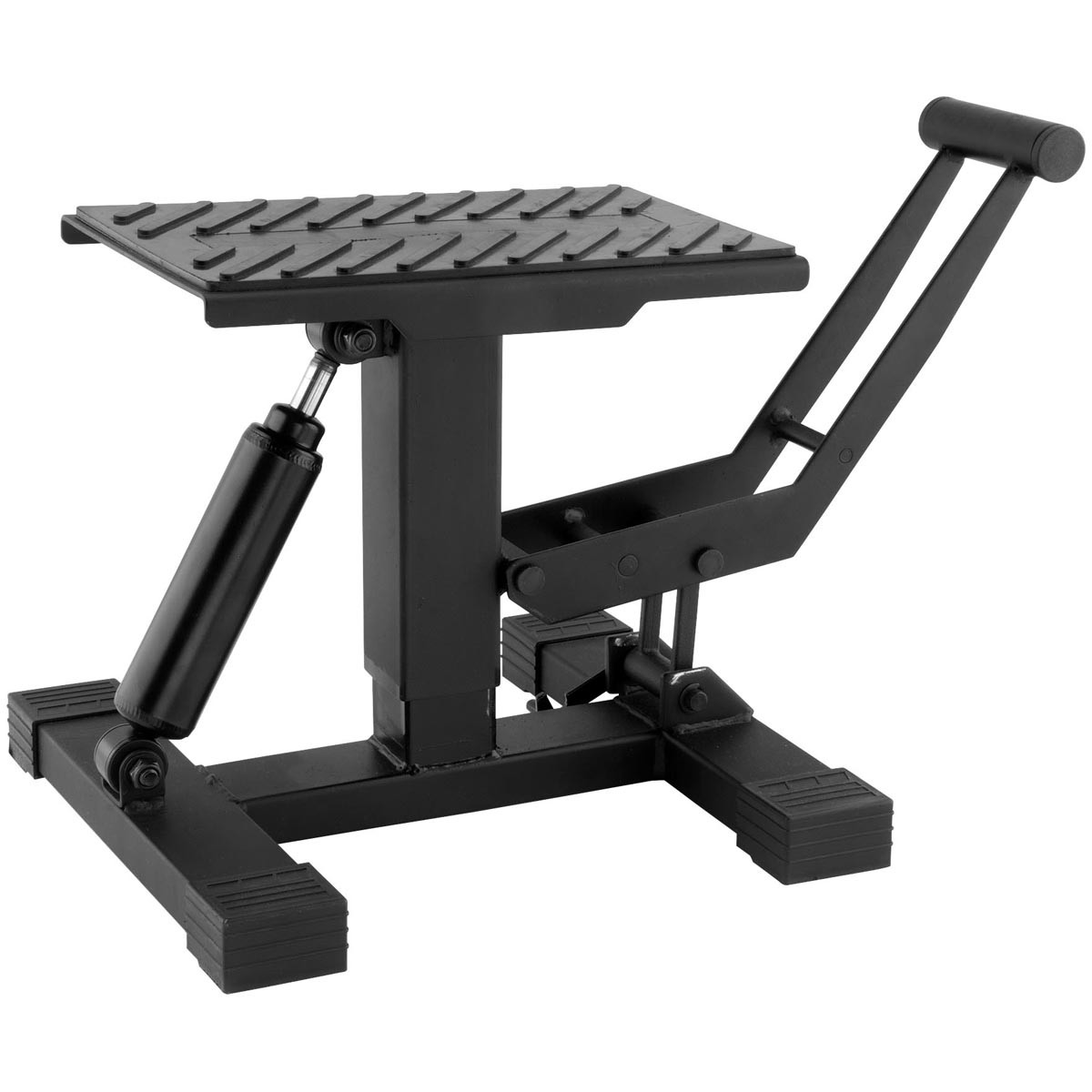 ....anywho, carry on, to each their own and all that.
Cheers,
Dave
Quote:
I have one of these;
Cheers,
Dave
'Got one-a those on CL right before I picked up my '03. Works like a Champ, BUT!!!!!!
Don't frikkin' drop a screw/nut/bolt/NOTHIN' round that contraption because I believe it doubles as a FRIKKIN' BLACK HOLE FROM OUTER SPACE, MAAAAAN!!!
I've made Pals with the boys at my local AceHardware replacing with at least better if not best the hardware on this contraption (DPO was not kind to this bike) and yet I'm afraid when I finally roll the bike off the stand, I'm going to find all the fasteners a KLR could ever need.
... nice thing is, I'll use those for my EmergencyToolKit.
HA!
Seriously, using this JackStand requires covering it with something so it doesn't eat EVERYTHING YOU MIGHT DROP!
CenterStand for EmergencyTireChange... okay, all right, I get it.
And I have to admit that a loaded AdventureBike on a CenterStand sounds a lot more betterer than these funky SideStands with angles of attack that defy most engineering AND ALL geometry!!!
---
Last edited by KLRCraig; 07-25-2018 at

04:50 PM

.