1st Gear
Join Date: Dec 2018
Location: Blue Mountains, NSW
Posts: 17
Advice on luggage options for up front
---
Planning a 6 week outback trip early next year (with a mate also on a KLR). Flinders Ranges, Birdsville, Camerons Corner and wherever else we find ourselves (open to suggestions from those of you who have been out there....)
I have AndyStrapz panniers (on my Tiger 800), so will get the KLR frames for these so my rear end will be sorted.
Now looking into up front options - so

Tank bag - any advice out there on these from those of you have tested them on long trips? The key is both volume and ease of access to fuel cap - may be filling up a few times a day in some long stretches.....
The OEM hits both - as it is expandable and designed to hinge away easily for fuelling - but will set me back $220 (Aus).

Crash Bar/ Tank Panniers - I want to be able to carry some weight up front, so any suggestions for these? I have the SW-Motech bars - my research shows a few types - that either fit inside the frames - or outside- like the Givi Side Bag Set. And then there are those that strap to the tank and hang down.... like the Wolfman Luggage Tank Panniers

I am keen to hear from anyone with experience on these combinations and any drawbacks you found.

Cheers and thank you
Matrid
1st Gear
Join Date: Dec 2018
Location: Blue Mountains, NSW
Posts: 17
Rephrasing the question...
I have no experience with carrying anything up front apart from a small tank bag.

I reckon I'd be able to fit all my gear in the rear panniers/on the seat but figure I should try to balance it out....
So - are the crash bar/tank panniers a good idea for both balancing the weight I'll be carrying and keeping it low?
Any downside to having this extra weight forward?
Cheers
OverDrive
Join Date: Nov 2009
Location: Lander, Wyoming
Posts: 6,480
These questions are best answered by members who live nearer than I do to the Blue Mountains of New South Wales.
They will have a better idea of which brands of luggage are available in your area.
But, I will help drive up your post count and create some activity of your posting.
---
pdwestman
Modify at "YOUR OWN RISK"!

Still riding my 1987 KL650-A1. 85,000+ miles & counting
5th Gear
Join Date: Jan 2011
Posts: 4,707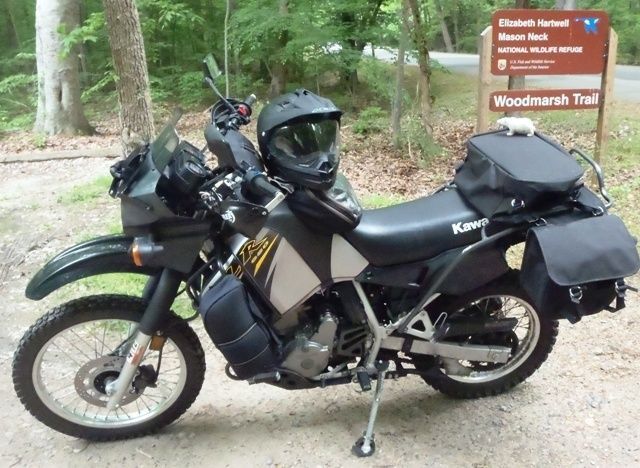 Cycleracks rack; Cycleracks panniers and top case; Kawasaki tank bag and handlebar bag; Happy Trails nerf bags on Happy Trails nerfs . . .
A front fender bag (I have one, but not shown installed) can carry tire irons, spare tube, patch kit; make sure you button it down GOOD (I've lost more than I care to remember).
Kawasaki tank bag has advantage of filler neck cap opening without having to unfasten bag. Handlebar bag most handy. And . . . forgot to mention; Lincoln welding rod holder fastened to bash plate with hose clamps.
And . . . I have a fairing rack by Steadman; one can lash not-too-heavy items (e.g., compressed sleeping bag) there with furnished Fastek straps, or with bungee cords.
P.S. Get your OWN polar bear mascot!
---
"You better put down that gun. You got two ways to go, put it down or use it. Even if you tie me, you're gonna be dead." "John Russell" (Paul Newman), Hombre
---
Last edited by Damocles; 10-06-2019 at

08:47 AM

.
5th Gear
Join Date: Aug 2010
Location: Kelowna, B.C.
Posts: 2,815
Quote:
Rephrasing the question...
I have no experience with carrying anything up front apart from a small tank bag.

I reckon I'd be able to fit all my gear in the rear panniers/on the seat but figure I should try to balance it out....
So - are the crash bar/tank panniers a good idea for both balancing the weight I'll be carrying and keeping it low?
Any downside to having this extra weight forward?
Cheers
On the contrary, I think balancing the load is a much better idea; most of the "wobble" or instability posts I read are bikes with heavy panniers and top boxes.
Dave
1st Gear
Join Date: Nov 2018
Location: Elk Grove, CA
Posts: 89
Quote:
On the contrary, I think balancing the load is a much better idea; most of the "wobble" or instability posts I read are bikes with heavy panniers and top boxes.

Dave
+1 on this, says the guy that spent weeks sorting out instability caused by heavy loads on the rear.
Matrid, Not much advice from me. I did Broken Hill to Cameron Corner 2 years ago. Up front I had the OEM tank bag & a tool tube attached to the OEM bash plate. Last year we did a longer trip that included riding at Waraweena in the Flinders ranges. Smashed the tool tube & bash plate on a rock in a creek bed.
This is just a long way of asking if you still have the OEM bash plate & if so suggesting that you replace it with something more substantial. I now have one from B&B engineering in Ballarat.
On the back I used OEM panniers (not a suggestion they happened to come with the bike) & 2 dry bags strapped down with Andy Strapz.
Enjoy your trip I was very disappointed that I didn't get to go back this year.
I've used tank panniers with great success. Put as much road gear in them as I can. Wolf man is the brand I've used before. Very convenient.
---
__________________________________________________ __

2004 ST1300
2001 KLR650
1st Gear
Join Date: Dec 2018
Location: Blue Mountains, NSW
Posts: 17
Thank you all for your input - pdwestman for your very effective "bump" and Damocles for the detail and photo.
In a few days I'll have the AndyStrapz frames (to fit his Expedition pannierz that I have for my Tiger800) and will then get the OEM tankbag and from there see what my finances can afford - I hope the Wolfman tank panniers!
Cheers
Heh Grant - thanks for mentioning Warraweena - I'd read about the conservation area years ago but it fell off my radar - now firmly back on
No worries, Warraweena has some great riding & scenery but be prepared to take everything you need.
I would have liked a beer after a long days ride but neglected to stock up before we got there. Best to contact them well in advance. The caretaker "Stoney" is a great guy.