2nd Gear
Join Date: Sep 2009
Posts: 257
Front fender bag
---
sources?
wolfman. Good quality.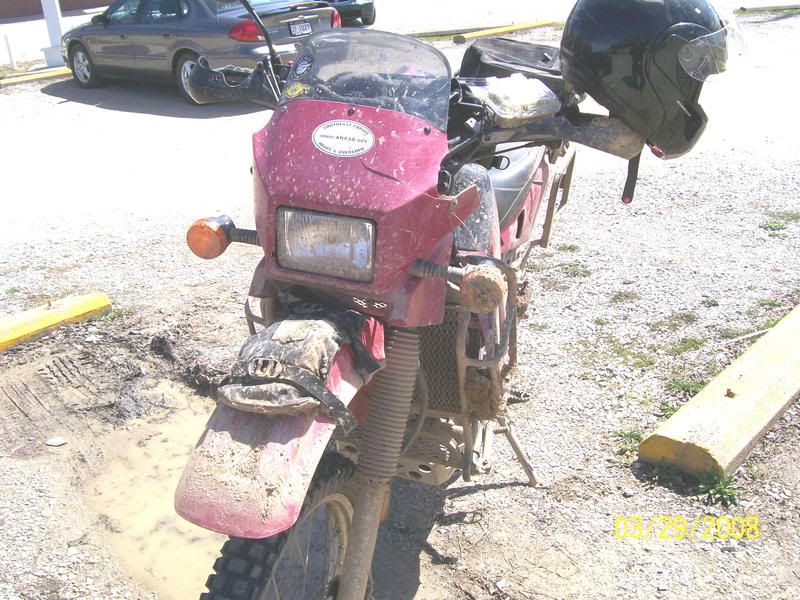 ---
You can't shake hands with a fist
If you can read this,thank a teacher.Since it's in English,
thank a soldier.
---------------
What could possibly happen
---------------
05 KLR The faster Red one
01 Triumph Tiger Sold
08 KTM 990 Adv S
08 Yamaha 250 WR Sold
09 KTM 530 EXC
Moose Racing makes a "Dual Sport" and a "Spare Tube" fender bag. They also will mount on the front fairing above the head light.
---
Tim

2005 KLR 685
2015 Yamaha Super Tenere ES, 5/23/2015
2012 Yamaha Super Tenere; Purchased 7/30/2011; Sold 5/23/2015
Moose and you might want to notch the front fender or not.
---
94 KLR,tank guards,sw motech centerstand,Doo done, african switch,mirror dampners, powerpegz, twisted throttle fuses, aluminum skidplate, Bigcee shark disc and jug holder and subframe upgrade, progrip grips,maier handguards/brushguards, avon distanzias,fmf q4 exhaust, headlight guard, handlebar risers, billet rear brake reservoir bracket and guard, dual star shifter,garmin 2820 gps, tmod,disc cover, pcv mod,corbin flat
Similar Threads
Thread
Thread Starter
Forum
Replies
Last Post
New front fender...?

Lockjaw

2008+ KLR650 Wrenching & Mod Questions

7

02-10-2009

11:57 AM

Low Front Fender

YANKEES6161

KLR & Other Motorcycle Related Discussion

3

12-26-2008

10:12 PM

Front fender wobble

Revs

1987 to 2007 Wrenching & Mods

14

09-09-2007

12:37 PM

Front fender...???

willys

KLR & Other Motorcycle Related Discussion

28

10-10-2006

01:52 AM