Black ABS Tool Tube
---
Wisconsin Building Codes forbid the use of black ABS pipe supposedly due to the gas it releases if your house were to catch fire. Only white PVC tubing is available. So, from all of the box stores to real plumbing stores that I've checked, it can't be purchased locally.

From what I've read, the ABS is stronger (read: less brittle) and would certainly look better on my black KLR than white and no, I don't want to paint the white PVC tube black.

For those of you that have used the ABS tool tubes, how are they holding up? What was the final cost of the tool tube (4" dia. tube roughly 20" - 24" long with cap glued on one end and rubber sealed test plug with wing nut on other end)?

I'd like to free up some room in my pannier and shift some of the weight forward.

Thanks
---
09 KLR650
01 Jeep XJ w/ 200,000 miles as of 3-26-11
OverDrive
Join Date: Jan 2011
Location: NW MO
Posts: 5,376
The black ABS stuff is pretty much indestructible: not saying it would be the sole item that survived a crash, but it's tough stuff. It's much heavier and more durable than the white stuff. If you rap the white stuff hard with a hammer, it will crack: the black stuff won't.

I'm pretty sure I spent around $25-30 total for the tube, four stainless steel clamps and two of those test plugs. It was pretty pointless to use two of the test plugs. Your idea of just a cap glued on one end is much better. I always take stuff out from the same side so one plugged end would have been a lot cheaper. Those test plugs are fairly expensive.

If you decide you want to paint your bright red test plug, that Krylon spray paint for plastics worked well on mine and seems very durable.

You can get a lot of stuff in a 4" tube that's 21" long or so and I think it's a good, low place to carry heavier stuff like tools.




OverDrive
Join Date: Jan 2011
Location: NW MO
Posts: 5,376
Okay, don't ask why I looked this up. I'm bored and I'm kind of partial to Wisconsinites since that's where my wife is from.

When I put in the Zip code for the Menomenee Falls, WI Lowe's, it lists black 4" ABS pipe as available. You might want to check out that store. I think it's fairly close to Brown Deer. My nephew actually lives in North Milwaukee.

It might not be legal in structures, but is used below-ground a lot.

Of course, the local store and Internet info might not match, but it might be worth looking into.




Thanks planalp, I live within rock throwing distance of the Lowe's on Brown Deer road and they don't carry it. Either does Home Depot, Menard's or Home Plumbing Supply. Two of the stores actually had someone that didn't transfer from the paint department last week and said, "You won't find any ABS in Wisconsin." Whether it's accurate or not, I can't say but I haven't seen any yet.
---
09 KLR650
01 Jeep XJ w/ 200,000 miles as of 3-26-11
OverDrive
Join Date: Jan 2011
Location: NW MO
Posts: 5,376
Unfortunately, I'd say if you've got employees that know what they're talking about, my search probably wasn't legit and you might not find any anywhere in Wisconsin.

Do they sell it in Illinois? If it's not feasible for you to venture out of state and buy some, I could pick up a piece of 4" and mail it to you: might be cheaper than driving to Illinois just for that purpose.

When we first moved here (my wife was coming from WI) and we were planning on building a deck on the back of the house, she asked, "Don't we need to get some kind of permit?" I replied, truthfully, "We could build an entire house here without a permit."




I can't find ABS pipe in New Hampshire either. I don't think it's "forbidden" in the state. It just doesn't seem to be used by plumbers, so none of the supply housed carry it (or vice-versa). I work directly with 3 plumbers. When I asked them about ABS pipe none of them had any experience with it.
NH, I wound up ordering the ABS pipe and cap from Lowe's on-line under the following numbers:

4" X 2' ABS DWV PIPE
Item#:256096 | Model#:APCL40002 $10.95

4" ABS CAP 5817
Item#:22815 | Model#:02980L $6.94

Shipping was $5.99

The Lowe's in my neighborhood had the pressure test plug for $5.85.

So, just need to wait for the parts to arrive and pick up some clamps!

Planalp, your guestimate on cost was right on the money!
---
09 KLR650
01 Jeep XJ w/ 200,000 miles as of 3-26-11
OverDrive
Join Date: Jan 2011
Location: NW MO
Posts: 5,376
Glad to hear you got your stuff, sardog1. Show us a pic when you get it installed.




Leave it to Lowes to screw up an order for two parts. I received my parts today only to find that instead of a #5817 cap, they sent a #5803-2 adapter. So, off I went to the Lowes that is less than one block away to return it and was told that since I didn't buy it at that store, they couldn't take it back. After this mess is straightened out, I will never set foot in a Lowes again.
---
09 KLR650
01 Jeep XJ w/ 200,000 miles as of 3-26-11
OK, project complete. For those that are interested, here is a list of parts and details of the tool tube. Overall finished length is 16".
Qty. 1 - 4" X 14.25" ABS Pipe
Qty. 2 - 4" Caps
Qty. 1 - 4" Pressure test plug (red end with the wing nut)
Qty. 2 - 5" to 6" Stainless steel hose clamps
Qty. 2 - 4-1/8" to 5" Stainless steel hose clamps
ABS cement
The finished product is pretty straight forward. The reason I used two end caps was to make it sit even against the highway peg bar. If I'd only used one cap, it would sit cocked. One cap was modified by taking a 4" hole saw and drilling the end out followed by using a flush-cut router bit to make it flush with the inside wall of the cap (ABS routes very nicely BTW!). Since the inside of the caps have a 1/2" raised lip towards the inside of the cap, the extra material acts as protection for the bolt and wing nut on the pressure test plug.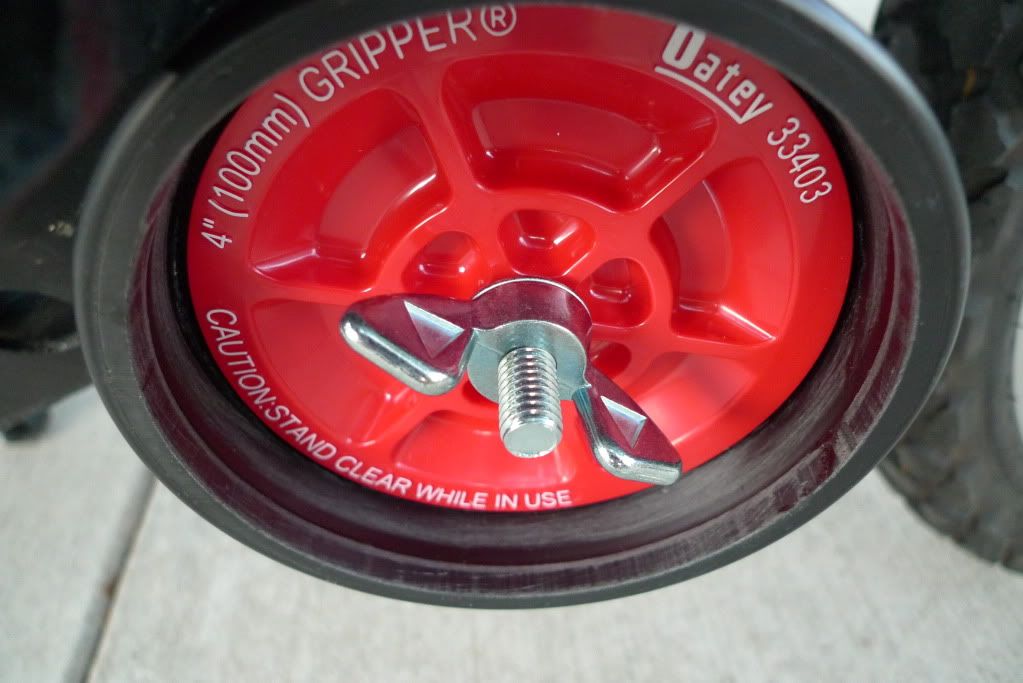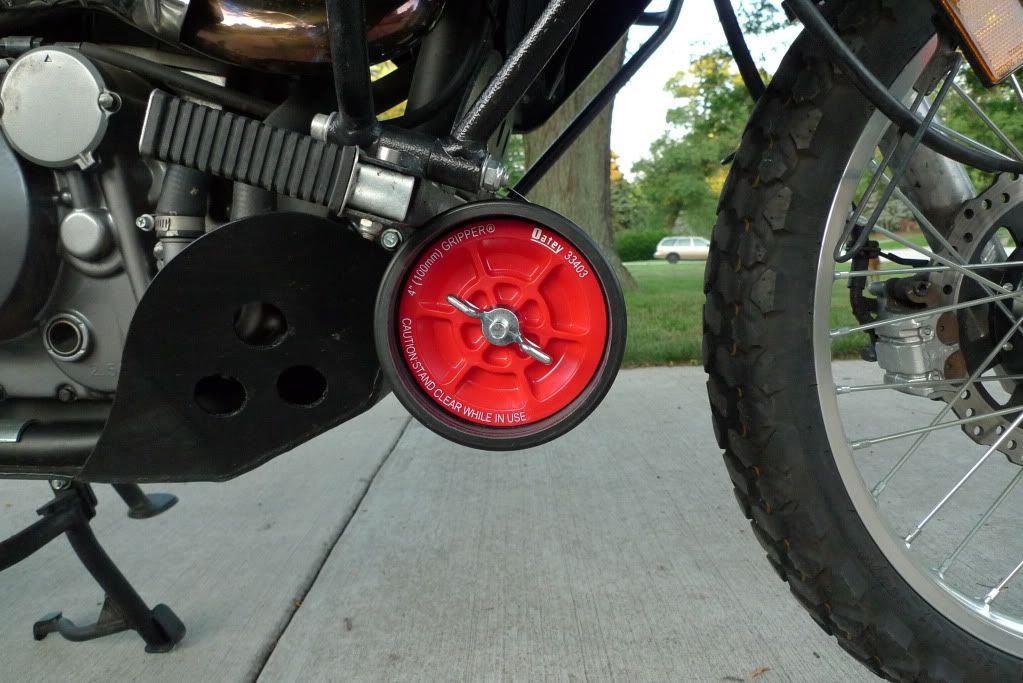 I do have some concern on front wheel travel and possible contact. When I have some heavyweight friends over, we'll compress the fork and see what happens.
---
09 KLR650
01 Jeep XJ w/ 200,000 miles as of 3-26-11