OverDrive
Join Date: Jan 2011
Location: NW MO
Posts: 5,376
Sweet Cheeks
---
I've seen the Sweet Cheeks system mentioned here a couple of times and was wondering if anybody who uses this thing regularly would care to let me know their opinion of it.

I've been using the Stearns ATV seat cover for 2 years, but it still leaves a lot to be desired and I'd like to improve seating comfort but don't have the $ for an aftermarket seat right now.

I also like the idea (noted by some) of using 3" PVC cylinders instead of 2-liter bottles and then carrying tools, etc. in the cylinders.

If you've had any experience with this product, I'd appreciate any feedback you have about it. I know some people have made their own from scratch, but I'd be willing to pay 30 bucks for one if they work.




I use a 3 '' PVC on my highway bar and it works well. Might try uping to a 4" as long as it clears the front wheel.
I experience "hot spots" on my butt with many motorcycle seats. I need something firmer and something to spread out the load. I've had a number of custom saddles made for various motorcycles over the years to relieve these hot spots. Some worked better than others, and all were fairly expensive. When I began using dual sport bikes more and more in my travels, I had to do something about the seat. Russell seats have provided the most relief for me, however, I wasn't laying out another 600 bucks for a seat on a bike I might not keep til the end of the month. I was really leaning towards a BMW 650 for dual sport use. At that point, the seat was my biggest complaint about the KLR. Over the years, I had tried many of the seat gimmicks....Air Hawk, Gel Seats, Sheep skin pads, beads.....some worked better than others, none gave me long day in the seat relief.
After reading a few reviews, I sent off for the Sweet Cheeks. It took a few days to figure out how to best use it. I learned that the firmness could be adjusted by the amount of fluid [in my case, water] in the 2 liter bottles. [When it got cold out, I also learned that the H2o became solid, and very uncomfortable to sit on.] With the Sweet Cheeks, I no longer sit solely on my buttocks. The weight is placed primarily on the back sides of my thighs. I can move the Sweet Cheeks forward, backwards, let air pressure in or out, giving me relief on demand and where needed. I have the rig tethered at all four corners to secure it to the bike, with enough slack to slide the rig backwards out of my way if I need to navigate anything technical. I have a 34 inch inseam, so I'm not really challenged flat footing a KLR. The Sweet Cheeks does raise me up enough on the seat that I have to re-e-e-ach a bit for the ground. If I just go towards the tank, I'm clear of the Sweet Cheeks, and can touch Terra Firma easily. The way I tether the rig, I can raise on my pegs and shove the Sweet Cheeks backwards with the backs of my thighs and I have full contact with the seat. Once back under way, I can raise up on the pegs and pull it forwards under me.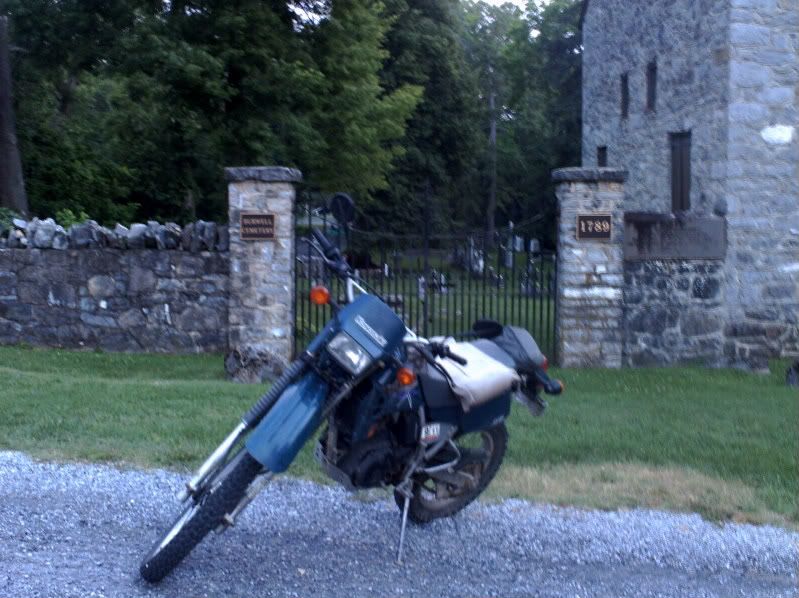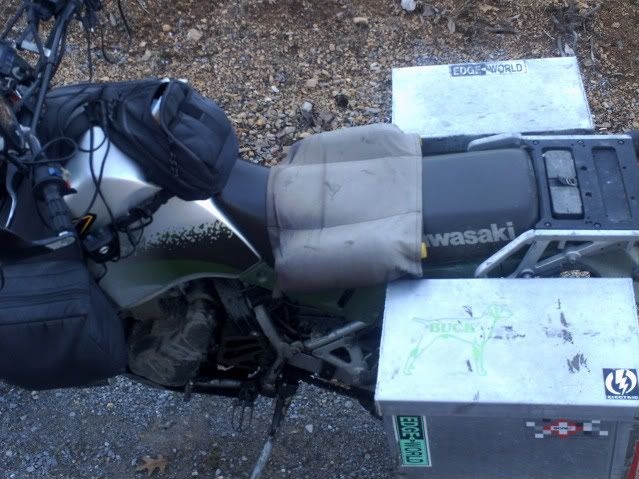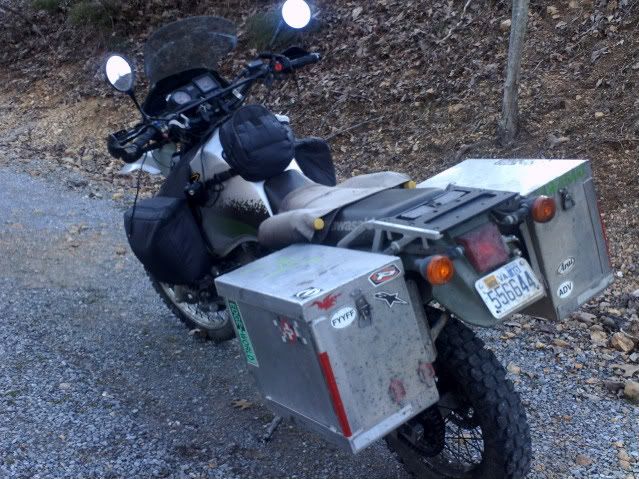 Simple, cheap and effective. The thought of me doing over 50 miles on a dual sport bike without it is unpleasant. It does everything the Russell saddles I have on other bikes does. It has withstood over 60,000 miles of year round use, and a few sudden impacts and slides. In the winter, I run the bottles empty. They crinkle and pop a little when I mount up, otherwise, no problem. I would be concerned about the weight tools would add, if a solid tube was used rather than soda bottles. When camping, I have access to a gallon of water at all times. YMMV.
---
******
"many a trip continues long after movement in time and space have ceased"- Steinbeck, [I]"Travels with Charlie"
[/I]
[IMG]http://i718.photobucket.com/albums/ww187/vatrader01/KLR%20mechanical/04e28c5e.jpg[/IMG]

[FONT="Century Gothic"][I]Sometimes your only available transportation is a leap of faith[/I] [/FONT]
---
Last edited by vatrader; 10-07-2011 at

10:19 AM

.
OverDrive
Join Date: Jan 2011
Location: NW MO
Posts: 5,376
Hey, thanks for the comprehensive review, vatrader. I think I'm going to give the thing a try. There's not much info out there about them, but I haven't seen any negative comments. I just can't bring myself to spend an extravagant amount of money on a seat that I'm not even really sure will work.

As you noted, also a good source of water and I like all the adjustment options available such as how much air/fluid you put in the bottles, adjusting them in relation to the seat, etc. It sounds like you've put yours through the wringer and it's performed well for you.

Hmm. Maybe also a good way to carry some spare gasoline!.......JK

I appreciate the feedback about the product.




OverDrive
Join Date: Jan 2011
Location: NW MO
Posts: 5,376
4th Gear
Join Date: Apr 2011
Location: Kansas
Posts: 1,205
Anyone here have these and not really use them? I'd like to try them out on my uncomfy xl seat but don't want to pay full...
---
Kawasaki KLR650 - Adventure Lite
Tagged KTM250XCF-W - Rocket
Tagged KLX300 - Trail Tractor
'84 XR250R - Retro Ride
RMZ250 - Dirty
CRF80 - Kids
CRF70 - Kids
Re: Sweet Cheeks
---
Savage, I have had a set on mine since almost new. It isnt a Daylong, but it helps a lot once you get them situated for you. Thst is a bit of trial and error.

Sent from my SCH-I605 using Motorcycle.com Free App
2nd Gear
Join Date: Aug 2012
Location: South East Vermont
Posts: 100
Sweet Cheeks
---
Previous owner put a Sargent on my KLR and I have done 500 mile days with a happy....butt....
Sent from
Motorcycle.com Free App
OverDrive
Join Date: Jan 2011
Location: NW MO
Posts: 5,376
Quote:
Anyone here have these and not really use them? I'd like to try them out on my uncomfy xl seat but don't want to pay full...
I could send you mine (sans bottles, of course) and you could try it out and send it back to me whenever you're done. Postage wouldn't amount to much of anything since it's just a piece of fabric.
However, the key to a successful test run would be the width of the seat you're going to try it on. If it's not the same width as a stock KLR seat, it won't work right. If the fabric that goes across the seat isn't wide enough, the bottles are going to ride way too high. If it's too wide, the bottles are going to droop down too far.
I would say your xl seat would have to be within an inch of the width of a stock KLR seat for a proper fit. I believe they come in increments of inches, like 7", 8", 9" etc. and that inch one way or another can make it or break it.