new Givi Trekker cases
---
i fitted these yesterday , very clever the way they work and fit the bike well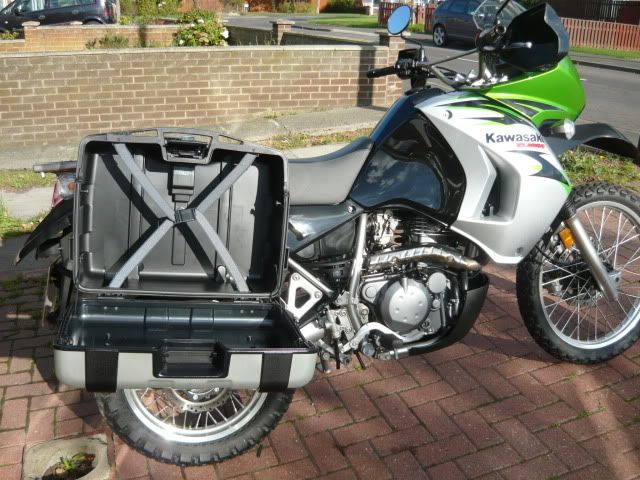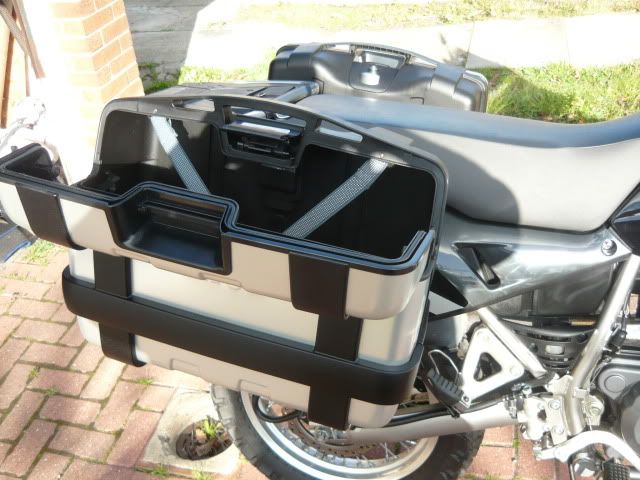 5th Gear
Join Date: Sep 2006
Posts: 4,700
Quote:
they look really good.
Man, I second that!! I like the fact that they open up 2 different ways!!
I'm not going to ask what you paid for them, because with Givi, you get what you pay for.. I'm sure they're not cheap, but they're gonna last the life of the bike..
How are those constructed?? Metal over plastic? I must say, the Givis on my Bandit are much easier to load than the Happy Trails on my KLR because of the way they open (and they are 8 years old)
---
Erik
2003 Bandit 1200S
2009 KLR 650

74 Honda CB360
their made out of plastic with a covering of alloy , their very well made and should take all thats thrown at them , its the way they open that sold it to me
WOW! I've never seen a case that opens up like that. Brilliant idea and they look great on the bike.
---
09 KLR650
01 Jeep XJ w/ 200,000 miles as of 3-26-11
I'll ask, How much were they?
---
94 KLR,tank guards,sw motech centerstand,Doo done, african switch,mirror dampners, powerpegz, twisted throttle fuses, aluminum skidplate, Bigcee shark disc and jug holder and subframe upgrade, progrip grips,maier handguards/brushguards, avon distanzias,fmf q4 exhaust, headlight guard, handlebar risers, billet rear brake reservoir bracket and guard, dual star shifter,garmin 2820 gps, tmod,disc cover, pcv mod,corbin flat
well the cases and the givi rack/stays for them to fit on were £450 = $675 us
For comparison,my HAPPY TRAILS were the 7" (or 71/2") TETONS,33 Liter, very well made,powder coated, two latch-type locks,water proof,etc. They were $599.00. I think an important thing to consider is the weight of the different systems.
Hope this helps any potential buyers, & FWIW:my H.T. System was crash tested @ about 60mph.--not a bit of damage to the boxes/mounting system.
---
~Things work out best for those that make the best of the way things work out~
dont know what the price would be to buy in the states for the GIVI cases they could be cheaper your side of the pond , most things are .
Similar Threads
Thread
Thread Starter
Forum
Replies
Last Post
Givi top boxes

kawasakihornet

Bike and Rider Gear

7

10-27-2013

08:58 PM

givi side cases

drafty

2008+ KLR650 Wrenching & Mod Questions

2

04-06-2010

07:21 PM