1st Gear
Join Date: Apr 2012
Posts: 19
Any suggestions for a good handlebar bag?
---
Something for sunglasses, etc.

Thanks in advance,
Dave

Sent from my Motorcycle iPad app
OverDrive
Join Date: Jan 2011
Location: NW MO
Posts: 5,376
I use the Kawasaki bag and think it's a quality product: heavy construction with good zippers. The velcro attachment straps are robust and hold it securely in place. Around $35.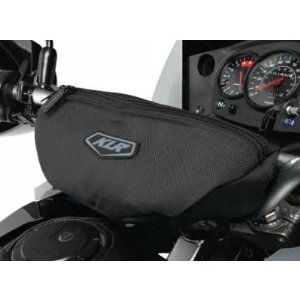 ---
Last edited by planalp; 07-22-2012 at

12:54 AM

.
Kawasaki KLR handlebar bag
---
What Planalp said!
1st Gear
Join Date: Apr 2012
Posts: 19
Thanks guys! Wondered if those were any good


Sent from my Motorcycle iPad app
What Planalp sad also..
---
~Things work out best for those that make the best of the way things work out~
1st Gear
Join Date: Jun 2010
Location: Jackson, MS
Posts: 22
I tried a regular bicycle handlebar bag when I got my bike. It was only about $10 and held a lot, but the way it fit made it rub the top of the tank when turning and would have worn the paint. So, I got the KLR bag. Its made to fit, so no worries and as mentioned is good quality and fastens securely.
Being the cheap guy I am - I found a cheaper solution. Behold, $7.99:
http://www.shopatron.com/products/pr...=ATVHP-B/697.0
(Available in black) Ships free from Amazon with $25+ of super saver shipping products.
I have a ATV logic tank painner and it seems to be holding up just fine. Certainly better than my one month old faded coleman seat cover.
---
2006 Red KLR 650

Modifications:
1)Doohickey Planned and purchased 2)Aftermarket Grips 3)Grip Heaters 4)Happy Trails Hard Luggage Rack 5)20 mm ammo cases planned soon 6)Aftermarket Exhaust 7)Thermobob 8)Happy Trails Fork Brace 9)Stainless Steel Oil Filter 10)Magnetic Drain Plug

See profile visitors post for details and planned mods.