Neutral
Join Date: Jul 2007
Location: Central Indiana
Posts: 5
Tank panniers
---
Has anyone used the Aerostich tank panniers on their KLR's? If so, how did you like the fit?
2nd Gear
Join Date: Jan 2007
Location: Vallejo CA
Posts: 104
Not the Stich brand but I really like the TSC,Sams club,Amazon etc. ATV panniers.
5th Gear
Join Date: Sep 2006
Posts: 4,700
I use the Aerostich copies, while a buddy of mine has an actual Aerostich set. To tell the truth, there's not much difference between them.. The Aerostich material's a little heavier.
I've had the copies that I bought at
http://www.klr650.com/Untnkpan.htm
for a couple years, and I've got zero complaints. Fit is fine. Also, ignore the crappy picture at .com's site.. Here's what mine look like in action.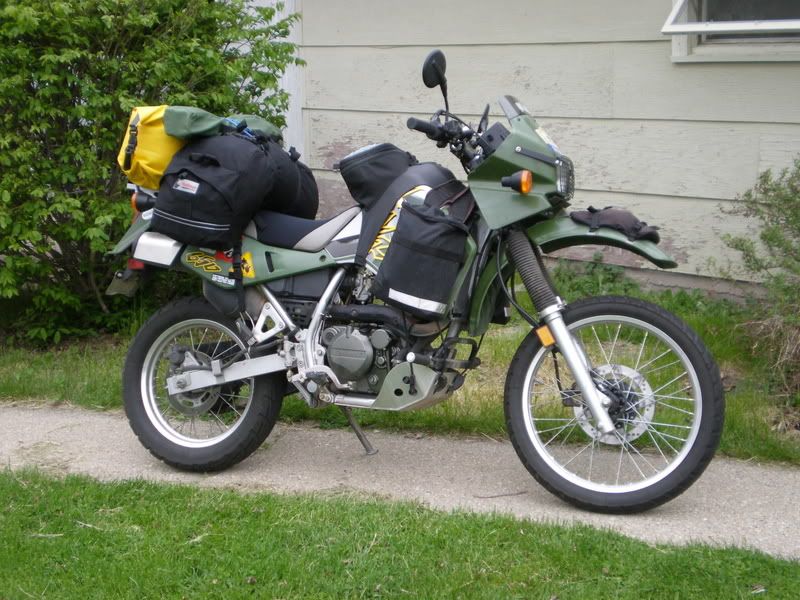 The Aerostich bags fit exactly the same. They're right in front of your knees, and they actually force more air into your radiator, helping cooling. (seriously)
They hold a lot of stuff, and carry weight much lower than a top box behind the seat would.. Mine seldom are off my bike.
Neutral
Join Date: Jul 2007
Location: Central Indiana
Posts: 5
Great! Thanks for the pics. I've got a set of the Aerostich on my BMW GS and was wondering how they might fit on a KLR.
Similar Threads
Thread
Thread Starter
Forum
Replies
Last Post
panniers

awm

1987 to 2007 Wrenching & Mods

21

05-16-2007

06:25 PM