1st Gear
Join Date: Nov 2007
Location: Flathead Lake, Montana
Posts: 21
Total Newb needs advice
---
Hi- I have take several long trips on a Honda touring bike with hard cases,GIVI Maxia, Ortlieb duffles,etc. No sweat. But the KLR has no fairing pockets! I need to gear up the '08 KLR for a long trip first March. This will be Montana to Yuma, then to Baja not on a trailer. I can't quite bring myself to drop $1K. on metal panniers for a first trip and have been told they could break my ankle due to my inexperience on dirt.I need a load of storage because I am packing for cold , heat and camping...
As I read it on this site, I need
*tank panniers - I can't locate them on Tractor Supply, they are out of stock at KLRstuff.... so where are the under-$100. to be found?
*I have a GIVI Maxia-- is this gonna be too much for the rear rack?
*Soft saddlebags? largest and bestest and cheapest?
*I like my GIVI topcase. Are GIVI ( or those JCWhitney versions) sidecases a) not gonna break my leg and b) strong enough if bike gets tipped?
*any suggestions for best place to put a 12V cigarette lighter style socket on this new fairing/dash? OR...?? I have SAE plugs on electric vest/grip wraps, but radar detector has a cig style plug. Or maybe I won't need that on a KLR???
advice welcome for an efficient, safe set up that isn't gonna make me take out a 2nd mortgage.
Guest
Join Date: Oct 2006
Posts: 206
Packing
---
Here is my set up on my last overnight ride of the season.
I'm sporting a set of Ortlieb Drybag saddlebags, Wolfman Explorer Tankbag, and a drybag on the rear rack.
For the life of me I can't remember what was in the tank bag. I think I had a camera, toiletries, maybe my tire irons. Anyway you can fit a bunch of stuff in there and it'll expand if you really need it to.
The Ortrliebs hang over the seat with large velcro straps. I keep them off the exhaust with some Ebay Racks. As a side note those racks came in handy for places to grab when I sunk the bike in half frozen mud. I usually put my cloths, extra boots, tools, and some rain gear in there.
My tent, sleeping bag, and tarp are in the blue drybag on the Rack. Believe it or not I didn't use the tent that whole trip. The night I stayed in Valdez the campground let me use their loner tent so I wouldn't have to pack up a wet one in the morning, and the second night I stayed in the loft of a hanger at the GlennAllen Airport. With a TON of SuperCub parts!!!
Anyway, I like the drybag saddle bags. While I don't think I'm bringing too much stuff I'd like to distribute it a little better.
I really need to install my tool tube at the bottom of the down tube. That way my irons and everything else will have a nice low center of gravity place to live. Spare tubes will eventually go on a fender or fairing bag, and I'd like to get a Ortlieb drybag duffel for my tent, sleeping bag, etc...
You might already have them but some Radiator protection is worth a lot. A guy up here straps cheap backpacks on the crash bars that go around the radiator plastics. I kinda like the setup and might try to copy it for next season. I'll see if I can find a pick.
OH yeah. I've also got a tripod, quart of oil that eventually fell off, and sleeping mat in held on by at bungee net.
Have a fun trip. I'll be in the office
Brian
5th Gear
Join Date: Sep 2006
Posts: 4,700
Tank Panniers
---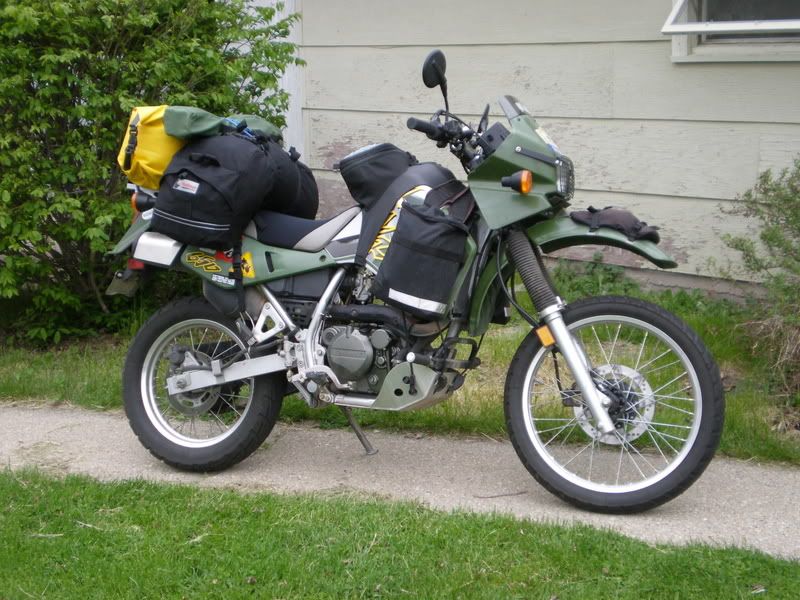 Tank Panniers $74
http://www.klr650.com/Untnkpan.htm
Tank bag $43 (out of stock, but the Kawi version is $55 at your dealer, and the only difference is that it has a Kawasaki tag inside)
http://www.klr650.com/exTnkBg.htm
I've had both these items on my KLR for several years. I never take them off, and when sprayed with waterproofing, keep pretty watertight.
---
Last edited by Paper; 11-11-2007 at

08:36 AM

. Reason: Additional photo
5th Gear
Join Date: Sep 2006
Posts: 4,700
As far as the Givi topbox, I'd do the sub-frame upgrade (better or bigger fasteners).
The Wolfman Alpha bag was designed for the KLR and holds a ton of stuff, and is pretty watertight, and I think they make a completely watertight version now.
I use the drybag for my sleeping bag, and the Alpha bag has the straps built into it to retain it (or use the Wolfman tail duffle for the Alpha)
You'll find the KLR group full of well thought out, efficient suggestions for luggage.. Oh, and we're cheap, too..
1st Gear
Join Date: Nov 2007
Location: Flathead Lake, Montana
Posts: 21
thanks for advice and pics--well I'd love to be getting this stuff
---
but both tank bag and tank panniers are out of stock. how to find out "when available"? I need to get geared up over the next month or so.

I wondered about the GIVI box being a lot of weight. I guess i'll try the expedition bag this time. This does not require a rack to keep it off the exhaust, does it? that would save me some $$, yes?
I have both med and large Ortlieb bags that I assume will strap on rack behind the big thing. Then it'll be an adventure in itself, just getting my booted foot over the seat...
and.... what is the least # of bash plates/skid bars/radiator guards/hwy peg assemblies,latte holders/etc. that i can get away with for a first trip???? PS I like the 'strap some cheap backpacks on' school of thought. just where do you strap them??? this KLR is like a newly discovered species to me..... but i like it!
5th Gear
Join Date: Sep 2006
Posts: 4,700
Quote:
how to find out "when available"?
His 800 number is on every page on the site. Give him a jingle..