Dash Guages
---
So I made a dash guage for myself, pattern supplied here from someone, and need to fill it up. For those of you that have guages what do you have and where did you get the ones you like. I have been looking around and not really seeing what I want. Clock, volt meter, temp guage, etc...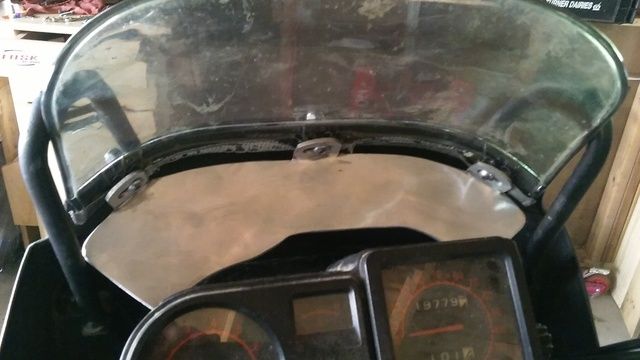 ---
'01 KLR 650, '09 Suzuki DL650, '08 Suzuki Bandit 1250, '16 CRF1000L, '09 KLX 250s
Pretty in Pink, dunno why
Join Date: Feb 2009
Location: Redondo Beach
Posts: 7,791
The coolant temperature gauge is pretty accurate, at least on my Gen 2.
I use a Trail Tech TTO temperature gauge (
Trail Tech || TTO Temp Meter
) to read the oil temperature at the test port and the coolant temperature at my Thermobob 3. Both are left over from doing oil testing on the PDW mods and from doing coolant temperature testing for the T-Bob 3. I have two sensors and a switch going to one gauge.
For ambient air temperature I use a stick-on thermometer designed for reptile cages. The typical stick-on car thermometer that you put in your clapped out '71 Vega is ridiculous; they read from -20F to 140F. The range of interest is so compressed you can't read it. For much of the thermometer's range you'd either be dead or wishing you were.
"Reptiles pretty much like the same temperatures we like to ride in, and the thermometer reflects that", Tom said hotly.
The reptile thermometer (
I have a Jegs oil pressure gauge connected to the cam banjo, in parallel with a Ninja pressure sensor, both courtesy of Paul (pdwestman). I don't recommend that you install either to the cam area unless you like to be frightened or unless you have done his mods to the oil system. Put a port in the filter cap. Easy to cheaply undo.
I used to have one of those strip gauges (
http://www.ebay.com/itm/LED-Auto-Car...-/121160176396
) that did ambient temp, voltage, and time. It kept getting filled up with water, so I ditched it. I no longer care what time it is. The sun is up or it ain't, so it's either daytime or nighttime.
Tom
---
Tom
[email protected]
"It could have been a beautiful friendship. Except for the ice pick, of course."
-Philip Marlowe
"'Why'
and
'How'
are words so important they cannot be too often used."
-Napoleon Bonaparte
Sting like a butterfly.
Noli Timere Messorem
---
Last edited by Tom Schmitz; 05-19-2016 at

03:51 PM

.
I am wondering what stick on clock works best...

And I can Recommend a "Datel" voltmeter..(digital) to install in your dash..

An in dash digital compass would be cool...
---
2016 Digital Camo KLR Eagle Mikes Drill thru bolts, Thermobob, KLX kit, airbox opened, LED quickflash tail light, LED headlights and dash lights, Nomad Rider Crash Bars, Garmin 640 GPS, KLR Dash, ZG Windshield. 2" Rox risers, Tusk Hand Guards, Shoria Batt, Outback Motorack skid plate.
Outback Motortek's rear racks w/ Wolfman Expedition bags..
Moderator
Join Date: Mar 2007
Location: Fort Sask , Alberta, Canada
Posts: 3,520
I have a dash but not much as far as gauges. I've got a voltmeter mounted in it and a switch and LED indicator light for my heated grips.
---
My Kaw Barn - 2004 KLR, 2006 Concours (sold), 1997 Bayou 400.
"It's a friggen motorcycle, it's not supposed to be comfortable, quiet or safe. The wind noise is supposed to hurt your ears, the seat should be hard and riding it should make you shit your pants every now and then. "
<--- Please fill in the 'Location' on your personal profile page. User CP/Edit Your Details

This information makes it much easier for other members to answer/comment on your posts.
Quote:
I am wondering what stick on clock works best...



And I can Recommend a "Datel" voltmeter..(digital) to install in your dash..



An in dash digital compass would be cool...
I mounted an old watch face and am pretty happy with it. Took the band off and zip ties it to my handlebars. Waterproof and takes a licking
Similar Threads
Thread
Thread Starter
Forum
Replies
Last Post
Dash Lights

UKbri

2008+ KLR650 Wrenching & Mod Questions

2

04-20-2014

10:00 PM

Dash install

yamadog

Gadgets & Gizmos

5

12-05-2011

09:01 PM

My custom dash...

JWP6114

1987 to 2007 Wrenching & Mods

8

11-21-2008

08:31 AM

Custom dash Q????

JWP6114

Gadgets & Gizmos

5

07-14-2008

07:41 PM