1st Gear
Join Date: Oct 2008
Location: Rupert, Idaho
Posts: 35
Can you recommend a good tank bag?
---
Hello, Can you tell me of a good tank bag that fits the KLR tank well and won't get in the way?

-Mike
---
Mike "Maddog" Mecredy
Retired U.S. Air Force
A.C.B.C.S.
I think for fit and function it's hard to beat a Wolfman tank bag. I've made do with something else but it has been less than ideal.
Moderator
Join Date: Mar 2007
Location: Fort Sask , Alberta, Canada
Posts: 3,548
Definitely the Wolfman!
---
My Kaw Barn - 2004 KLR, 2006 Concours (sold), 1997 Bayou 400.
"It's a friggen motorcycle, it's not supposed to be comfortable, quiet or safe. The wind noise is supposed to hurt your ears, the seat should be hard and riding it should make you shit your pants every now and then. "
<--- Please fill in the 'Location' on your personal profile page. User CP/Edit Your Details

This information makes it much easier for other members to answer/comment on your posts.
3rds for the Wolfman!!!
With the caveat that it does sometimes get in the way when standing on the pegs in the dirt. Otherwise it's stellar
---
You don't know unless you ask.
Check out my website
www.dantesdame.com
<--- rides! rides! rides!
Gotta stand behind the Wolfman I have used on two KLRs and a DL1000.
---
Tim

2005 KLR 685
2015 Yamaha Super Tenere ES, 5/23/2015
2012 Yamaha Super Tenere; Purchased 7/30/2011; Sold 5/23/2015
1st Gear
Join Date: Apr 2007
Posts: 40
Wolfman Expedition
---
2007 KLR
2008 Concours 14

corbin seat, doohickey, agm battery, subframe bolts, progressive springs, stainless brake lines, anti vibration mirrors, wolfman expedition tank bag, panniers, electric outlet for gps, clock, moved license plate, magnetic drain plug, mefo explorer 99 tires, 320 mm Rotor with Galfer green pads front and black on rear
I bought a Fieldsheer Contour tank bag and like it. Fits my '08 and looks rather sharp. Brought home a gallon of milk and bag of cookies in it (really, what more do you need - those are staples) without expanding it. Several pockets that are nice in size. There's my $.02.
5th Gear
Join Date: Sep 2006
Posts: 4,700
I like the Kawasaki bag.. Fastens well, has plenty of room and it doesn't need to be moved to fill the tank. $50 well spent..
Wolfman. Fastens well,and when riding off road is out of the way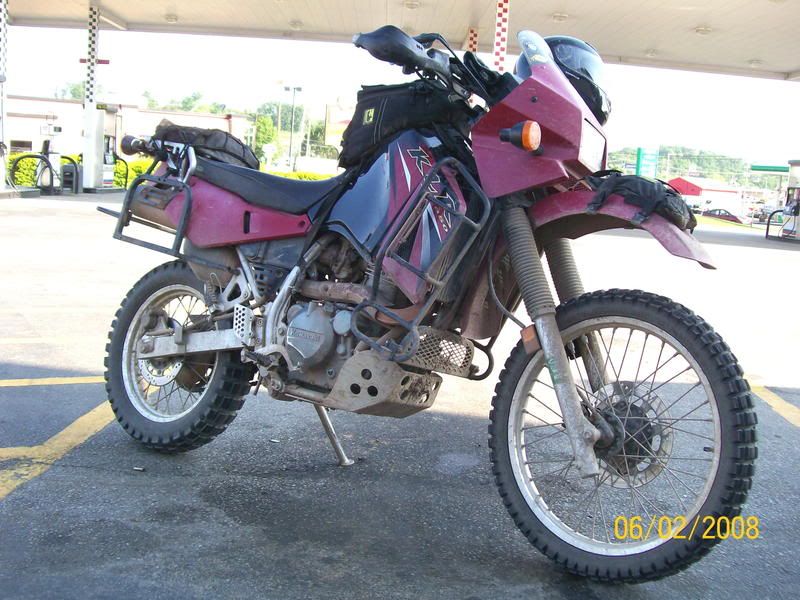 ---
You can't shake hands with a fist
If you can read this,thank a teacher.Since it's in English,
thank a soldier.
---------------
What could possibly happen
---------------
05 KLR The faster Red one
01 Triumph Tiger Sold
08 KTM 990 Adv S
08 Yamaha 250 WR Sold
09 KTM 530 EXC
1st Gear
Join Date: May 2008
Location: Greensburg, PA
Posts: 15
I have a Wolfman Enduro, a bit small, but I'm still very happy with it. The quality of manufacture is fantastic, well worth the extra$$$. Sometimes I wish I would've stepped up to the Explorer, however, the smaller Enduro has never let me down.
---
Mike
2006 KLR 650
JD Jetting jet kit, Jardine slip on, TwinAir filter, airbox cut, shortened wind screen, MSR skid plate, Wolfman tank bag, Avon Gripsters F&R, a few other little things...