Low Oil Pressure light installation
---
Low Oil Pressure light installation.
A previous post brought up the question, "Why doesn't the KLR 650 come with a low oil pressure warning light". I thought a warning light could be done on the cheap or a gauge added at about double the price.
Two ideas came to mind as far as where to mount an oil pressure switch or gauge port.
1. The upper banjo bolt that delivers oil to the cylinder head. This would show pressure downstream of the oil filter at the last easy place before the cams. Trying this idea first, I took a wild guess on E-bay and
bought an oil pressure switch, with banjo mount for $19 delivered. This was listed to fit a '86-'09 Ninja 250. This would have fit. After taking the banjo bolt off of the KLR, I found that the bolt's oil hole drilled very small. I believe it was drilled small to act as an orifice. The Ninja bolt has two large holes that would pass much more oil. I wasn't willing to find out what this would do to the oil system in the real world so it was on to location number 2.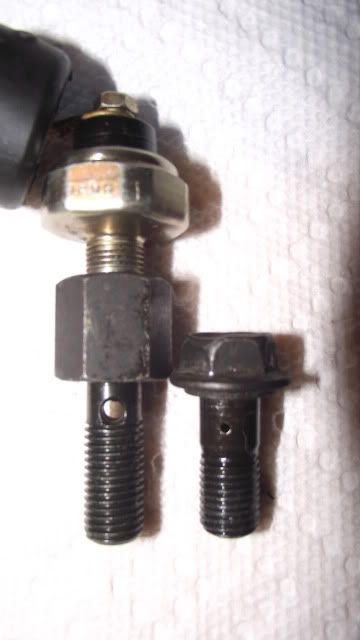 2.The oil pressure gauge port down by the oil level sight glass. If you follow the "bump" coming down from the oil filter cover there is a cap at the bottom. Oil pressure here is after the pump but before the oil filter. This spot is easy to get to, and the factory service manual lists the proper pressure you should be seeing if you decide to mount a gauge. This cap has an O-ring in it for sealing and the threads are 10mm X 1.25. Every oil pressure switch I could find was 1/8" NPT threads. Looking for an adapter locally, all I could find was 10mm x 1. An internet search found a few, but at $20 or so plus shipping, I wasn't feeling it. Instead the plan was to drill and tap the factory cap. I picked up one from the dealer along with a new O-ring. If you don't have a 1/8 NPT tap to tap the cap, the auto parts store will have this. A trip to the auto parts store scored a new oil pressure switch too. I just went with a switch I know well. The switch is used on about all the Mopar's from the 60's through the 80's. I asked for an oil pressure switch for a 68 Dodge Dart with a 318. They will ask whether it's for a light or a gauge. This is for a light. This switch sat a bit too close to the frame for me. There may be smaller ones out there, the counter people were not willing to let me dig through the parts bin. A 90 degree elbow was added for better clearance and protection. Lowes plumbing section has a 1/8" male to 1/8" female elbow. With this the switch sits above the frame under the water pump. If you have an aftermarket bash plate I believe this setup will be well protected.
Assembly…
Drill the cap in the center all the way through with a small bit. I used a #43 bit, .089".
Drill the top of the cap with a 21/64" bit only deep enough to thread with the tap. Too deep will weaken the bolt head/ shank joint. Clean cap, add O-ring and install on motor.
"Paint" a bit of thread sealant on the male threads of the brass elbow. Thread this into the cap tightening it until it's facing where you want it. Screw in the pressure switch. This should come with thread sealant already on it.
All you need now is a light, some wire and a "key on" power source.
I have the Vapor dash, so it was easy to use one of the lights from that. Most auto parts or boat shops should have a small accessory light if you need one.
Find a key on power source (like the extra wire "city lights" on first gen KLR's). Wire this to one side of the light and the other side is connected to the oil pressure switch.
If it's working correctly, the light should come on when the key is turned on then go out immediately after startup.
Prices and part numbers…
Plug, Drain #92066-1156 $4.06 from dealer.
O Ring 11mm # 670B2011 $ .57 from dealer.
1/8" male / 1/8"female brass Street elbow # 87066 $4.38 from Lowes.
Oil Pressure switch # S310 $6.99 from O'reilly auto parts.
1/8-27 NPT tap #95201 $4.99 from O'reilly auto parts.
Already had wire the light and connectors "in stock". Add in about $6 tops if you don't have these.
All in all this was an easy project. If you want to try this do so at your own risk. I'm no expert and assume no liability. Changing a motorcycle out of its stock configuration can and will cause death, dismemberment, void of warrantee AND engine failure. –Tom.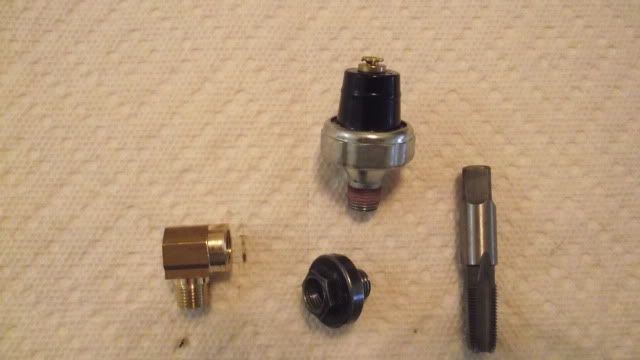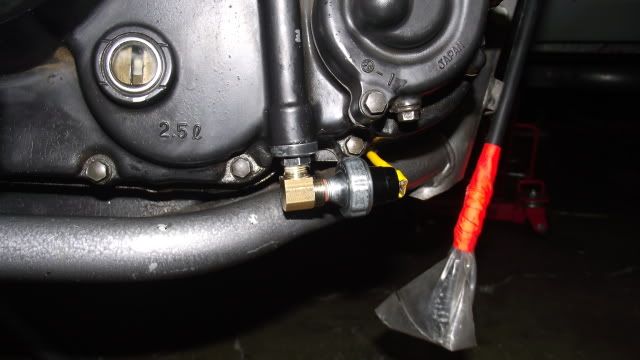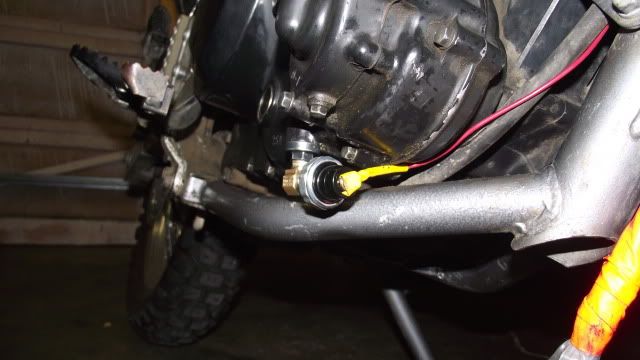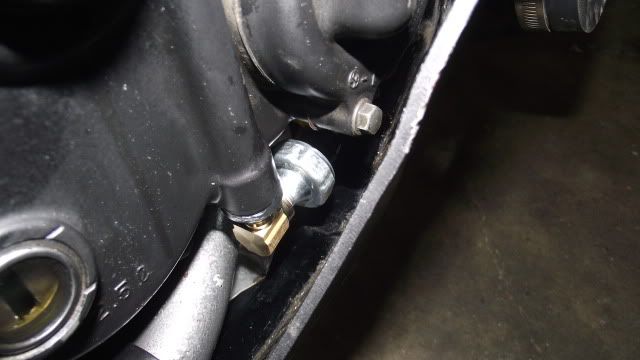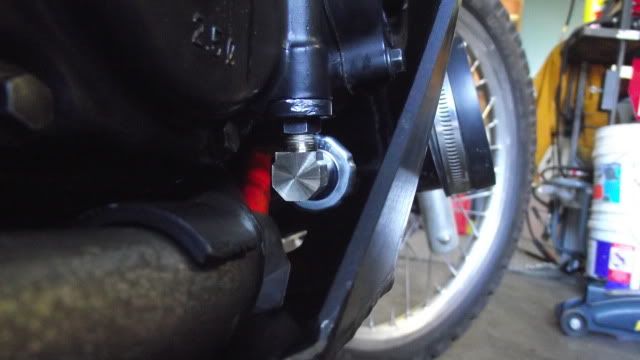 ---
'89 KLR685, 05' 1200 Bandit.
Thank you for all of this. Keep us posted on the performance, if you would. With the known oil issues with this bike, getting an oil pressure warning light seems like a smart move. And maybe a bit easier with this How-To. Thanks again.
---
******
"many a trip continues long after movement in time and space have ceased"- Steinbeck, [I]"Travels with Charlie"
[/I]
[IMG]http://i718.photobucket.com/albums/ww187/vatrader01/KLR%20mechanical/04e28c5e.jpg[/IMG]

[FONT="Century Gothic"][I]Sometimes your only available transportation is a leap of faith[/I] [/FONT]
Pretty in Pink, dunno why
Join Date: Feb 2009
Location: Redondo Beach
Posts: 7,963
Nicely done, Tom.

I added it to the 'Common Mods and Issues" post.

T
---
Tom
[email protected]
"I still held his automatic more or less pointed at him, but he swung on me just the same. It caught me flush on the chin. It was meant to be a hard one, but a pansy has no iron in his bones, whatever he looks like."
-Philip Marlowe
"'Why'
and
'How'
are words so important they cannot be too often used."
-Napoleon Bonaparte
Sting like a butterfly.
Noli Timere Messorem
OverDrive
Join Date: Nov 2009
Location: Lander, Wyoming
Posts: 6,259
T748, Show us YOUR light! Does the MOPAR switch WORK at KLR idle speed? Maybe NEED to use 27010-1313 KAW. part if it doesn't. 27010-1313 activates at about 2-3 PSI. Would really like to see switch at TOP banjo bolt, but choke cable, fuel tank may prevent that location.
pdwestman
---
Good idea and execution.
Thanks for sharing.
Quote:
T748, Show us YOUR light! Does the MOPAR switch WORK at KLR idle speed? Maybe NEED to use 27010-1313 KAW. part if it doesn't. 27010-1313 activates at about 2-3 PSI. Would really like to see switch at TOP banjo bolt, but choke cable, fuel tank may prevent that location.
pdwestman
The mopar switch works fine with the switch working on oil pump output. The light goes out on startup and will only flicker a bit if the engine oil is hot at a low idle speed. At 1350 rpm idle the light wont flicker. At 1200-1250 rpm hot it will. The factory idle spec in the Clymer manual is 1200-1400 rpm.
I would use the switch you listed if running the switch off of the banjo bolt going to the cylinder head. I never tried the Ninja banjo bolt to take oil pressure to the head. I think someone on the .net site tried it. I was too chicken too. the ninja bolt has 2 holes, each one being about 4 times as big as the little one on the KLR. I believe the KLR uses this as an oriface and the ninja bolt could possibly dump too much oil to the head, drop the overall oil pressure, or rob oil from the bottom end. Bottom line is I didnt want to re-engineer Kawasaki's oil system.
In a few weeks we have a big tech day coming up. If I can scrounge the parts up before then, I'll pull the oil pressure switch off and mount a mechanical pressure gauge.
Thanks for posting. I had forgotten about this project. It seems like a stock item now that its been on the bike this long.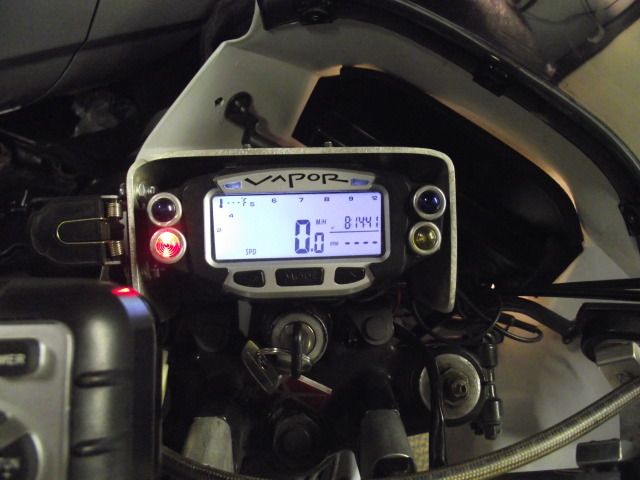 Red light is the oil pressure warning light. -Tom.
---
'89 KLR685, 05' 1200 Bandit.
Stock oil system testing.
---
I installed a pressure gauge on the KLR today. The 0-60 psi gauge turned out not to have a high enough range. A 0-100 was installed and used for today's tests. The only testing completed was on the stock system. The warning light sensor was removed and the gauge/ hose installed...

OIL PRESSURE
RPM COLD FF MED HOT
1200 60 18 12 6
1400 62 18 14 7
1600 66 20 16 9
2000 70 22 19 10
2500 72 28 22 12
3000 72 30 24 14
3500 72 34 30 16
4000 72 40 32 17
4500 72 44 34 18
5000 72 44 38 19
COLD- Tested in 60 degree F weather. Engine cold.
FF- First Fan. Tested on the first fan cycling on and off. Fan started and stopped 4 times during test.
Cool down for 10 minutes. Took KLR for a short road trip of city streets and Freeway. 20 minute ride.
HOT- Normal operating temperature on oil and water. Test run after the short road trip.
Test was run on a 1989 KLR 685 with 550 miles on the Rotella T 15/40 oil. Oil level to the top of gauge glass. 60-62 degree ambient air temperatures during testing.
Oil pump spec's from Factory Service Manual- 11 to 21 PSI @ 4000 RPM at 194 degrees F. Relief valve 62 to 85 PSI cold. Oil system proved on-spec at 72 PSI on the relief valve and 17 PSI oil pressure.

-Tom.
---
'89 KLR685, 05' 1200 Bandit.
---
Last edited by T748; 10-09-2012 at

03:40 PM

.
Other than making a little Tech day "bling", I'm not sure if I like having an oil pressure gauge on the KLR. The amount of change between cold and hot makes it hard to get used to a "normal" pressure. Here are two pictures to illustrate what I mean.
This is cold idle-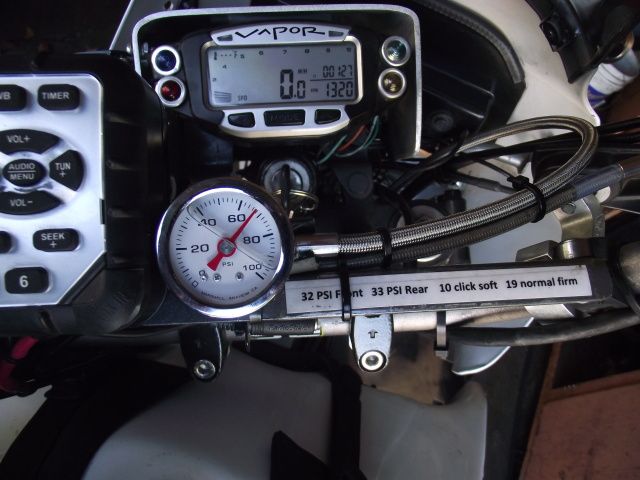 This is hot idle-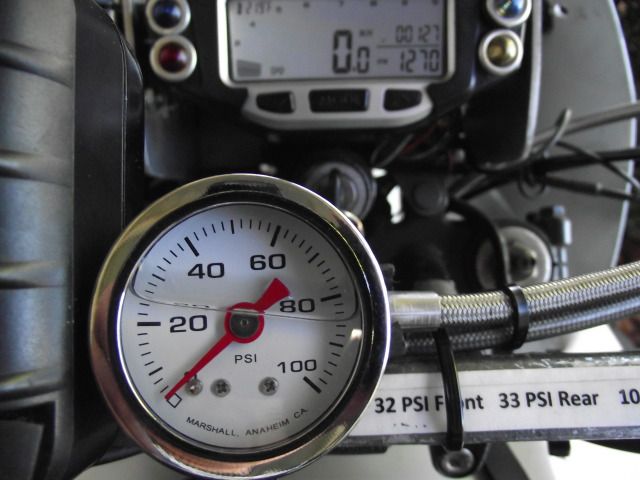 ---
'89 KLR685, 05' 1200 Bandit.
---
Kind of worrisome when the needle settles around ZERO psi!
I agree with your assessment. Sometimes too much information is just too much! Ignorance is bliss!
4th Gear
Join Date: Oct 2006
Location: Pefferlaw,Ontario
Posts: 1,636
I just recieved my oil gauge today and it's a 0-60psi gauge also....damn! I should have checked back here before purchasing it...oh well....lesson learned!
I want to install my gauge at the top banjo bolt using a double banjo post and run straight off it to a gauge. I chose the 0-60 gauge to better see the lower pressures.... But now an wondering if the pressure is still higher than 60 in that location compared to where you took it from? I'm not sure if it would make any difference at the two different locations or not? Would it? I will admit I haven't thought about it with any gusto yet so please excuse my ignorance.....
---
Willys