Join Date: Jun 2006
Posts: 595
Tail Light Reflector Mod
---
This mod was first brought to our attention by Quarterhorse2 over at KLRWorld. He wanted a brighter light and didn't want to spring for an LED just yet. The results are very good even with the incandescent bulb.
The discussion was brought up about LEDs being directional and wondered if this mod was worth while to those of us who have LED Taillights already.
(BTW: I recommend the Radientz 1.87" Tail Light Cluster. It's only $24, plugs right into the bulb socket, and side by side it's actually brighter than the Dual Star Board. Doesn't flash, but there are other solutions for that... but that's a whole different can of worms with pros and cons. We are not discussing them here, just the tail lamp reflector mod)
http://www.customdynamics.com/motorc..._LED_Clusters_
OK Gang... instead of hypothesizing and guessing I figured I'd put this to bed. Since I do full sign work at my shop here, I actually have a roll of Mirror Chrome Metalized Film. I also have the Radientz 1.87" LED Cluster. So, in the time it took me to make my last post I wheeled my bike in and did Quarterhorse's Chrome Tape Mod and took some pics along the way to show any kind of improvement, even with "Directional" LEDs installed.
I used a chair to hold the camera steady and the same settings for each pic. I also turned off some shop lights.
Here's the LED Cluster in the "Running Light" position.
Here's the LED Cluster in the "Brake Light Applied" Position.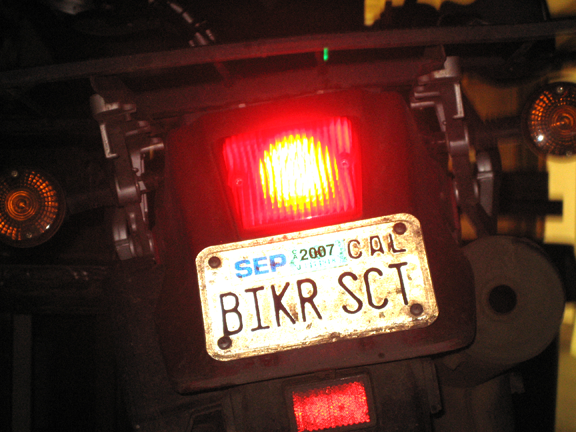 Here's a sample strip of Chrome "vinyl" I'm using for the mod. (Note, it's not really vinyl, it's actually a metallic film, so watch those electrical contacts)
Here's me hand cutting the first piece to shape on the bottom. Start with some thing easy.
Here's the finished install. Since the inside is a complex curve I elected to go in quarters around the light socket. Any folds or edge bubbles, I slit and flatted with my finger. I even cut some bullet shapes to wrap around the screw posts. Use your best spacial relations abilities and try to figure out what the flat piece is going to do on a curve. If you have to, cut samples out of paper.
Here's the finished job with the light installed. Looks alright.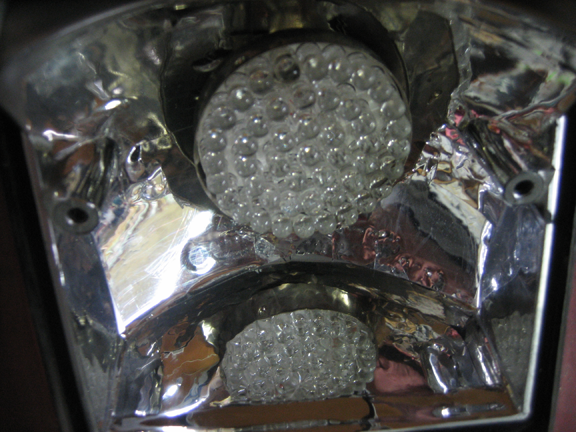 Now for the results! *Drum Roll Please* :scmile
Here's the "Running Light" position with Chrome Installed. (Looks kind of brighter in the pic, but very noticable in person)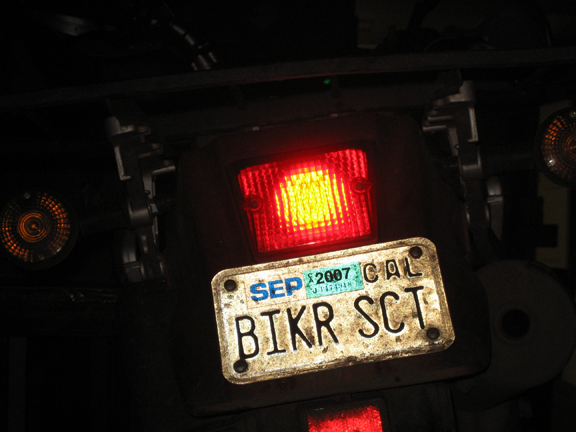 Here's the "Brake Light Applied" position with Chrome Installed. (Put your shades on)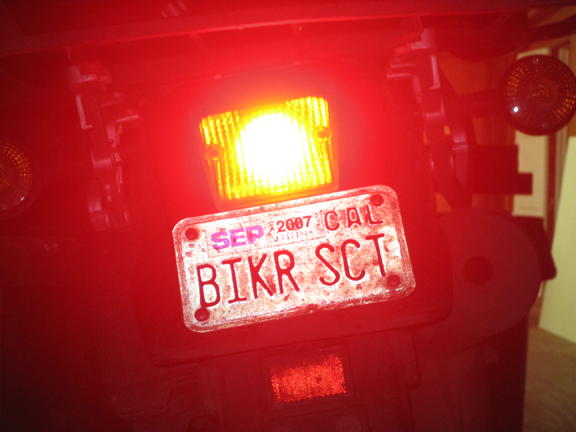 Here's another benefit... more side light!
So there you have it folks... the Chrome Tail Light Mod with an LED Cluster. Obviosly didn't take me very long to do either. I think it took longer to take pics, resize them... and upload them and write the post!
GREAT MOD!! :beer:
????
For those of you who do not have a local sign shop handy in which you can get some Chrome Vinyl from, here's a cheap auto parts store solution that's only about $6. I don't know anything about this stuff or even if it's the same. Another member used this to get similar results.
That is what we all want, to be seen better to prevent being ran over.


I wander if the alluminum tape used by heating and air guys would do the same thing. I may just have to give it a test tomorrow.
---
Today is the first day of the rest of your life.
Join Date: Nov 2006
Posts: 10
Nice!

As the added reflector material isn't structural (no strength required) and is weather-protected, I bet you could use plain aluminum foil...

I think I'll try that.
4th Gear
Join Date: Oct 2006
Location: Pefferlaw,Ontario
Posts: 1,636
I used one of those magnetic mirrors kids use in hteir locker at school. They are flexible and you can cut them with a pair of scissors...glued it in with silicone..worked like a charm!!! Added a led bulb , one of those 48 clusters and WOW!!!
Make up some paper paterns and then cut the morror up..simple and very bright better than foil etc. IMO
---
Willys
Join Date: Sep 2006
Posts: 284
I like the Brake! lite better. Lots of dough, but it seems the handsdown winner so far.
Join Date: Apr 2007
Posts: 69
Aluminum Tape for Tail Light
---
I used aluminum tape and it works great!

Regards
---
Last edited by ADVRiderKLR; 09-19-2007 at

10:45 PM

.