Guest
Join Date: Feb 2008
Posts: 16
Good street tires
---
I ride an 06 KLR and I ride 95% of the time on the street. I was wondering what street tires have most people been useing?
Also, I'm 5'7" 180LB and can barely put my feet on the ground, mostly tip toe. I bought the lowering dog bones and worked fine until i put someone on the back? Then my fender was rubbing. Is there any other way to lower these bikes?
For good 80/20 tires, that is 80% street and 20% dirt, I love my Avon gripster. For 100% street, I put Avon Venoms on everything I have had.
Guest
Join Date: Feb 2008
Posts: 16
thanks
---
hey DX
How many miles do you get out of the Avon Venoms? And do you have any pics of your bike? I'd like to see it.
On the goldwing I got about 10k out of the rear. The gripsters I am gonna get about 7k, but I ride the KLR hard on blacktop and corners. We keep a 50/50 knobby on the front for some bite off rode.
mine is the Super fast Black one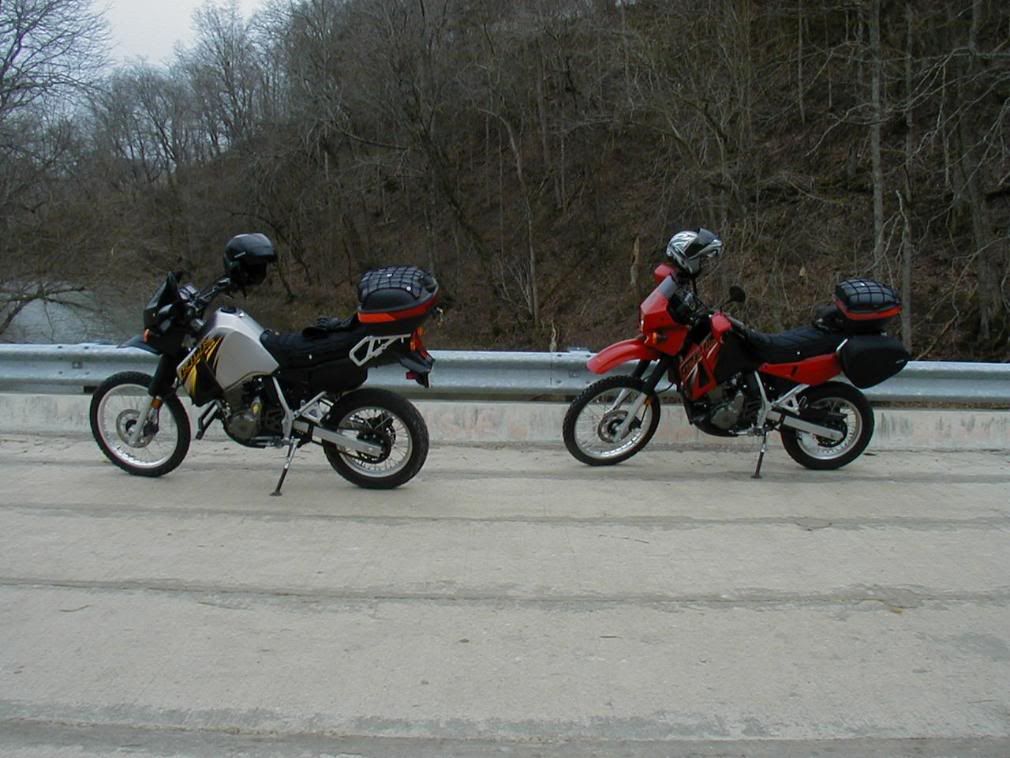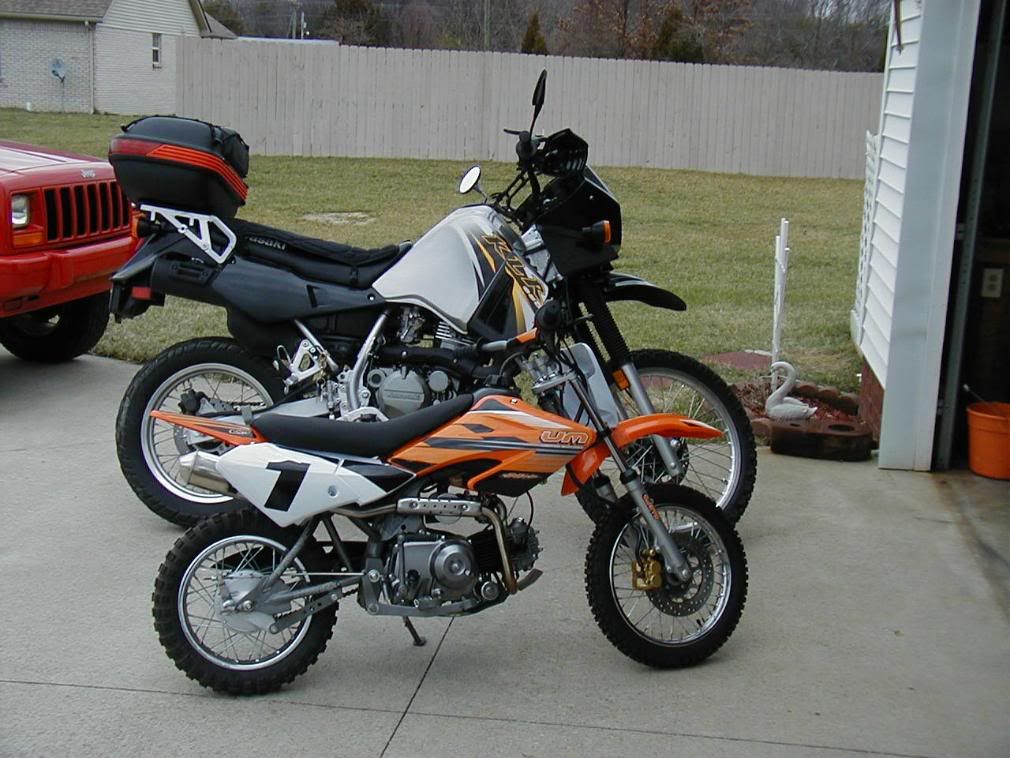 5th Gear
Join Date: Sep 2006
Posts: 4,700
My last set of tires was Michelin Anakees and they were fantastic on the street. Sticky on both wet and dry, and I pulled them off at 8K and they still had life left, but I had a set of Maxxis 6006's that I wanted to use for a gravel riding weekend. (Great offroad, but squirmy on the street)

If I knew I was going to ride strickly street, with a bit of 2 track and such, I'd run the Anakees..
Hows the 6006's wearing? And are they 'that' squirrely on pavement?
5th Gear
Join Date: Sep 2006
Posts: 4,700
Quote:
Hows the 6006's wearing? And are they 'that' squirrely on pavement?
I think they'll be good for 2500 miles, and they're the least confindence inspiring tires I've ever ridden.. There's a definate shift when you take the bike into a corner. As you take the bike into a corner, the entire bike shifts and then settles into the corner. I've had some drift out of these tires in corners, too..
It's been a long time since a bike has given me seat pucker factor, and these tires do it.. They rip the hell outta loose gravel and sand though!!
Only once did I have the Anakees break loose on me on pavement, and it was completely my fault.. I was daydreaming a touch and then realized that the left hand turn I wanted was closer than I thought. I was clipping along at 65 and this corner was coming up fast.. I climbed all over the front brake and cranked the bike left. I felt the front tire start to drift, so I backed off the brake and pushed the left bar. The tire bit and everything was fine, but that was the day that I decided that if the Anakee would let me pull something like that, it was a great street tire.. The corner was also off camber, adding to the chance of drift...
I felt in control, even during the second or so of slide, and the Anakees always allowed me to have the confidence to crank the bike over whenever I wanted to, and at any speed..
The 6006's just don't do it for me..
Guest
Join Date: Feb 2008
Posts: 16
another ??
---
I have about 4300 miles on my bike and the front tire still has a lot of thread, but sometimes when i'm climbing in speed between 50-65 mph the front starts to shake??? I slow down and it stops, then I'll speed up again at a slower speed and it won't do it?? I was thinking maybe, front tire out of alignment or something?
3rd Gear
Join Date: Sep 2006
Location: Franklinville, NC
Posts: 650
Yeah, check the air pressure first. and see what happens. try diffrent pressures too.
Check the steering head bearings. Too loose and it will have a tendency to do that. but on the otherhand, if it's too tight it will wander.
---
- Joe
HighSpeed Hiker- DV o5'
Quote:
Originally Posted by larryboy
come awn... it's not far...it'll be fun..
sorry I can't....... I'm fishing today