Neutral
Join Date: Mar 2014
Posts: 6
Polishing KLR side covers
---
Can anyone tell me how to polish ebony side covers. The previous owner had bags across the side covers and they are really dull, but no big pits. I have used meguiars and also a heat gun and they are pretty good. But now I would like to polish them. Any suggestions.
Thanks for looking Lon
---
Last edited by Lonzoair; 11-21-2014 at

04:15 PM

.
Pretty in Pink, dunno why
Join Date: Feb 2009
Location: Redondo Beach
Posts: 7,924
More heat.

The side covers are HDPE, which is a low surface energy plastic. Nothing sticks to them and they are soft and gummy. They are not hard enough to polish with an abrasive polish. Abrasive polishing will get them pretty much up to a dull finish, but not beyond.

If, by heat gun, you mean 'hair dryer' you are not getting enough heat. You need an industrial heat gun or a propane torch with a flame spreader.

Of course, you also need a pair of Size 12 Polished Brass Balls to take that much heat to your side panels, as it is really easy to have it get out of hand and melt or burn them.

Tom
---
Tom
[email protected]
"I still held his automatic more or less pointed at him, but he swung on me just the same. It caught me flush on the chin. It was meant to be a hard one, but a pansy has no iron in his bones, whatever he looks like."
-Philip Marlowe
"'Why'
and
'How'
are words so important they cannot be too often used."
-Napoleon Bonaparte
Sting like a butterfly.
Noli Timere Messorem
Someone told me to use Lemon Pledge on plastics to clean and shine....might want to do a test area first but I heard it from 2 instructors at my motorcycle maintenance course.
5th Gear
Join Date: Aug 2010
Location: Kelowna, B.C.
Posts: 2,619
clean them up and put clear protective film over top. Factory Effex numberplate background comes in clear and is thick and durable - it's the only way to have a consistent high gloss finish on old side covers that lasts....at least the only one I've found.
There is clear over the black on these and also on the front of the sideplate and the front of the headlight shroud.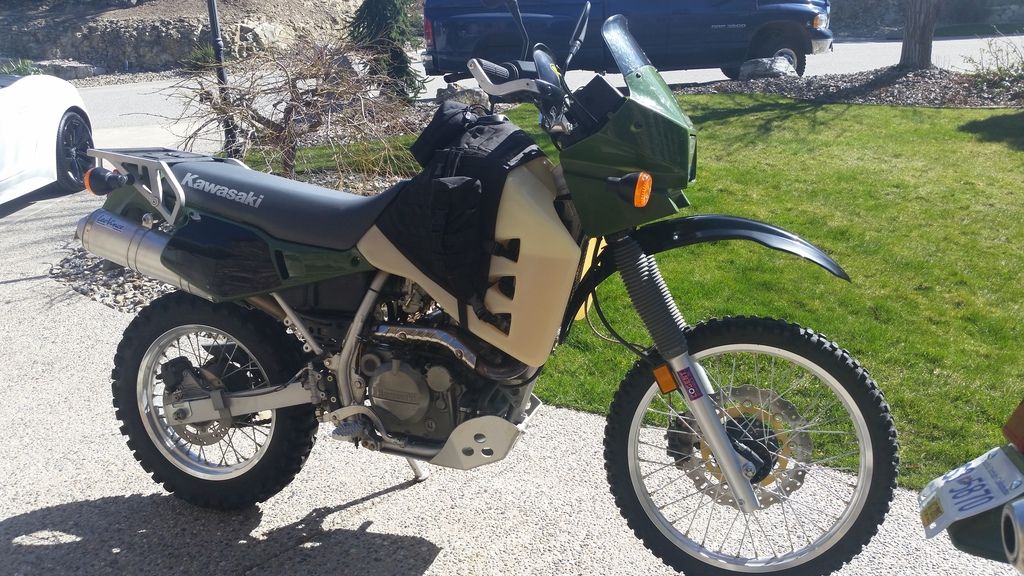 Dave
Your used oil is the best material to make your side panels shine.
OverDrive
Join Date: Nov 2009
Location: Lander, Wyoming
Posts: 6,195
Quote:
Your used oil is the best material to make your side panels shine.
I'll bet that attracts plenty of dust.
---
pdwestman
Modify at "YOUR OWN RISK"!

Still riding my 1987 KL650-A1. 85,000+ miles & counting
5th Gear
Join Date: Jan 2011
Posts: 4,575
Good luck!

Seems rather contradictory, but . . . my "ebony" Generation 1 side cases have FADED! (How can black fade?) Their color, now, is more-or-less grey-green.

I've tried numerous cleaners/polishers/etc., but . . . no help!

Full disclosure: I've NOT tried motor oil. Even if the oil makes 'em shine, not much improvement over the ghastly color. And . . . I'd think the oil a very short-lived expedient.

Again, good luck and I hope solution is found and shared.
---
"You better put down that gun. You got two ways to go, put it down or use it. Even if you tie me, you're gonna be dead." "John Russell" (Paul Newman), Hombre
5th Gear
Join Date: Aug 2010
Location: Kelowna, B.C.
Posts: 2,619