Livin the SLO life
---
Hi everybody, my name is Darin (aka SLO-KLR), I'm sure a few of you know me from the other sight. I am a Youth Correctional Officer of 18 years. I've been riding on and off since I was about 8. I bought my KLR back in April of 05 and I love riding it most everywhere I go. I have a wonderful wife and 3 kids that I enjoy spending my time with. A few of my hobbies are shooting action pistol and revolver matches and hunting when I can which just isn't often enough. Here is a photo of me and my beautiful wife at our nieces graduation. I had just gotten off the KLR after a 3 hour ride to get to the graduation ceremony.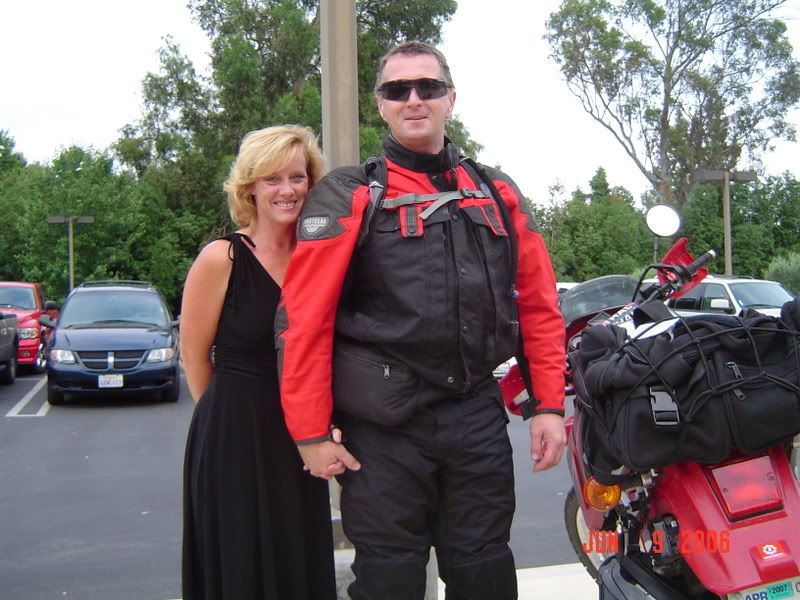 hi daddyjoe,
I met you briefly at the Julian tech day back in June. I wasn't able to stay very long because I had to pack up the family and head for home after being gone all week.
2nd Gear
Join Date: Sep 2006
Location: San Martin, CA
Posts: 153
welcome slo, glad you found your way here.
---
Steve - Tazmanian Devil
00 KLR
PTB - FTM - KTF
Hey Taz,
What kind of schedule do you work so we can hook up for a ride sometime. Your ride pics the other day were just a few mile from my brother-inlaws house.
2nd Gear
Join Date: Sep 2006
Location: San Martin, CA
Posts: 153
pretty flexible as far as schedule. great area to ride. tommorrow morning I am riding up to Alice's for lunch. (hwy 9). Actually are you still riding naciamento on the oct 15. I may be available.
---
Steve - Tazmanian Devil
00 KLR
PTB - FTM - KTF
Guest
Join Date: Dec 2006
Posts: 15
hi slo-klr,
glad to find you posting on th board
the very best
bc