Well, that was silly !
---
I owned it for less than 4 hours and it looked like this. ( It was a whole running bike when I got it )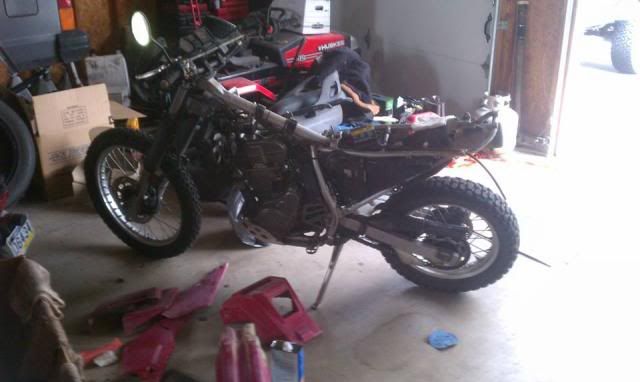 Aaaaaaand in 48 hours looked like this,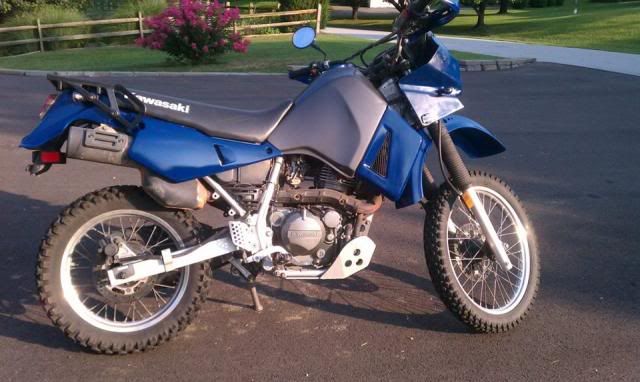 The previous owner/s haphazardly spray bombed it Camo/Tan and not in a good way. Stripped all the plastics by hand with lacquer thinner but still ended up sanding some of it off. Sanded the tank down a few times and finished it off with 1000 grit. It's a 10 foot paint job but looks 1000 times better than before.
Oh and mines also spray bombed FYI. Rustoleum Metallic Charcoal on the tank, Midnight metallic something on the rack and plastic inserts, and Krylon Fusion in dark blue. Next time I think I'll just order new plastics and drop everything off at a body shop.
2nd Gear
Join Date: Sep 2012
Posts: 111
Lookin' good.

I have to comment on the "1000 grit" though. Generally you don't want to go finer than about 400 if you are going to paint over it - gives the surface something for the paint to grip. 1000 is well on the way to "polish" rather than "paint". Instructions on your paint will tell you what grit to use - finer is not better.
1st Gear
Join Date: Aug 2013
Location: Hamburg, Pa
Posts: 89
Last sanding was 320 before paint, the 1k was after.
Guess I should say "hi" as well being my first post here. ( after spamming the test thread )
Been riding for 25+ years but this is only my second road bike.
Hello and welcome to the forums!
Ya done good, bike looks great!
Welcome. And the labor was worth it, bud. Looks awesome.




---
[COLOR="DarkGreen"]"In a car you're always in a compartment, and because you're used to it you don't realize that through that car window everything you see is just more TV." R. Pirsig[/COLOR]
PPMC #1.
[B][COLOR="Red"]Soon, we ride.[/COLOR][/B]
AKA JD Mader or you can call me "Dan" just not early for dinner.
[B][COLOR="DarkGreen"][I]Click my handle for a link to my homepage/blog...which has nothing to do with MCs. Free literature and music! Viva La Revolucion![/I][/COLOR][/B]
-------------------
2008 KLR 650
RIP DM - Soon, we ride.
Similar Threads
Thread
Thread Starter
Forum
Replies
Last Post
My silly KLR

Mr Adventure

Show Off Your Bike

17

04-05-2012

09:11 AM