New in Central CA.
---
I am now in the process of going from a 20+ year Harley owner to 2 08 KLR's. How could this happen? I was riding north on Hwy 1 two weeks ago, stopped for a break, and two guys on two funny-looking bikes pulled in and stopped. We B.S.ed for a while and after sometime I was riding his 05KLR and he was riding my 00 Sportster, I rode from Ragged Point to Gorda, with my daughter on the back with me. WOW! what a kick in the A**, I had not had so much fun on a bike in many years. We switched back at Gorda and I found myself wanting a KLR for myself.
To make a long story short, when I got home I went to Wilson's in Fresno CA told them what I had, and what I wanted, 2 08 KLR's, one for me and one for my wife. He told me bring them down and we'll see what we can do. He called today and told me they want to deal, so it looks as though I'll be riding a new KLR by next week.
Now, comes the hard part, telling my wife she will be riding a Kawasaki from now on, and then telling my HD cronies I've spent the last 5 years riding with, I'm going to the dark side and getting a rice burner. I may lose a few friends, but oh well, I can't wait for my first ride up Highway 1, then heading to Death Valley next spring.

I look forward to all the knowledge I hope to get from all of you in this forum.

Mark
Welcome to the forum....

If you like riding I don't think you will regret your decision.

The KLR allows you to have the best of both worlds.

You have already gained many new friends, the KLR owners are an awesome bunch.
---
Today is the first day of the rest of your life.
---
Last edited by Daddyjoe; 10-12-2007 at

12:43 AM

.
Join Date: Oct 2007
Posts: 20
Welcome,

I have owned a sportster too in the past; I have to say I like my KLR much more... And i have to agree with DaddyJoe, I have only been here a short time, and everyone is very helpful and friendly...

Enjoy the rides!

t3ch
Welcome sportster65! If you need any help with mods or wanna ride I'm over in Paso.
Thanks for the warm welcome, I appreciate it. KLR-SLO I may take you up on a ride sometime, you are near my old stomping grounds, I grew up in Cambria. I go over to there at least once a month if I can, I love the Central Coast.

Mark
Sorry SLO-KLR I reversed you name.

Mark
Ya I like riding the coast ridge then having lunch at the Main Street Grill then heading up Santa Rosa Creek rd for home.
Well I just got the word about 2 hours ago, I will be picking up an 04 KLR 650 tomorrow afternoon. I will still be getting an 08, but this was just too good a deal to pass up. I will be paying $3000 for this bike,it has 2500 miles on it and looks to be in near mint condition. I'll post a pic as soon as I can.
Well I got the 04 KLR home, put in a new battery, filled the tank, checked the fluids and tires and took off. Did about 65 miles last night everything seems to be good., I do have one question though, what is the recommended psi for the front forks, they feel as though they have very little air and the ride was mushy. Also, how to adjust the rear spring? No owners manual came with the bike and I didn't see a spanner wrench in the tool kit. Aside from those mentioned I liked the way it handled, and the power seemee to be fine, cruised 70 - 80 on the freeway and the bike seemed to like that just fine, I generally cruise at 65 - 70 on my sportsters so I think the bike will be great for me and the way I ride.

BTW SLO-KLR I used to ride Santa Rosa Creek Road alot on a 72 Rickman Montesa 250, many years ago when I was a kid & Cambria was "really" a small town. FYI when I was a kid back in the early 70's the Main Street Grill was an A&W drive in, complete with carhops.
I ran up to 10 psi in the front forks but ended up installing progressive springs and I cut the stock spacers 1/2 in. longer than the spacers that came with the progressives, I don't use any air now. For the back shock on the left side of the bike, you will see a nut that will turn only one way, clockwise. this mechanical device is what preloads the spring, 1 being softest, 5 being hardest. Then on the right side at the bottom of the shock you will see a black plastic cover that just snaps onto the bottom of the shock. Remove this cover and you will see a black dial. This dial will set the rebound rate for the shock fluid. I think I have mine set on 2 or "II" and my preload is on two, but I installed a one inch riser for the rear shock, so I needed it to be a little soft.
Left side of bike.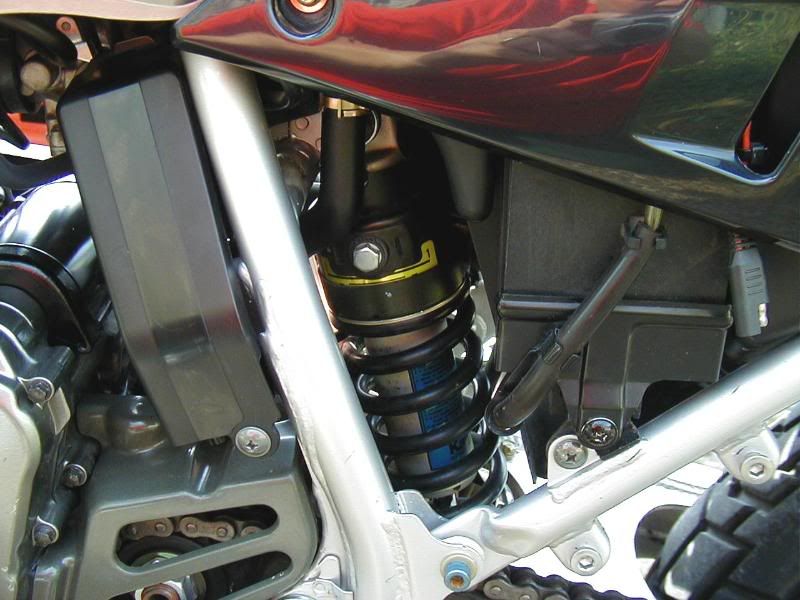 Closer view of adjuster nut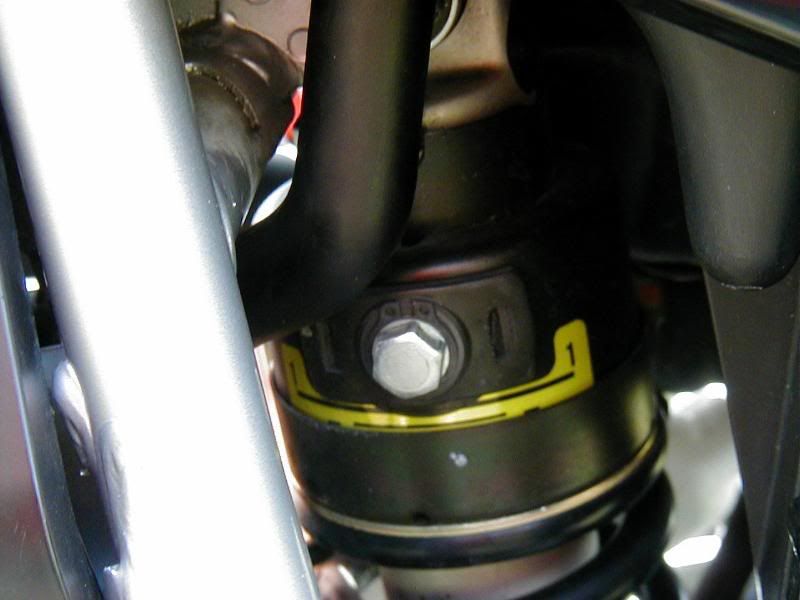 Right side looking below rear brake valve at the lowest part of rear shock.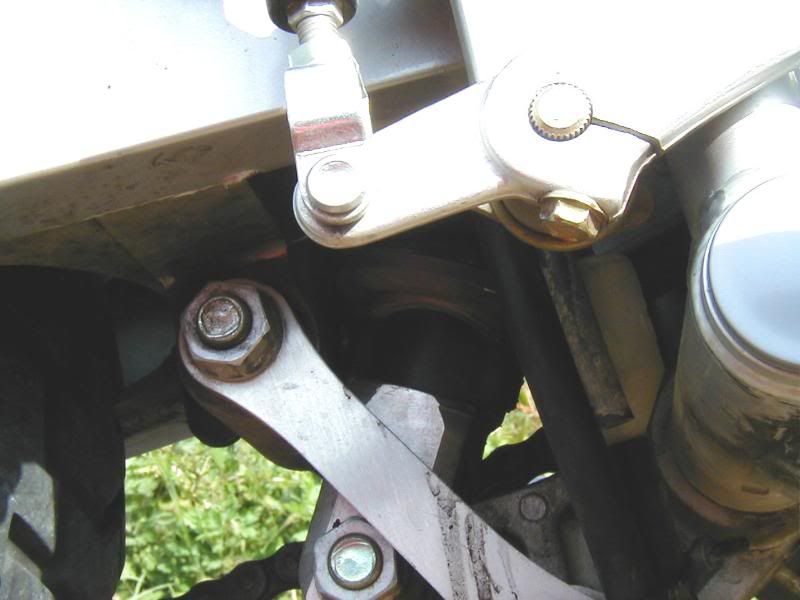 This is the cover to remove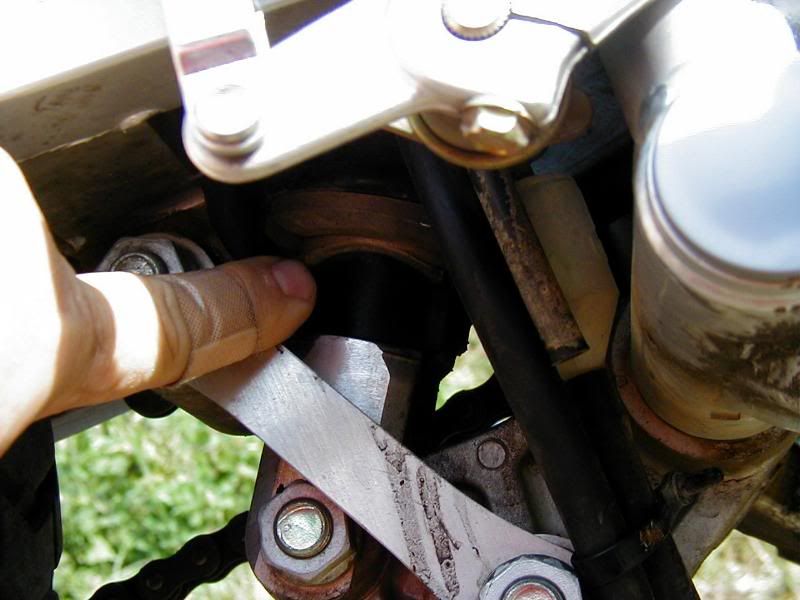 This is what the cover looks like
This is the adjuster dial for rebound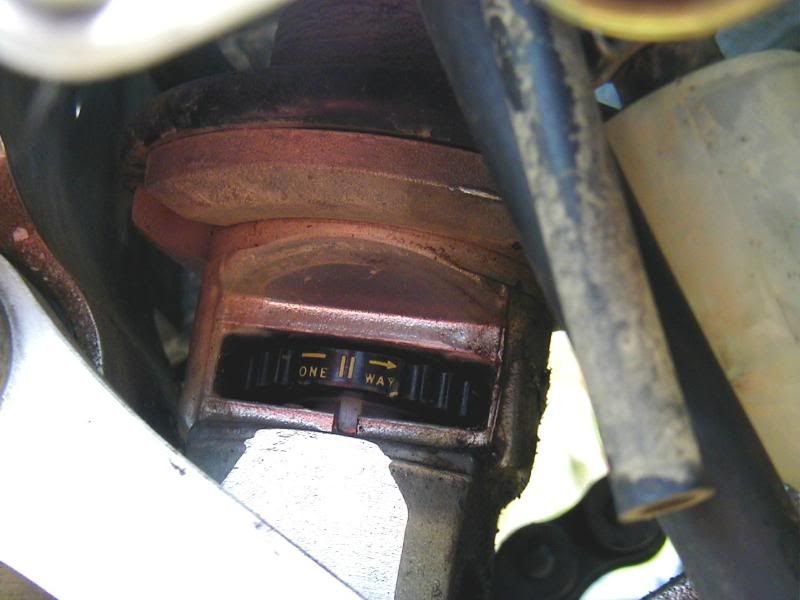 hope this helps some
---
Last edited by DXKLR; 10-15-2007 at

04:18 PM

.