Posting Photos from a Photo Hosting Site - Oct. 2016
---
To start this topic off, we are going to assume that you are somewhat knowledgable about the Forum text editor and posting. We also assume that you have a place on the web where you store your photos....IE:
Photo Bucket
,
My Net Images
etc. If not, you will need one. Most are free and have a great deal of storage space for your images.
In this example we will be using
PhotoBucket
for the photo storage. This information is basically a copy/paste from PhotoBucket's site but for simplicity and quick reference it is posted here. Being familiar with the PhotoBucket site will help a lot. For starters you should Turn On the option called Easy Linking Mode which you will find in your PhotoBucket Settings.
Thats the boring stuff.... now on to adding images to your posts.
Linking To Forums
There are many types of forums across the web, each providing different options for linking images into the forum. This article will go over the steps to link a photo to our Forum.

The first step to linking an image to the forum is to copy the IMG code for the image you'd like to link.
You can do this easily by copying the link code below the thumbnails when Easy Linking Mode is enabled.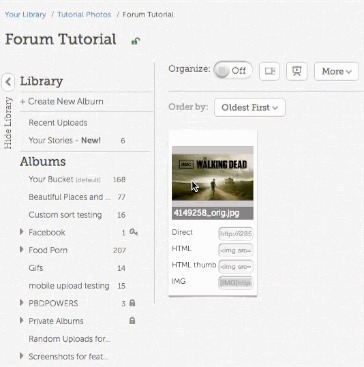 You can also find the code to the right of the screen while viewing the image.
The next step is to paste the code into the BBCode area on the forum (you can select preview to view how the image will display in your post):
You can also paste the direct link code into the "insert image" option on the forum (where it requests the Image URL):
Select the Create Thread option (or Reply to Thread), and your post will go live into the forum.
To add more photos, make sure the blinking cursor in the text editor is below your current image and then repeat either of the above steps for each photo. Remember that the photo is going to paste wherever the blinking cursor is on the text editor page.
Please remember.... some users do still use dial-up connections, so if you post many photos in one post, it will take them a VERY long time to load that page. I think we have all been there with dial-up at one time and we know the frustration.
.
---
My Kaw Barn - 2004 KLR, 2006 Concours (sold), 1997 Bayou 400.
"It's a friggen motorcycle, it's not supposed to be comfortable, quiet or safe. The wind noise is supposed to hurt your ears, the seat should be hard and riding it should make you shit your pants every now and then. "
<--- Please fill in the 'Location' on your personal profile page. User CP/Edit Your Details

This information makes it much easier for other members to answer/comment on your posts.
---
Last edited by Tom Schmitz; 02-20-2017 at

07:11 PM

.
Similar Threads
Thread
Thread Starter
Forum
Replies
Last Post
PHOTO POSTING REQUEST

X6_Hustler

Travel Log & Trip Reports

9

10-29-2006

09:52 PM

Site Photo Album

Hondo

KLR & Other Motorcycle Related Discussion

3

10-05-2006

01:04 AM