1st Gear
Join Date: Aug 2017
Location: Montreal
Posts: 36
High fives from Montreal - new owner of a 2000 KLR650c
---
Greetings one and all, just picked up a KLR650c with pretty low mileage (13,000kms), and it'll need a little love to get it past the safety inspection here in Quebec. Brakes are shot, fork seals are toast, gas leak from the petcock. Nothing major - first on the list are the fork seals.

Wondering if anyone had any recommendations on what seals and where to buy from - are the seals on the c model the same as the other similar year KLR's?

Thanks in advance guys, I'm brand new to this forum but pretty active over on dotheton.com where I've documented my '81 CB750 rebuild. Anyone need to know anything about getting 5 yr old varnish out of a gas tank, I'm your man.

Cheers,

- J
5th Gear
Join Date: Aug 2010
Location: Kelowna, B.C.
Posts: 2,855
Welcome;
I'm a Gen1 junkie and have a 2000 and 2001....which I've moddified "a little" ;-)
1) stock fork seals are best IMO; I get them from my local Kawi dealer
2) Depending on what you want to do with the bike (wants/needs/budget) if your "brakes are shot" is more than just pads, you might want to consider the typical upgrade that many of us have done as the stock Gen1 front brake is extremely weak; 320mm rotor, Suzuki SV 650 caliper (ebay), caliper adaptor and SS line.....all available here:
Eagle Mfg & Eng
3) A common upgrade from the stock vacuum petcock is to replace it with a Yamaha Raptor 660 manual unit, available from Yamaha or Eaglemike. .....you do have to remember to turn your petcock on an off though so it's a personal choice. I run the yamaha units on both my bikes.
Finally a shot of my 2000 when I picked it up 1 1/2 years ago with 577 miles on it;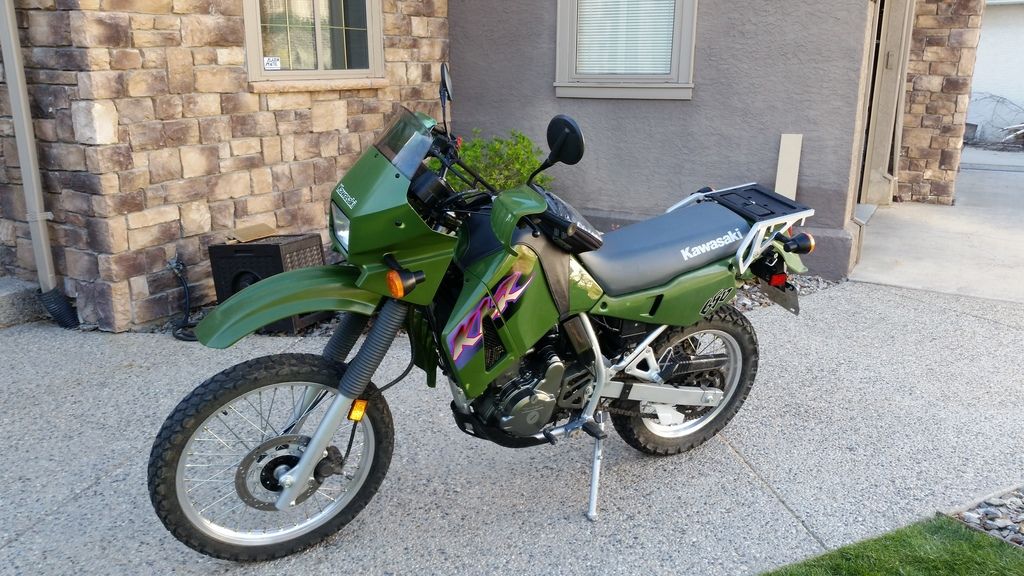 cheers,
Dave
1st Gear
Join Date: Aug 2017
Location: Montreal
Posts: 36
Holy mackerel, that's one clean looking ride you got there Dave - you could eat your breakfast off that engine casing!

Thanks a lot for the reply, I really appreciate it. New to this forum, and definitely new to the world of KLR's. Not entirely new to working on bikes but still pretty green. I'll get in touch with my local dealer like you recommended and get the fork seals from them, good call.

Once I start tearing down the bike (at least in so far as to figure out exactly what needs fixing) I'll look into the brake upgrade you mentioned. The front has some bite but the rear has nothing - whether this is fluid, pad, piston or a combination of all three I don't know yet. I'm waiting for the guy I bought the bike off to deliver it on Friday (right now it's plated for off-road use only and so I can't ride it down here - even if the brakes did work!), and then I can start digging in.

Already have the Clymers on its way from Amazon, and will give Kawasaki a call now to get those seals. Thanks again Dave, appreciate the reply. No pic of my KLR yet, and apparently too new to the forum to post links yet but as soon as I can I'll share a few of my '81 Honda CB750. She's a beauty!

Cheers,

- J
5th Gear
Join Date: Aug 2010
Location: Kelowna, B.C.
Posts: 2,855
Love to see some pics of both bikes when you're able. I remember riding an '81 CB750 back in '83 (yeah, I'm old).

I don't know how much of this is useful for you but here's my "Common New KLR Owner Mistakes List"

1) Oil drain plug overtightening: it is relatively common for people to overtighten the oil drain plug.....usually to stop a leak after the gasket/washer has inadvertently fallen into the used oil or left stuck to the bottom of the engine! best case is stripped threads, worst is a cracked case. Make sure the washer is in place and use a torque wrench Note; my manual says 17 ft lbs, Eaglemike recommends 15 ft lbs with his low profile drain plug which is what I use. Some Gen2 manuals specify 21 ft lbs but there has been no change in the plug or case which would affect the drain plug torque and people have stripped their drain plugs at this setting: beware!
- 2) Chain tension: many owners and some shops overtighten the KLR's drive chain; due to the long travel suspension and geometry the KLR needs more slack than other bikes people may be used to. If the chain is too tight you risk damaging the countershaft seal and bearing as well as possibly the wheel bearings along with premature wear of the drive chain and sprockets. Quick check; with the bike on the sidestand, you should be able to touch the chain to the bottom rearmost portion of the chain slipper but not the metal swingarm itself.
- 3) Speedo drive: it is common for people to post problems with their speedo after they've had the front wheel off. If you don't make sure the drive slots in the hub are aligned with the speedo drive tangs you risk bending the drive tangs and worse, breaking the hub. Time consuming to repair, expensive to replace, easy to avoid!
- 4) Oil Level: the factory KLR oil level sight glass is arguably too low....additionally some KLR's burn oil at various rates so it is imperative that the oil level is constantly checked. Luckily the sight glass makes this very easy to do. My suggestion is to keep the oil level at the very top of the sight glass with the bike level and to check it before every ride and at every fuel stop. The first failure from low oil levels is likely to be the cam bores in the head......and used KLR heads are getting difficult to find and are expensive. Keep an eye on that oil level!
- 5) Overtightening of other fasteners; similar to the oil drain plug there are a few other fasteners that cause significant problems if overtightened; the valve cover bolts are one such fastener - the manual calls up 69 inch lbs (NOT ft. lbs!) but Eaglemike suggests 55 in lbs which is a safer value. Another problem fastener is the footpeg mounting bolts; the factory nuts welded in the frame box are very thin with only 3 or 4 threads catching......these often strip out necessitating a repair. To avoid the problem, consider not using accessories that bolt to the bike using these bolts (i.e. centerstands) and torque them properly. I've heard that some manuals show 45NM (33 ft lbs) and some versions show 25 Nm (18 ft lbs)......I will suggest that the 33 ft lbs is a mistake and too much; I go with the 18 to avoid stripping the nuts and because this value falls in line with the recommended torque for generic 8mm fasteners in the manual. Safety wiring the bolt heads is also a wise precaution as loose bolts take the threads out quickly.
- 6) Throwing away the tube when changing the oil filter. People often mistakenly toss the metal tube that is inserted in the oil filter when they throw the old filter in the trash....make sure it's there and put it back in the right way.
- 7) attempting a counterbalance lever (doohickey) adjusting bolt adjustment without first ensuring the lever and spring are both intact and the spring has tension. Failure to do so can introduce a catastrophic amount of play into the counterbalance chain system.

-8) Not checking fasteners for proper torque at least at every oil change. Especially foot pegs and sub-frame bolts. The fasteners that Kawasaki put in place are adequate, but once torque falls below spec vibration can loosen the fastener. A loose fastener will quickly fail if it is under load.


cheers,
Dave
1st Gear
Join Date: Aug 2017
Location: Montreal
Posts: 36
Invaluable info Dave, thank you very much. Your help has already demonstrated once again how sunk I'd be without online brethren! My CB was a non-starter when I pushed her home back in November - had it not been for the great fold over at the dotheton forum she'd still be in a thousand pieces all over my garage floor.

Can't wait for my KLR to get here so I can get busy and get her on the road. Been through a few bikes this summer (in the process of selling my Sportster 1200 - great looker but shocking on the highway) and now going back to where it all started - on the dual sports. Used to thrash these things around Indonesia back in the day without really knowing what I was riding, feels great to know a little more about them now and to get back in their saddle.

Have a good one Dave, and thanks again,

James