New klr owner in east Tennessee
---
Just picked up a 2018 black klr and i couldnt be happier to join the dual sport community. Im 40 years old and have been on a 10 year riding hiatus. Im excited to be a part of this forum and cant wait to learn all there is to know about my new bike.
OverDrive
Join Date: Nov 2009
Location: Lander, Wyoming
Posts: 6,235
Welcome to the forum Kaiser6677. I hope that you get as many miles or years out of your new KLR650 as I have on mine.
There is a lot that can be learned on these pages!
Starting with this Thread, maybe you have read it already?
http://www.klrforum.com/introduction...kes-avoid.html
---
pdwestman
Modify at "YOUR OWN RISK"!

Still riding my 1987 KL650-A1. 85,000+ miles & counting
1st Gear
Join Date: May 2017
Location: Sitting on the lap of someone you love.
Posts: 18
Neutral
Join Date: May 2018
Location: Orlando,Fl
Posts: 3
Great choice! You live in the perfect place to enjoy it too. I am just a little jealous.
Quote:
Great choice! You live in the perfect place to enjoy it too. I am just a little jealous.
LOL! You can always move! Bring and
big pile
of money and you can even have my house! I'm across the street from thousands of acres of riding at Windrock ATV area on what the Motorcycle riders call "The Devils Triangle".
We went to Florida a couple of years ago to get away from the cold and took the bikes down to Swanee River State Park for two weeks in February. After a couple of days, the wife decided to just ride with me. She didn't care much for the roads there. Everything was flat, sandy and 20 miles without a curve. We did ride over to the gulf coast. Kind of neat for us inland mountain people to see. Then the tornadoes came through and we were in a motorhome (better described as a "styrofoam box") under 100' tall pine trees. Interesting trip! Real relaxing!!!
. It was 78 degrees most days but it warmed up to the 60's here at home while we were gone. Could have rode here.
Here's the trails across the street: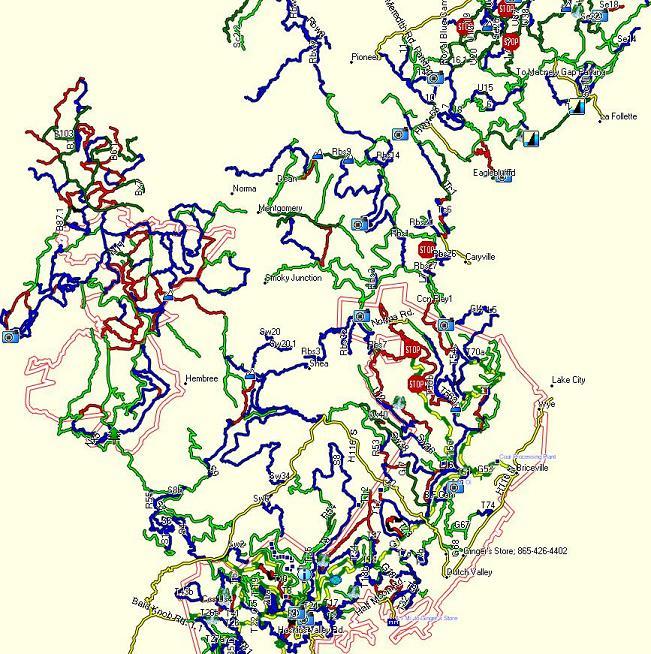 ---
"Take the risk of thinking for yourself , much more happiness , truth, beauty, and wisdom will come to you that way." Hitchens
1st Gear
Join Date: Apr 2018
Posts: 24
Welcome! Glad you're back on the bike after 10 years. I bet you're getting a lot of "it's like riding a bike"....