OverDrive
Join Date: Jan 2011
Location: NW MO
Posts: 5,377
Chuck Norris
---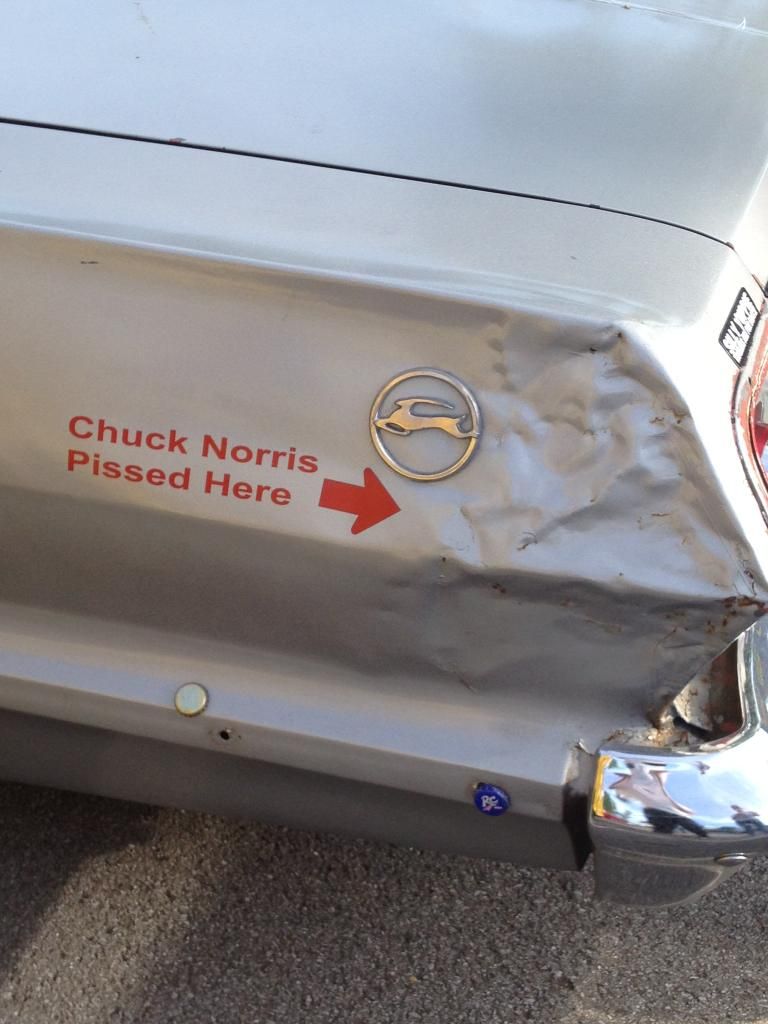 lol good one
---
Never ride faster than your angels can fly
Seriously, these jokes are just dumb. I mean, if Chuck Norris was really that cool he would come to my house and bang my head on the keyboard... uyjhmnt67uyuqk,k,k,k,k,k,k,k,k,k,k,k, fgvbtu i
...poor little fella.
---
People should not be afraid of their governments. Governments should be afraid of their people.
OverDrive
Join Date: Jan 2011
Location: NW MO
Posts: 5,377
That's a great one. My favorite line? "He swims the Atlantic as we speak."




2nd Gear
Join Date: Jan 2013
Location: Tampa
Posts: 395
He was to die 5 years ago but Death hasn't mustered the courage to tell him.

Classic.
2nd Gear
Join Date: Jan 2013
Location: Tampa
Posts: 395
Unsure if you gents are acquianted with a certain William Robert Brasky.

Bill Brasky is enormously tall and heavy, can eat anything, can tolerate any amount of drugs and alcohol, is superhumanly tough, possesses a variety of other superhuman powers, has cheated death on numerous occasions, has no regard for the well-being of others, and has caused the death and maiming of many people.

Many of Brasky's accomplishments are downright abhorrent, and all of the salesmen have been his victim at one time or another, but they are all celebrated with the same gusto. At regular intervals, they raise their glasses to toast him, shouting "To Bill Brasky!"

The buddies often claim that Brasky has fathered numerous illegitimate children, sometimes with their own wives. And so it goes...

"He once breast-fed a flamingo back to health."

"He hated Mexicans! And he was half Mexican! .......And he hated irony!"

"I once saw him scissor kick Angela Landsbury."

"He sheds his skin once a year."

"He did 3 tours in 'Nam...... I was in Corpus Christi on business a month ago. I had this eight foot tall Asian waiter, which made me curious. I asked him his name. Sure enough it's Ho Tran Brasky!"

"He sleeps eight hours a night! ........ well, he was pretty normal when it came to that."
5th Gear
Join Date: Oct 2011
Location: Lac La Biche Alberta Canada
Posts: 3,205
MY Father's name was William Robert ! I wonder if I'm related!? I have the 8 hrs a night thing going.....I just can't sleep at the same time!!
jj
---
It's not a Tractor....It's a LOCOMOTIVE!! Chugga Chugga
Woooo WOOOOO!!!!!
2nd Gear
Join Date: Jan 2013
Location: Tampa
Posts: 395
Well, Jeff, he sired quite a few little ones...usually with other guys' wives, so ya never know.
They say Gene Roddenberry got the idea for Star Trek from Brasky talkin' in his sleep.
He once breast-fed an injured flamingo back to health.
Brasky would put on a white tie and tails and walk his pet cobra through the park on a leash. He named the cobra "Beverly." And he taught it how to fetch and dial a phone. But then one day, it bit the maid. So with tears in his eyes, Brasky had to shoot the maid.
(More here:
http://en.wikipedia.org/wiki/Bill_Brasky
)
Similar Threads
Thread
Thread Starter
Forum
Replies
Last Post
I go by Chuck

charles

Introductions

4

04-22-2010

01:03 PM