KLR 650 Police bike
---
---
Ageing Gracefully
2017 Yamaha XT250
1990 Honda NX250 (Green/White)
2011 Kawasaki KLR 650 (Orange & White )
My KLR Page..
http://www.powers31.info/2011_KLR650.htm
Mod's to KLR:
Power socket, L.E.D. Battery Indicator, Camera bag holder
Custom Saddlebag frames .
Louder horns, Firstgear Onyx tail bag.
Custom Aluminum Skid Plate.
Cut down seat with Custom pad.
Go Pro Camera mount.
Doo-Hicky
thats cool
---
2007 KLR650
2010 VN900 custom SE
San Francisco Police Dept have been using KLR 600/650's since the early 90s for tactical urban patrols, riots and park police...
Looks like they've contracted to Suzuki now but when I was a motorcycle courier we all envied the water cooling of the KLR's the cops had.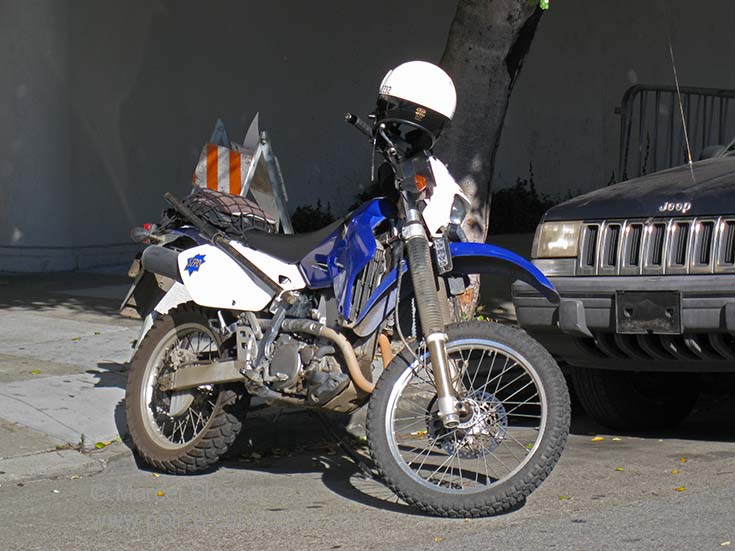 ---
Tractorking
Sitting on a dock of the Bay
Redwood City, California

"Although motorcycle riding is romantic, motorcycle maintenance is purely classic."
Robert M. Pirsig
San Mateo Sherriffs Dept have some KLRs
---
Tractorking
Sitting on a dock of the Bay
Redwood City, California

"Although motorcycle riding is romantic, motorcycle maintenance is purely classic."
Robert M. Pirsig