Single track riding on the KLR650? Well I guess so,..
---
Rode out to the east side of San Diego county with Sandiegowheels this morning. The intent as always was to have an enjoyable ride on some moderate fire roads and take in all the awesome sights the area has to offer.
Well after some great riding on some moderate fire roads, Kevin (sandiegowheels). stops at a single track trail head and throws out the "you want to try it"? I gave him the "yeah lets give it a try" and the "if it gets too crazy we can always turn back". So began my and probably Kevins first single track ride on the KLR650.
It started of with a lot of smiles and "yahoos". Kevin was leading and soon out of site. The weather at the start of the track was extremely hot and a bit humid. I was drenched in sweat. A short ways into the track it became obvious that the trail was a descent leading off the mountain. Challenging would be an understatement. I soon found myself getting fatigued as well as my KLR, as it was soon taking frequent naps. Kevin's KLR as well. The trail kept getting tighter and more difficult.
Enter the rain. A quick rain started and everything turned to snot really quick. We spent a good part of the last 3rd of the trail sliding down the trail, dropping the bikes and picking them up. My last spill sent my bike sliding down a hill a few yards. It stopped about half way down and at an angle. I tried to pick it up twice and only pushed it further. Finally after a resting for about 5 minutes I sacked up and got the job done. Kevin had already made it down and was waiting, another rider offered to ride back up and check on me. He got there just after I got the bike up. Very cool of him, I'm sure Kevin didn't want to come back up that sloppy trail.
When I got down to the parking lot there were a few guys with some 250s that were pretty amazed that we made it down that particular trail with those big pigs, not to mention in the mud.
This was one of the best times that I've had in a long time. I was thoroughly exhausted from the amount of work required to get down that mountain. I can't even remember how many times I had to pick up my bike, maybe 4 or 5. I bottomed out my suspension a few times, hit rocks so hard with my skid plate that it knocked my bike to the side, Really just ran the crap out of that bike and it took everything. We ended up taking the Highway home. After all that, it hummed at 75mph down the super slab to get home. What a bike.
Pictures and video below:
Nice clean bikes before the trails.
Kevin quenching his thirst, it was HOT!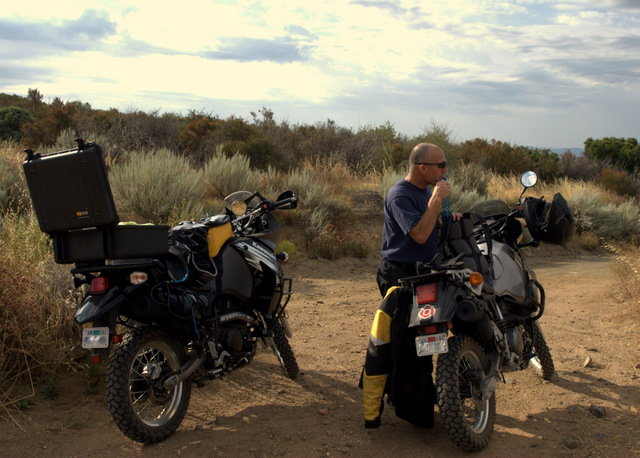 Gratuitous motorcycle shot.
Scenery.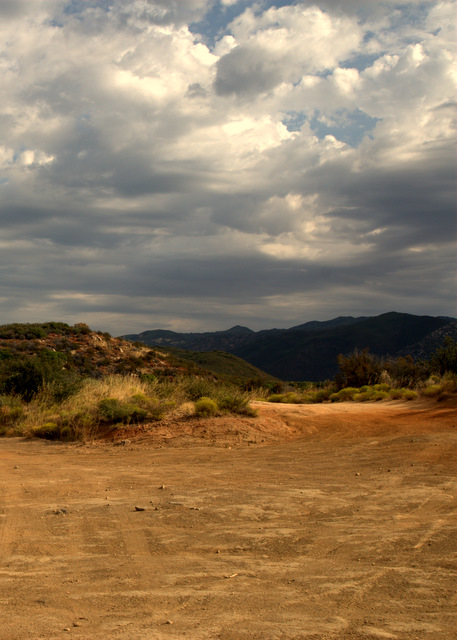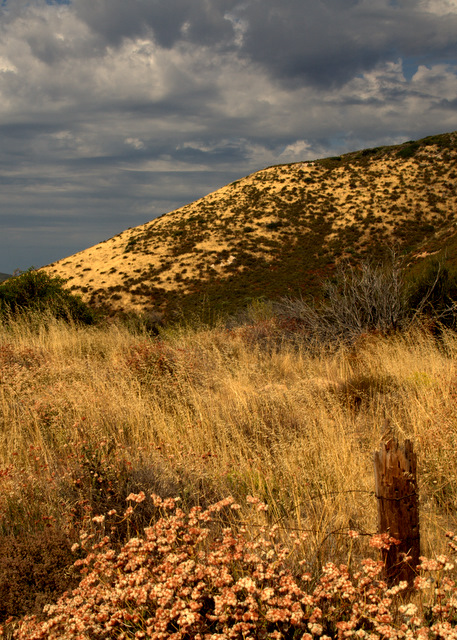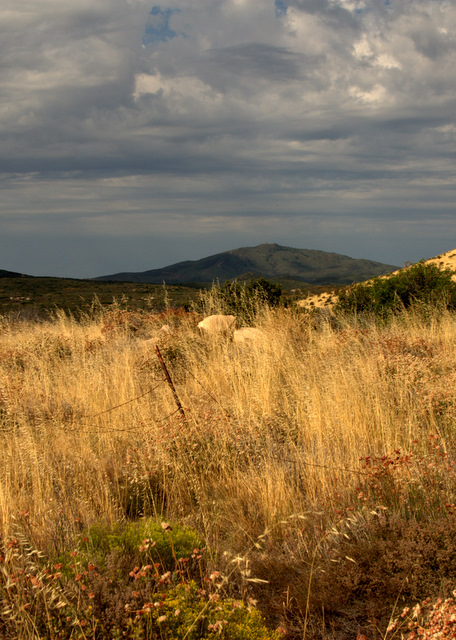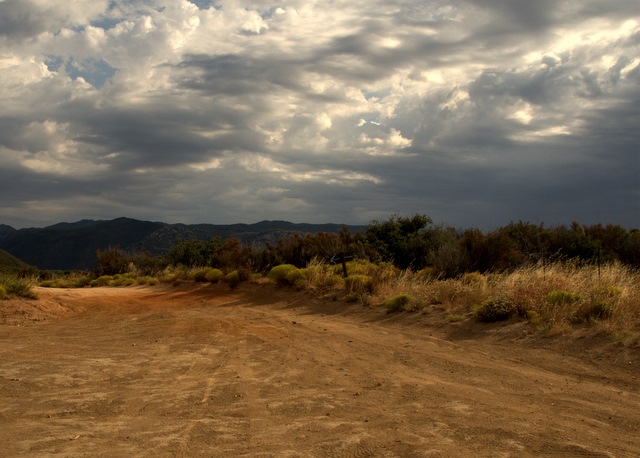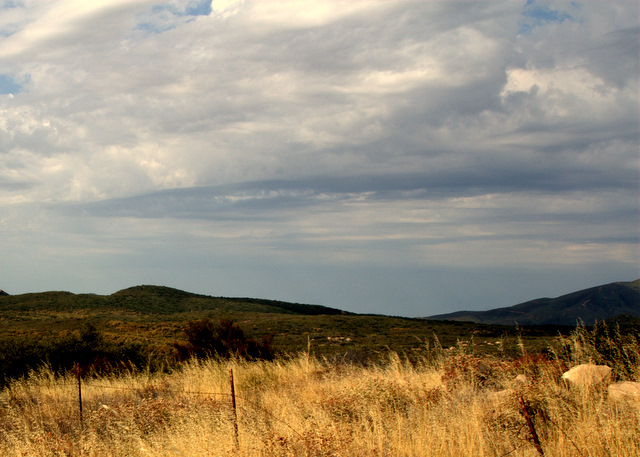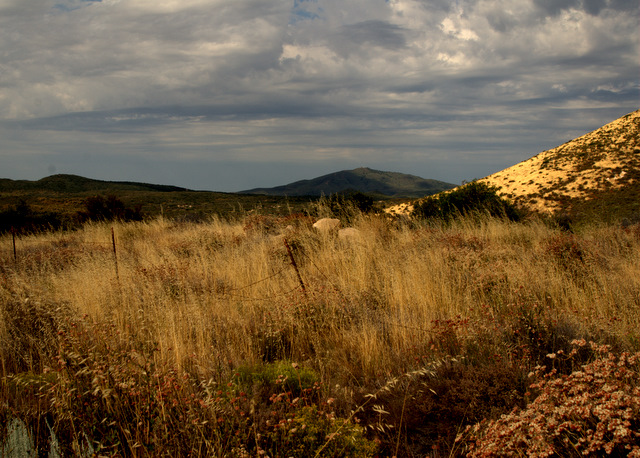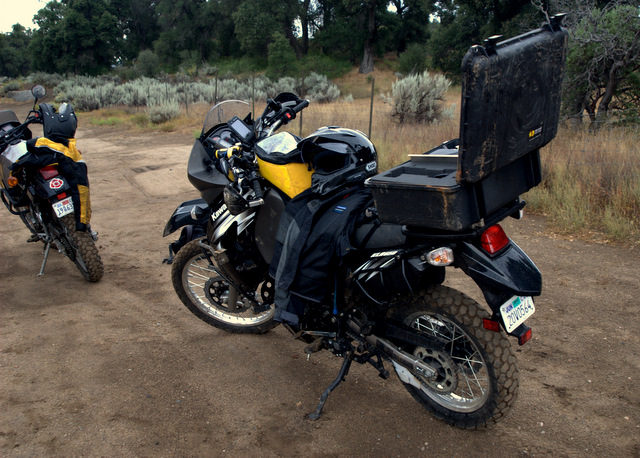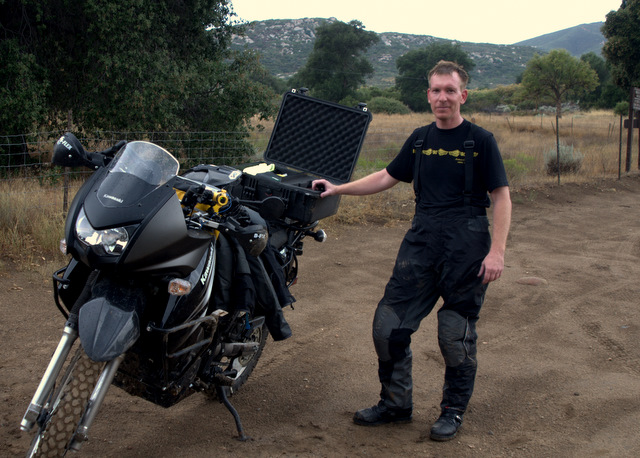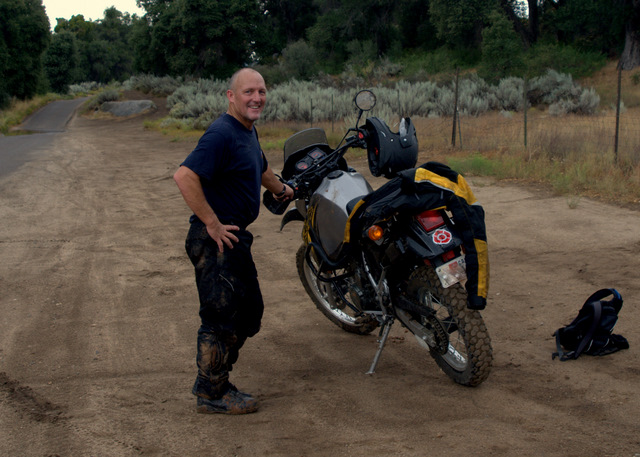 Kevin inspecting the bike for damage. None found on either one!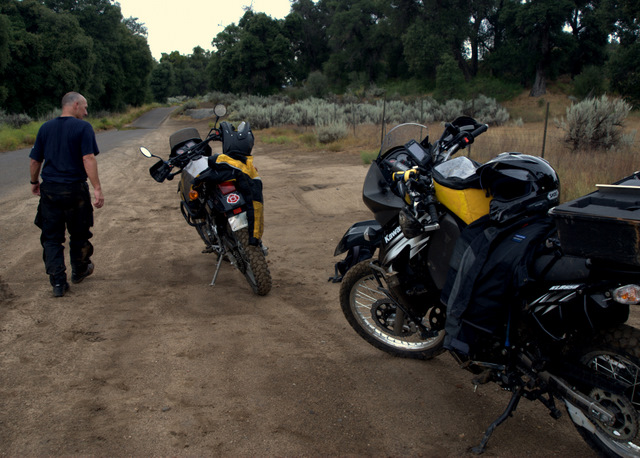 Epic ride. Bravo. You earned a good night's sleep for sure.
---
"In a car you're always in a compartment, and because you're used to it you don't realize that through that car window everything you see is just more TV." R. Pirsig
PPMC #1.
Soon, we ride.
AKA JD Mader or you can call me "Dan" just not early for dinner.
Click my handle for a link to my homepage/blog...which has nothing to do with MCs. Free literature and music! Viva La Revolucion!
-------------------
2008 KLR 650
RIP DM - Soon, we ride.
Banned
Join Date: Jan 2011
Posts: 7
Hello friends,
Thanks to sharing your information, Great riding a single track, it gets too crazy, I am highly appreciated!!
Nice to meet you
Sara Chang
__________
britishmotorcyclegear
2nd Gear
Join Date: Jan 2010
Location: Illinois, St. Louis metro area
Posts: 166
[QUOTE=SD_Charlie;89633] Well after some great riding on some moderate fire roads, Kevin (sandiegowheels). stops at a single track trail head and throws out the "you want to try it"?
Great pics!! Learned the hard way, just a few months ago, to check out the single track ahead of time. Found myself on a wet, rocky, tree covered, steep decent that got the better of me. Think I bounced further than the scoot.
---
Last edited by Glasser; 09-06-2011 at

09:54 AM

.
OverDrive
Join Date: Jan 2011
Location: NW MO
Posts: 5,410
Good deal! Nice scenery and great photos! The days of tougher single tracks are over for me, but I admire you taking it on. Sometimes it seems like you're working harder than the bike, huh? Thanks for the report!




1st Gear
Join Date: May 2011
Location: San Diego County
Posts: 84
SD_Charlie and I found the limits for us of our riding ability, with the conditions of the day as well as what these KLRs can do! It was a Labor Day we both will not forget any time soon, the stuff great stories are made of! I also lost track of how many times I picked the bike up of it's side, but I know I didn't have many more lifts left in me. The KLR is made to take this abuse it seems. I had some tweaked mirrors, ignition switch, but we got back on the highway and the bike purred all the way home. I had installed the Motech bars the week before, I feel I got my money's worth on one ride.
Chuck is a great riding partner, always there to assist, never anything but a smile as we struggled through! I look forward to our next adventure partner!
---
07 Black/Silver

Carpe Diem
Quote:
Originally Posted by
Sandiegowheels
View Post
SD_Charlie and I found the limits for us of our riding ability
That's for sure, but it was awesome. My back is a little tweaked. I got the "you're not 18 anymore" lecture when I got home.
Still haven't cleaned my bike and gear.
Do you remember the name of the trail?
Let me know when you want to go back out.
That is my kind of fun right there!!! Great ride guys, I loved the stormy photos. Send it north would you please.
Looked sort of do-able till the rain set in, I would have been suckered down that stretch myself. Fun ride, looks awsome.

Loved the video!
---
Tractorking
Sitting on a dock of the Bay
Redwood City, California

"Although motorcycle riding is romantic, motorcycle maintenance is purely classic."
Robert M. Pirsig