Neutral
Join Date: Jan 2012
Posts: 3
What helmet do you own/ride with your KLR?
---
Hello,

Online, I've seen a few folks riding their KLR with the dual-sport helmet. What helmet do you own/ride with your KLR?

Thanks,
P
In the cold weather I use a modular helmet. Once it warms up I'll switch to a 3/4 helmet with a built in face shield.
---
A bad day on the bike is better than a good day at work...
There's no such thing as enough storage space...
---
---
Last edited by 650Stew; 01-20-2012 at

02:39 PM

.
Moderator
Join Date: Mar 2007
Location: Fort Sask , Alberta, Canada
Posts: 3,548
Schuberth Concept
---
My Kaw Barn - 2004 KLR, 2006 Concours (sold), 1997 Bayou 400.
"It's a friggen motorcycle, it's not supposed to be comfortable, quiet or safe. The wind noise is supposed to hurt your ears, the seat should be hard and riding it should make you shit your pants every now and then. "
<--- Please fill in the 'Location' on your personal profile page. User CP/Edit Your Details

This information makes it much easier for other members to answer/comment on your posts.
OverDrive
Join Date: Jan 2011
Location: NW MO
Posts: 5,418
I use the AFX-37 and have always really liked it. I'm thinking about getting a new one in the hi-viz color.
[IMG]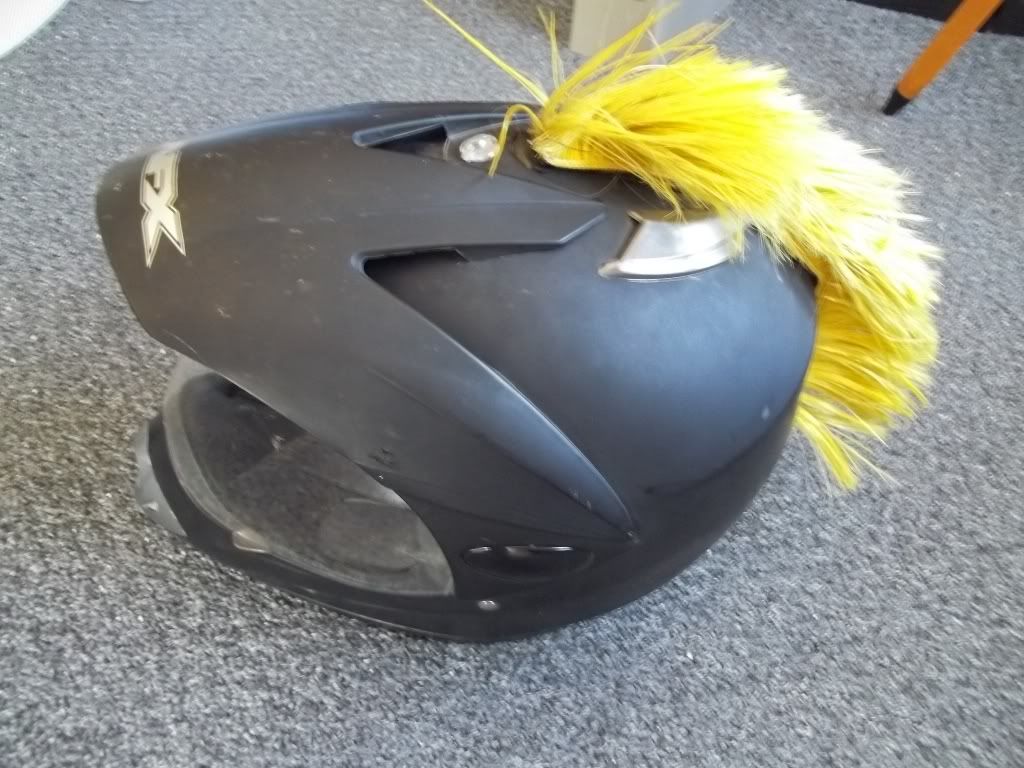 [/IMG]
Hi-vis Scorpion modular/full face...at least, that's what I used to wear, until my last get-off. Haven't ridden since Halloween, but as soon as I can, I have another hi-vis Scorpion full-face (not modular, tho').

ATGATT, brothers and sisters!!
1st Gear
Join Date: Jun 2011
Location: Western NC
Posts: 31
AFX DS-39. Great "value" priced helmet. Very good airflow, goggles fit under shield if wanted, peak is long enough to help shield sun without catching too much air. Build quality is very good for price. 10k miles on mine and zero complaints, other than it's a bit loud. That's primarily due to the amount of air flow, imo.
I wear an arai xd3. I love it. Most comfortable helmet I've ever owned.
---
"If you don't ride in the rain, you don't ride."
"Work to ride and ride to work."
"Accidents hurt - safety doesn't."
Another Arai XD3 here. Nice lid.
---
09 KLR650
01 Jeep XJ w/ 200,000 miles as of 3-26-11
2nd Gear
Join Date: Nov 2009
Location: Waynesboro, PA
Posts: 165
Most of the time I wear an HJC CL-MAX modular.
Occasionally on hotter days I'll wear an HJC CL-33. Its much cooler and lighter than the MAX.
I like the looks and the idea of the dual sport helmets but I have come to appreciate modular helmets (wearing glasses sucks).