2nd Gear
Join Date: Oct 2012
Location: Silver City, NM
Posts: 217
Ruin Your Day ??
---
Today I rode out to the Gila River, about 25 miles NW of town and saw a very common potential problem on the Bill Evans Lake Road. This is open range country and if you're riding in a place like this you want to pay attention. Hitting this at any speed would ruin your day. Can you picture hitting it at 50 mph ?? Can you spell cartwheel ??
The one at the Hwy 180 junction was even worse but traffic prevented a similar picture. This one makes the point, I think, eh ??
.............Lar.
Wow! That does look nasty! I've never seen those around here except on private property, and the ones I've seen are a lot smaller and consist of piping (usually oilfield drill stem piping) running across the road. Like you say, best to keep your wits about you when riding in unfamiliar territory.
2nd Gear
Join Date: Mar 2013
Location: Hermanus, Western Cape, South Africa S 34 24 748 - E 019 12 070
Posts: 320
Snap
The one I crossed was intact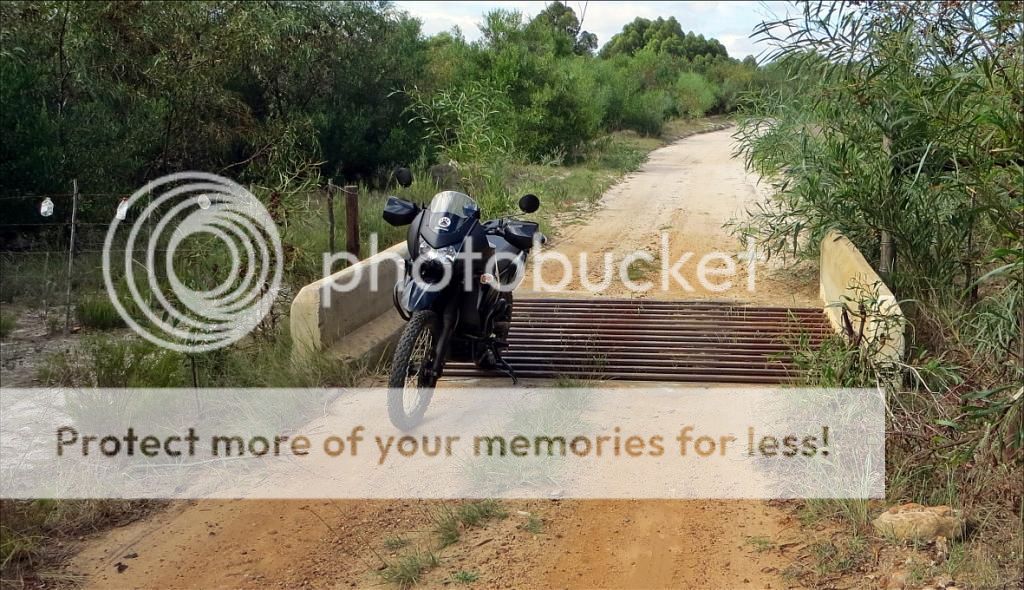 Western Cape. South Africa
the ones i usually come across have a vertical strip holding the horizontal sections together. that one is jacked up.
---
Never ride faster than your angels can fly
OverDrive
Join Date: Jan 2011
Location: NW MO
Posts: 5,450
Yeah, that's messed up. I would say "A Lawsuit Waiting To Happen" for the state of New Mexico. Good thing you noticed it.




1st Gear
Join Date: Apr 2012
Location: Nebraska
Posts: 86
Wyoming used to use similar "cattle gaurds" at all of the on/off ramps to the interstates and major highways. The whole state was/is pretty much "open range". Last time I visited my parents I noticed they had been removed, at least in the Gillette area. A real waker upper in a car, a nightmare on a bike! Good job staying aware, ride safe...
---
Maverik

If the Lights are a Flashin', STAY OFF the tracks!!! It might be me at the Throttle...
I thought Obama was requesting we hire more cattle guards to help with unemployment? I was sure they were everywhere by now. Oh well at least you noticed the real one before it caused you a ton of grief.

Chris