Guest
Join Date: Oct 2006
Posts: 101
Remember Mark Chorzempa, doing an RTW on a KLR?
---
His site:
http://worldadventuretour.blogspot.com/
I was following, but posts dropped off a while ago. I found his pictures account and saw this: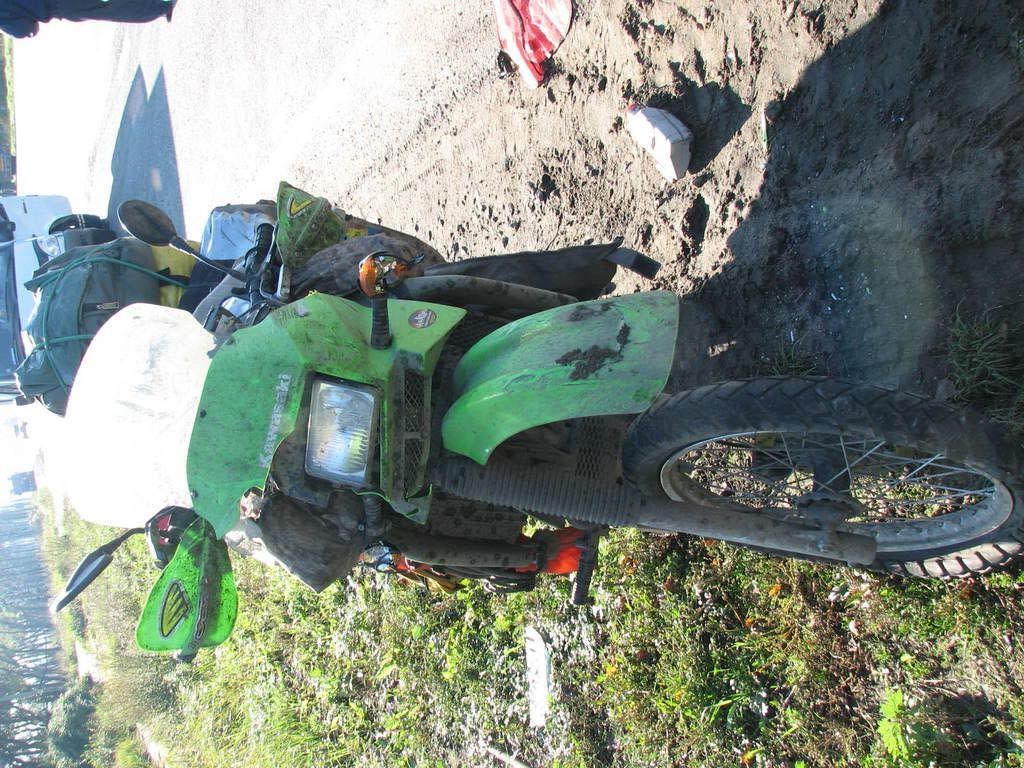 Does anyone know if he is ok?
3rd Gear
Join Date: Sep 2006
Location: Franklinville, NC
Posts: 650
That sucks.... :sad:

wont be able to see a thing out that right mirror... :|
Looks like a pretty hard hit.
---
- Joe
HighSpeed Hiker- DV o5'
Quote:
Originally Posted by larryboy
come awn... it's not far...it'll be fun..
sorry I can't....... I'm fishing today
Guest
Join Date: Sep 2006
Posts: 251
Yea that looks like a pretty hard crash. Makes ya wonder how it happend. Car, deer, dog, inattention? Hope the guy is OK.
Guest
Join Date: Oct 2006
Posts: 34
Man, he's even got a flat, thats a hard hit, anybody know what happened??
Neutral
Join Date: Nov 2009
Posts: 1
Sorry to bring up an old post. This post was recently brought to my attention and I thought I'd provide an update.

A screw embedded in the front tire causing a flat and a loss of control. I was doing near 60mph when I rolled off the throttle near a police check point in Russia. As the front suspension compressed under the weight of the full fuel tank, the front started weaving uncontrollably. At that moment I had no idea what was causing the near tank slapper effect. Luckily for me I side swiped a parked van rather than hit the many cement poles, cement barriers at the police check point or on coming traffic. I suspect the combination of a full fuel tank, raising links, suspension compression and a flat & folded tire, all led to enough rake/trail change to cause the front weave. This was my only crash of any kind during the whole trip, and it took a lot of courage to get back on the bike knowing it could happen again.

Anyway, duct tape, metal bending of the headlight mount and a cash payment to the van owner and I was back on the road. My body was sore for a few days as I rested at a hotel, but thanks to lots of protective gear I was able to continue and finish my round the world trip.

Mark
Wow, glad you made it OK, and congrats on accomplishing your goal man.




---
"In a car you're always in a compartment, and because you're used to it you don't realize that through that car window everything you see is just more TV." R. Pirsig
PPMC #1.
Soon, we ride.
AKA JD Mader or you can call me "Dan" just not early for dinner.
Click my handle for a link to my homepage/blog...which has nothing to do with MCs. Free literature and music! Viva La Revolucion!
-------------------
2008 KLR 650
RIP DM - Soon, we ride.