Guest
Join Date: Mar 2007
Posts: 131
What do you use as a kickstand pad?
---
Im looking for some ideas of what to use as a sidestand pad. The weather here is warming up and there is no shade where i work. I was initially thinking along the lines of an old mousepad, it has rubber on one side and foam on the upper side, and its probably 1/8" thick. Is this too flimsy? Other than a crushed soda can(i dont like this because it has no grip) what else do you all recomend?
Guest
Join Date: Dec 2006
Posts: 38
I use a small piece of wood. @ 3/4" thick 1-1/2" wide x 3" long. Also helps stand the bike upright a little bit more.
Guest
Join Date: Apr 2007
Posts: 6
Try rubberized cork. I park my bike on a tiled surface at home and use the cork to prevent the stand from damaging the surface.

Dual Star sells a weld-on side stand "Bigfoot" to prevent the small original side stand foot from sinking into soft ground, sand or hot tarmac.
Guest
Join Date: Oct 2006
Posts: 206
An Old piece of a heavy duty mudflap cut to size might work well.

Brian
I use a plastic oval shaped foot with a string on it. I put the string over the mirror so I don't forget it. It is a "store bought" one that some company was giving away at a bike rally I went to.

I have used a flattened out pop can, many sticks I found laying around,and even a peice of cardboard. About anything will work if it keeps the SS from sinking into the ground.
---
Today is the first day of the rest of your life.
Guest
Join Date: Jun 2006
Posts: 595
There's a new product floating around right now that might be of interest. It's basically a regulation hockey puck that has a relief cut in it to accept most kickstands. I've seen it in this month's issues of the latest motorcycle rags.
Ah... here it is:
http://www.webbikeworld.com/r4/parking-puck
---
Last edited by Biker Scout; 04-03-2007 at

03:30 PM

.
Guest
Join Date: Mar 2007
Posts: 131
The puck is cool, my local shop has a foot shaped thing for $1 so when i went to get my bike inspected today i picked it up. For $1, even if it doesnt work its worth it, also it has a string that attaches to the mirror like Joe said. Maybe i'll try the mousepad idea if this thing melts, its only plastic so its got me worried.
5th Gear
Join Date: Sep 2006
Posts: 4,700
Crushed beer/soda can or, as in this picture, my BMWMOA Anonomous Book..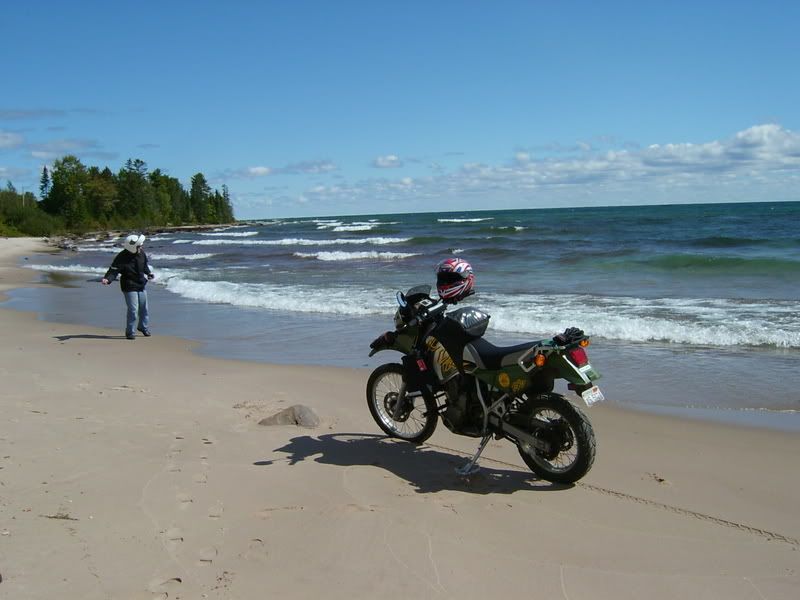 I mean.. It is sand, afterall...
Guest
Join Date: Dec 2006
Posts: 38
What are those....Anakees? In SAND??
You just throw caution to wind now don't you?
Guest
Join Date: Oct 2006
Posts: 206
Man that beach looks familure

Brian