Guest
Join Date: Oct 2006
Posts: 206
The Day has FINALLY Arrived
---
So there I was....
Dodging Euclid B-70's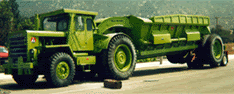 vibrating rollers, and a wild surveyor to finish my density testing and head off to The Motorcycle Shop. Of course I got stuck in traffic but my steely determination and good traiffic manners delieverd me with a half hour to spare.
By 6:05 I was the proud owner of a Red '07 KLR650, and a sweet first gear jacket.
No pics yet but I can pick it up Saturday morning.
I have Sunday off, I wonder where I should go. Buwahahahaha!!!!
Brian
---
Last edited by KLRless; 05-31-2007 at

10:54 PM

.
Sweet. Glad to hear you got it. Sounds like Sunday will be filled with some adventure. Just point it in a direction and go!
My favorite way to ride.
Guest
Join Date: Mar 2007
Posts: 46
Congrats, I am glad that you didnt buy a Fugly 2008
Guest
Join Date: Oct 2006
Posts: 206
Quote:
Congrats, I am glad that you didnt buy a Fugly 2008
Thanks, (I think)
If they would have had an '08 it would have been a hard decision. They had already sold three of them, had two more comming that were already spoken for, and then three more comming evern later that were still up for grabs. Seeing how long it takes to get stuff up here I figured i'd better jump on the '07, plus I dont' have to worry about dropping it that much.
Brian
Congrats to ya.....

After seeing an 08 in person I like the black 07 best, the red 04 next. The rad shrouds on the 08 are tooooo bulky for me.
---
Today is the first day of the rest of your life.
Brian,congrats on the klr.After all those years of school and being patient it has finally paid off.And a job in Alaska to boot! Be careful and enjoy
Happy Trails
Mike
Oh ya,what about your name,klrless?
---
You can't shake hands with a fist
If you can read this,thank a teacher.Since it's in English,
thank a soldier.
---------------
What could possibly happen
---------------
05 KLR The faster Red one
01 Triumph Tiger Sold
08 KTM 990 Adv S
08 Yamaha 250 WR Sold
09 KTM 530 EXC
Guest
Join Date: Oct 2006
Posts: 206
Thanks guys,

If its put together before noon tomorrow I'll be able to go for a ride on Sunday. If not, I'll have to wait until tuesday to pick it up. Which would be said but as Mike mentioned, I've waited this long a couple more days won't kill me.

The guy I work with has lived here for a long time and has been telling me about nice trips I can take after work. I'll finally be able to contribute to the trip report forum.

As an interesting side note. The place I'm getting my KLR from was where Ewan and Charlie had their GS's repaired after the flight from Russian. I guess they were shipped on their side and had transmission shaft problems.

Brian

Oh, the name. hmmm...
I'm going to have to think about that.
Guest
Join Date: Oct 2006
Posts: 206
Wooo Whooo....

The guy who decides weather or not I could miss work this morning said I could come in at noonish so I could pick up my bike and insurance this morning. Unfortunatly everything opens at 10am around here on Saturday, the insurance took longer than normal, an appointment with my land lady for 11 happened at 11:25, and the paperwork for the KLR had to be redone due to inproper VIN#.

The guys at "The Motorcycle Shop" were super cool and were going to deliver the bike to work for me. But when I called to tell work I'd be right there (1:20, after I called at noon saying everything exploded) he told there wasn't much going on and not worry about comming in. He also told me to enjoy the bike and take a ride tomorrow.

So I put 26miles on it, took a ride around Lake Hood (the bussiest Float Plane Base in the WORLD) and down to Earthquake Park to check out the mountains across Cook Inlet at low tide. I also road past Alaska Leather (home of the sheepskin buttpad). I was happy to find that my surveying vest (with tons of retro-reflective fabric) fits snugly over my jacket for high visability.

Too bad its raining now.
I'm only 474 miles away from that first oil change and 4000+ RPM Buwahahahaha!!!

I have to give it up for my salesman at The Motorcycle Shop. Even though things blewup with the paperwork he was cool and I could tell he was doing everything he could to get me out of there as fast as possible.

Brian
Guest
Join Date: Apr 2007
Posts: 69
Welcome!!!
---
Greetings to the KLR clan!

I've got a 2007 black and silver and love it. I just had the 500 service and can open it up a bit.

Life is good.

Regards
---
Last edited by ADVRiderKLR; 09-19-2007 at

09:38 PM

.
welcome to the silly grin clan
Happy Trails
Mike
---
You can't shake hands with a fist
If you can read this,thank a teacher.Since it's in English,
thank a soldier.
---------------
What could possibly happen
---------------
05 KLR The faster Red one
01 Triumph Tiger Sold
08 KTM 990 Adv S
08 Yamaha 250 WR Sold
09 KTM 530 EXC