Neutral
Join Date: Dec 2013
Location: Lake Charles, LA
Posts: 3
Found my bike
---
I just picked up a 2003 KLR 650 with 18,000 miles. All stock except the doohickey has been done. Gotta do the normal maintenance items just to be sure there all done.

Besides that I want to add some luggage. Right now Iím thinking about a pannier rack from dirt tracks mfg with a couple pelican expedition cases. What do you guys think? Anyone running this setup?

I need to get the front brake working better too. Itís pretty weak right now. I donít think its air alone as I have good resistance in the lever. Iím hoping pads and a fluid change/bleed will improve it. Maybe change the rotor too? Any other ideas. My other bike is a 2010 Concours and that bike has a hell of a front brake. I donít think the KLR will come close to stopping like it does but I need better brakes to feel safe on it.

Thanks for any opinions/ideas in advance,
Steve
5th Gear
Join Date: Jan 2011
Posts: 4,717
Quote:
I need to get the front brake working better too. It's pretty weak right now. I don't think its air alone as I have good resistance in the lever. I'm hoping pads and a fluid change/bleed will improve it. Maybe change the rotor too? Any other ideas. My other bike is a 2010 Concours and that bike has a hell of a front brake. I don't think the KLR will come close to stopping like it does but I need better brakes to feel safe on it.

My own experience: Installed EBC 320 mm rotor, Galfer Green pads, and stainless steel-wrapped front brake line. World of improvement in braking modulation and control, as others have experienced also. YMMV.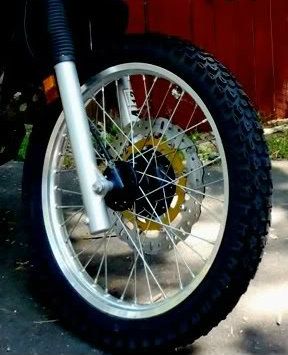 Link for one source for EBC 320 mm rotor:
http://www.motostrano.com/EBC-Kawasa...FQrxOgodOyoANg
As to luggage: Cycleracks rack, pannier set (with auxiliary fuel container carrier) and top case. Shown on KLR250, but fitment and rack configuration are essentially identical on KLR650; would look better with bags filled:
---
Last edited by Damocles; 12-26-2013 at

08:16 PM

.
OverDrive
Join Date: Nov 2009
Location: Lander, Wyoming
Posts: 6,525
LASteve,
The EBC 310mm brake disc and new EBC sintered pads is one of the Best things I ever did to my KLR.
The Stainless Steel Braided F. brake Hose, is dependant on your personal taste and How much treachours, Steep Off-road riding you do. (I did not install, little more forgiving, IMO). On the Street, you'll Love it.
These parts are available from
www.happy-trail.com
, among others.
Check out, their brackets and bags, while you are there.
Sorry, no experience with Hard saddlebag mounts and bags on my KLR.
Neutral
Join Date: Dec 2013
Location: Lake Charles, LA
Posts: 3
Thanks for the links and the info guys. I'm going to try an oversized front rotor with new pads and a braided line. I like the looks of the happy trail panniers too and they're on sale to boot.

Steve