Guest
Join Date: Aug 2007
Posts: 2
alrighty then....here goes....
---
I have many questions for my superiors, I am going to buy a new dual sport bike on my next days off. Originally I was thinking BMW 1200 gs adventure and then the KTM 950R super enduro.Then I stumbled across this site.Well that threw another twist into things.The BMW is around 17000 canadian,the KTM is around 16500,and the Kawi 650 is 6000?!!! What gives? I want a bike thats gonna take me to my favorite fishing hole,do some trails,maybe take the old lady for an ice cream. Whats the big difference in bikes,the KLR seems like a bargain...from what I've read on this site 99% of people seem happy.I'm confused.
5th Gear
Join Date: Sep 2006
Posts: 4,700
Quote:
from what I've read on this site 99% of people seem happy.I'm confused.
They're just a great all around bike..
They're not perfect, but that's just another part of the bike that makes it appealing..
They've been around forever, have a great following, and there a ton of aftermarket stuff available (and they're cheap)
I'm a Lifetime Member of BMWMOA, and rode Beemers for 20 years.. I now own a KLR and have for 4 years..
Remember.. They're not perfect and don't claim to be, but they're great fun and will take you anywhere you wish to go.
+1 paper.

Also if you drop the Beemer, You better have two people to pick it up!

Good luck with your choice!

MB4
---
PPMC # 3

Yo! To the brothers.

RIP Darin, Ben, Carey


"I am the muffin man"
Not poking at names or being mean, but the biggest difference between those bikes in my opinion is the $$$ for the name that is on each particular bike. The BMW's are awesome and I have come to love the look of the KTM, but my KLR fits my budget and will go the same places as the others if notmore so. The biggest thing is, get something and ride, explore, and start seeing that perpetual smile on your face from all the fun. Good luck with your choices.
And please,

That was not a poke to the BMW.

Take care,

MB4
---
PPMC # 3

Yo! To the brothers.

RIP Darin, Ben, Carey


"I am the muffin man"
Up until the 08's came out the KLR was a 20 year old bike with few changes or upgrades. I guess Kawasaki figured if it was still working why ghange it. But the 08's did change, I guess 20 years was enough and I think stricter epa laws might have played a part in the changes in the 08's. Just my thoughts on it.
---
Today is the first day of the rest of your life.
3rd Gear
Join Date: Oct 2006
Location: Evansville, Indiana
Posts: 815
It's simple, the KLR is not a $10,000 quality bike.

Lacks overall power.

Lacks smoothness.

Lacks comfort.

Lacks off road ability.

Lacks on road ability.

What it lacks in any one category is made up by the fact it can do so many styles of riding. Sure you can get a road bike, but then you can't go offroad. Sure you can get a offroad bike, but then you can't go on road. You can get a highway tourer, but then you can't fully enjoy the twisties. You can get a sport bike, but then you won't really enjoy the long hauls.

The KLR basically will do anything, it's all a matter of rider tolerance and rider choice as to what they want to do with the KLR.

I don't think the original intention meets 90% of what people do with the KLR. If other bikes were the same price, the KLR would gather dust on showroom floors. Other bikes can't match the price because they have superior engineering, more power, more comfort, etc...

However, you hear a lot of crap about all the manufacturers.

You simply cannot ignore the vast amount of people on these forums who do obscene miles on the KLR though. It takes some work getting the bike ready for those miles, but the fact it can be done is what draws all these people to the bike.

Unless you buy a full tour bike, you'll spend money on luggage for whatever you get, so that cost is a wash. The price factor you have to add to the KLR is the cost of all the farkles to match the bike to your tolerance level.

The beauty of the KLR though, is that so many pennytech mods have already been engineered and tested. You will find lowtech, hightech and everything in between that can help mediate the cost of farkling the crap out of the KLR.

I'm not a mod freak. I have the Wolfman Explorer, Highway Pegs, Windsheild for colder weather and the HT rad guard and dirt just about anywhere a hose won't reach. I don't plan to do 1,000 mile treks on a KLR. It will be a trailer queen from here to any riding zone over 4 hours away.
Exhondafan,The klr is not a high speed touring bike.What it is is an all around bike.It does not like freeways,but is great on secondary roads,dirt and gravel.I just did an 8 day,2400 mile ride on this one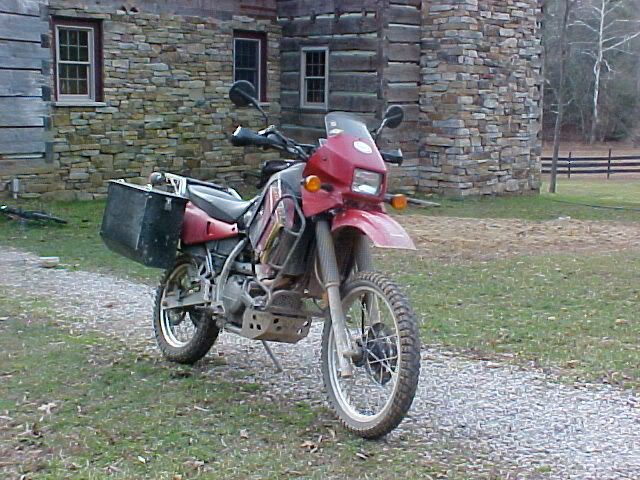 The mods are
progressive front springs
corbin flat
ht guards
panniers
skidplate
1" handlebar risers
doo upgrade
uni air filter
I normally run Mefo tires,but on occasion run tkc 80's.The motor is stock and I use kawasaki oil and change it every 2500 miles.Currently have 25,000 miles on her with no engine,tranny trouble.The bottom line is it's a thumper with a 55mpg average.It will get you there and back.And if by chance something does go wrong,you may be able to fix it for a couple of bucks instead of hundreds or thousands.Just my.02 worth
Happy Trails
Mike
---
You can't shake hands with a fist
If you can read this,thank a teacher.Since it's in English,
thank a soldier.
---------------
What could possibly happen
---------------
05 KLR The faster Red one
01 Triumph Tiger Sold
08 KTM 990 Adv S
08 Yamaha 250 WR Sold
09 KTM 530 EXC
Neutral
Join Date: Sep 2007
Location: Sequim, WA
Posts: 10
Buy the KLR for a LOT less money. Spend a little of that money fixing "known" issues (do the doo, etc), and spend the rest of what you saved on gas & tires. (that would be petrol & tyres since you're north of the border?).

IMHO, the best part about a KLR? The Community!
Guest
Join Date: Apr 2007
Posts: 12
I own a BMW R1150RT and a KLR 650. If I am going on a highway trip, or 2 up with my wife, I take the beemer. If I am going to go down a dirt/gravel road, or I absolutely have to be there, I take the KLR. Like having 4 wheel drive truck and a Lexus......There is some overlap, but they do different things well. In my opinion, the GS and the big KTM are just too big and heavy for the rough stuff. YMMV.