ExCiTeD !
---
this may be a ramble, and you may want to ignore me, i understand..but i am burstin' with anticipation as i will be getting a KLR on sunday. i tried researching the forums to find answers but i keep getting caught up in all the stories..!
is the aluminum engine guard a necessity? how cheap are they?
the fat / wider rack for the rear, what is that called? $?
how do i know if the doohickey is fixed on this used bike?
best tank bag for a KLR?
i wont even ask the oil question cuz i already stumbled on that thread, but what about chain lube and repair? tire repair?
how hard is it to repaint the tank and plastics? i would love to do flat od green with some camo trim..
thanks for putting up this far, enjoy answering or klik the back button, but thanks for checkin'.
(2005 red/black, first bike since BC..ten years ago)
majorlagg
Guest
Join Date: Oct 2006
Posts: 206
I've got a Wolfman Explorer tank bag. Its great for touring but either its to big for my gut, or my gut is too big for it when I'm off-roading. Another guy runs with the Wolfman enduro, I think, and says its plenty of tankbag and doesn't get in the way when you have to stand up.
I'd search for luggage Rack on Ebay, people seem to like that one.
Ask the owner about the Doo, if they don't know you'll have to go in and find out.
Hard to say about the skid plate. Its kinda depends on how much you off-road I think. Although I plan to get one because more than a couple times my front tire has kicked up a big rock or two that bounced off the plastic guard. That and I've bottomed out crossing a log once. It'd also be a good idea to get the low profile oil drain plug so it doesn't get sheered off as you blast over those rocks.
You might want to think about seat options too. The stock seat works for some, but not me.
OH and don't forget about radiator protection.
Vendors:
www.dualstar.com
www.klr650.com
www.arrowheadmotorsports.com
There are more but I can't think of them off the top of my head.
Brian
WOW!!!

I THINK HE IS GOING TO EXPLODE!!!

Good luck dOOd, Slow down and take a deep breath!!


Take care,

MB4
---
PPMC # 3

Yo! To the brothers.

RIP Darin, Ben, Carey


"I am the muffin man"
I like the kawasaki tank bag because it fits!!! you can fill up with gas while its on, it holds plenty, and I think it is the cheapest and around $50.
The doo? ask the PO or open the side case.
Chain, the book calls for 90wt oil, there are plenty of sprays to use, waxes, wd-40, my thoughts are to keep it clean and oiled.
Engine guard? depends on your riding, I don't do a lot of off road riding so it isn't that important to me.
Wide rack? Almost anything can be bolted on to make the rear rack wider, just remember whatever goes on back there will stick out and could cause you harm in a crash. I wouldn't use anything with a sharp edge, I like a tail box, that gives the passenger some support.
Prices???? check e-bay, you can find almost anything for a KLR on e-bay and the price varries.
---
Today is the first day of the rest of your life.
5th Gear
Join Date: Sep 2006
Posts: 4,700
As you see, you'll get plenty of help here, and I'll chime in a couple things..
I'm with Daddyjoe on the Kawi tank bag. Easy on and off, fits like a glove, and cheap. (even cheaper from KLR650.com)
I wondered about needing my engine guard until I rode up in KLRLess's old stomping grounds in the UP of Michigan.. The first BANG of a rock against it sold me, and the 20 more hard rock hits against it made me even more happy I bought it.
If I wasn't ever going to ride off-road with it, I wouldn't have spent the money, but even just gravel riding I'll occasionally hear a solid hit that makes me wonder how the plastic one would hold up...
Also, the tank bag's nice, and the tank panniers add a ton of storage room, held down low, and block rocks/wind/rain from your legs.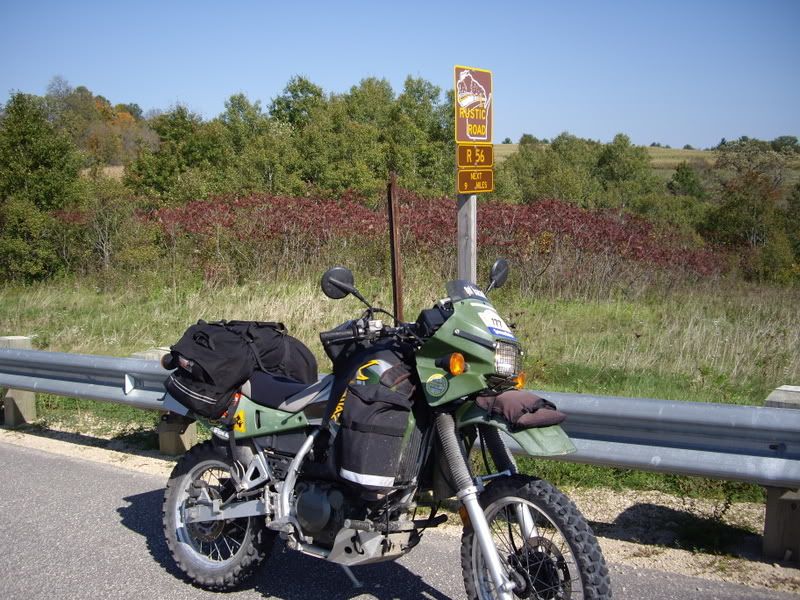 ExCiTeD !
---
I like you am new to the KLR, but in the short time I've had it here's my take. Engine guards, radiator guards, and skid plates are a must, I know from experience the radiator guards are a must have. I dropped my bike last week and broke the radiator guard, I hate to think what would have happened to the radiator if not for the guard. I have also found the tank bag to be invalueble, again this is the first tank bag I've ever had. Right now I have a digital camera, rag, extra gloves, flashlight, multitool, locktite (blue), and a pair of clear night riding goggles in there. Without the bag I'd have no where to put that stuff. I got my bag at CycleGear for $19.00, it's called Trackside. You have to pull the top back to gas up, but for the convienence of having the bag its no trouble. The bag seems to be a good fit as it has not been in the way either in the dirt or on the street.
Good luck and enjoy your bike, after riding strictly street bikes for the last 20 years, I've found the KLR to be the perfect do it all bike, I do not regret getting of my Harleys to make the switch to the KLR, It's been a total blast to ride.

Mark
Sportster65