Marine KLR
---
Who says the KLR isn't bad-ass?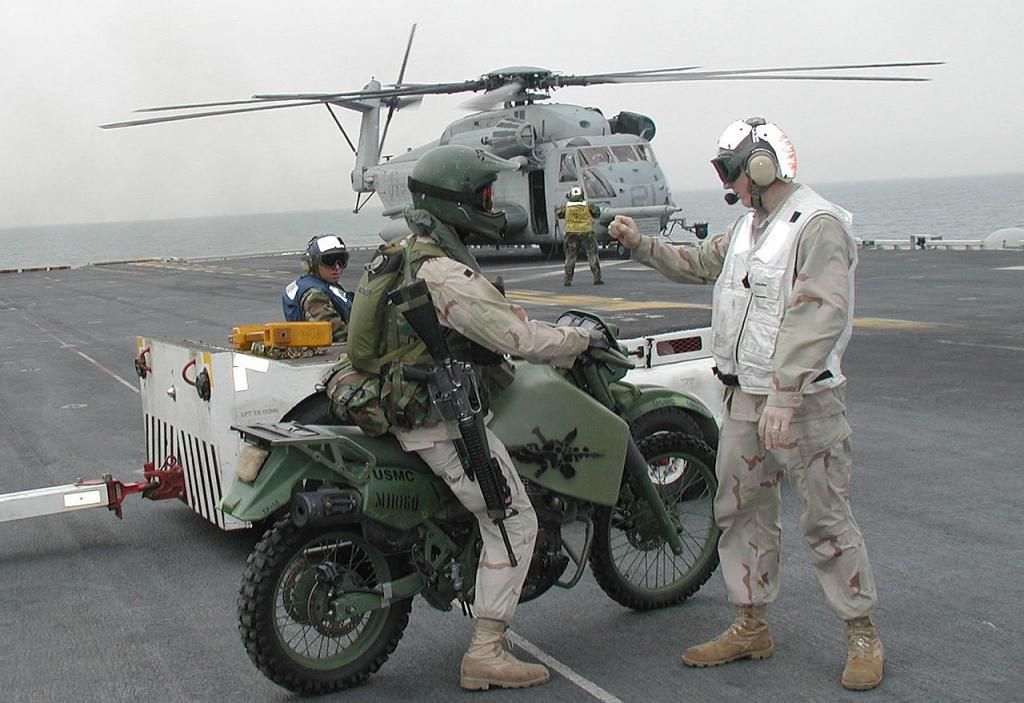 "At sea aboard USS Tarawa (LHA 1) Feb. 12, 2003 -- A member of the 15th Marine Expeditionary Unit (MEU) Special Operations Capable (SOC) waits his turn to onload his motorcycle for a helicopter flight into Kuwait. The Tarawa Amphibious Ready Group arrived in the North Arabian Gulf in mid February as part of a regularly scheduled deployment. U.S. Navy photo by Photographer's Mate 3rd Class Larry Carlson. (RELEASED)"
3rd Gear
Join Date: Jan 2014
Location: Phoenix, AZ
Posts: 527
3rd Gear
Join Date: Jan 2014
Location: Phoenix, AZ
Posts: 527
Our 14 year old rides a Yamaha XT250 right now but has his eyes on the KLR and figures he will be riding it when he turns 16. He is into the USMC and camouflage so showed him the picture. I think our KLR is going to get painted if he gets the chance.
OverDrive
Join Date: Jan 2011
Location: NW MO
Posts: 5,451

There's talk of hybrid/electric motorcycles entering the ranks, but so far that talk just seems to come from the companies who make them.




Neutral
Join Date: Jun 2014
Posts: 5
electric style KLR
---
I attended a humanitarian relief expo at a base in WASH D.C last summer. One vendor had the electric bikes. Rode the best one. Now imagine a klr sized bike ( just like picture on USS Tarawa)that LOOKS like a little bit larger bicycle. Well this sob could do 50mph EASY! oh man so F'N fun!
Bad news $14,000
3rd Gear
Join Date: Jan 2014
Location: Phoenix, AZ
Posts: 527