Why hand guards?
---
It's starting to get hot where I am. Gets up to 100 during the summer. I bought a nice pair of Alpinestars mesh gloves (I have mesh pants/jacket). Anyway, I wore the gloves the other day and I loved the way they felt, but no air flow because ... I'm not the sharpest knife.
So, I took the handguards off right now. Takes about a minute. I used to commute where it was colder and that was my thinking (I'm lazy) - leave em on, cause, why not? My hands would have been warm enough with gloves.
SO...why aren't more guys taking the hand guards off when they're going to be on the road for 90% of the time (like me) and put em back on for when you DO go offroad. (Or it's gonna rain or whatever ... seriously, it takes a minute and I'm slow).
My wife asked me why I've never done this and I had no idea what to say. You can leave all the metal on the bike and the plastic is safe in my junk room. What's the deal?
Only negative I can think of (bike handles way better without the guards) is that it makes the bike look weird.
---
"In a car you're always in a compartment, and because you're used to it you don't realize that through that car window everything you see is just more TV." R. Pirsig
PPMC #1.
Soon, we ride.
AKA JD Mader or you can call me "Dan" just not early for dinner.
Click my handle for a link to my homepage/blog...which has nothing to do with MCs. Free literature and music! Viva La Revolucion!
-------------------
2008 KLR 650
RIP DM - Soon, we ride.
Neutral
Join Date: Feb 2015
Posts: 1
Just took mine off too , but that's because its real windy where I live .

Wellington , New Zealand - the windy city by reputation .

Took them off to reduce buffeting in strong winds and besides I used to ride all my previous bikes without handguards
the only reason to leave them on is big bugs hitting my hands at 70 MPH
---
The feeling of the wind in your face can lift your heart.
5th Gear
Join Date: Jan 2011
Posts: 4,706
Hand guards (that is, SUBSTANTIAL hand guards with metal backbones, not merely plastic wind deflectors), when installed and adjusted properly, can PROTECT brake and clutch levers from breakage in the event of a fall.
Certainly, some hand protection is offered also, in the event of tree trunk, root, stone cliff, etc. collisions.
Many satisfactory makes and models of hand guards must exist; I've found Tusk handguards versatile regarding installation, affordable regarding price, and . . . effective in protecting levers, hands and fingers in crashes. YMMV.
KLRista low-cost expedient: I've seen OEM KLR elephant-ear wind deflectors screwed to bare-bones aluminum strip hand guards. Doesn't look bad, and should protect effectively as well.
I bought Tusk spoilers to go with the hand guards; at about $ 12 a pair, replacement is easy and affordable in the event of road rash.
Tusk "D-Flex" hand guards on KLR250 (KLR650 installation essentially identical), from Rocky Moujtain ATVMC: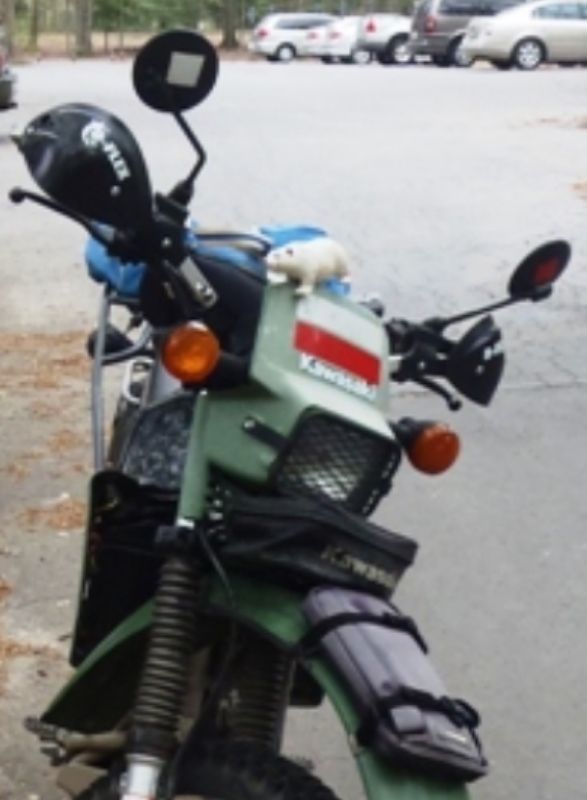 I just installed the Tusk brand handguards & spoilers this weekend... They don't seem too bad!
---
People should not be afraid of their governments. Governments should be afraid of their people.
OverDrive
Join Date: Jan 2011
Location: NW MO
Posts: 5,451
I have the stock plastic scoop shovel hand guards and a couple years back when it was hot out I broke one. Until I could find a replacement, I just took them off. After reading your post, Lockjaw, I now remember thinking, "You know it's kind of nice not having those things on."

They're really nice to have when it's cold or raining, but I think I'll just go take mine off for the Summer. I have no interest in aftermarket metal handguards.




2nd Gear
Join Date: Feb 2013
Location: Maine
Posts: 368
The Moose plastic deflectors loop around the aluminum handguard so the aluminum has to come off first. They'll take a bit longer than a minute to remove, but not too bad.

In this area the wind protection is welcome any time of year. Cool ocean breezes can make morning or evening rides a bit brisk.

But I don't think the guards look weird without the deflectors. Just different.
Similar Threads
Thread
Thread Starter
Forum
Replies
Last Post
hand guards

Festis

Introductions

8

04-27-2014

10:03 AM

Hand guards.

larry31

2008+ KLR650 Wrenching & Mod Questions

42

03-27-2013

07:53 PM

08+ Hand Guards (Post EM')

DUBL-A

2008+ KLR650 Wrenching & Mod Questions

3

09-16-2010

06:58 PM

Hand Guards

flash

KLR & Other Motorcycle Related Discussion

1

03-08-2009

03:29 PM

Hand Guards

Rick Geroux

Bike and Rider Gear

3

04-07-2008

10:36 PM