Loss of one of our own.
---
I wanted to make sure this thread was posted on our forums.
From Mel:
I'm very sad to say that we recently lost a good friend and riding buddy.
Some of you knew Chris Buckner, or as I often called him "Chris with the Sherpa".
Chris passed away earlier this week. I have no details for you at this time, but the obit is below.
I will be going to the service tomorrow if anyone would like to meet me at my office in Fletcher at 1PM Friday, just PM me.
CITIZEN-TIMES.com: Obituaries
Chris M. Buckner
Asheville Ė Chris M. Buckner, 47, of Sycamore Street, died Tuesday, July 8, 2008, at his residence. Chris was a native of Buncombe County, but spent most of his adult life in Mobile, Ala. He was preceded in death by his father, Morris H. Buckner.
Chris was a truck driver for Ingles Market, Inc. for many years. He was a member of First Independent Methodist Church School in Mobile, Ala. Chris loved to ride anything with wheels, especially motorcycles.
He is survived by his mother, Merle Ralston Buckner, of Asheville; his uncles and aunts, Walter and Sara Middleton, of Sylva; Ralph and Gail Bartlett, of Taylors, S.C.; Sara W. Ralston, of Asheville; and a number of cousins.
The graveside service will be at 2 p.m. Friday at Asbury United Methodist Church Cemetery, with the Rev. Lisa Hartzog Hannah officiating. The family will receive friends immediately following the service in the fellowship hall.
In lieu of flowers, contributions may be made to the Bikers Foundation-Toys for Tots Poker Run.
Morris Funeral Home, 304 Merrimon Avenue is in charge of arrangements. Condolences may be sent through the website at
www.morrisfamilyfuneralho
me.com
Published: 2008-07-10
Asbury United Methodist Church
171 Beaverdam Rd Asheville, NC 28804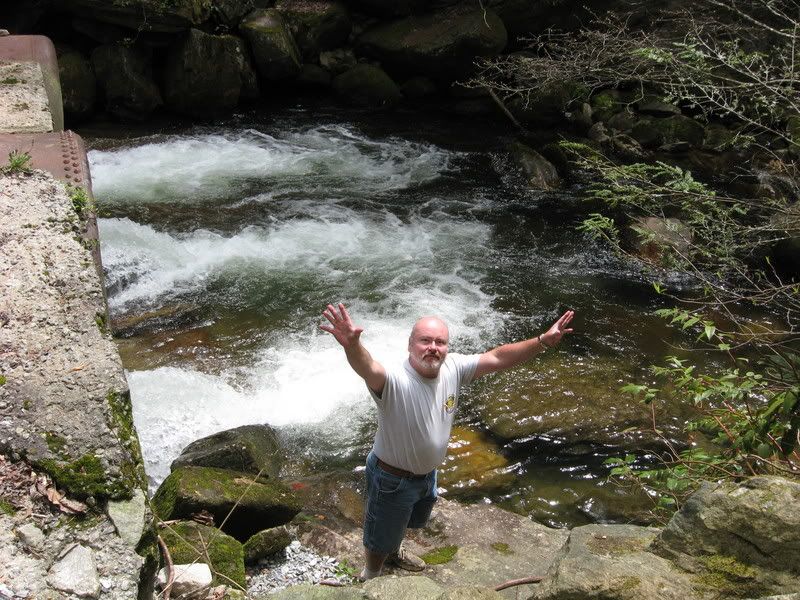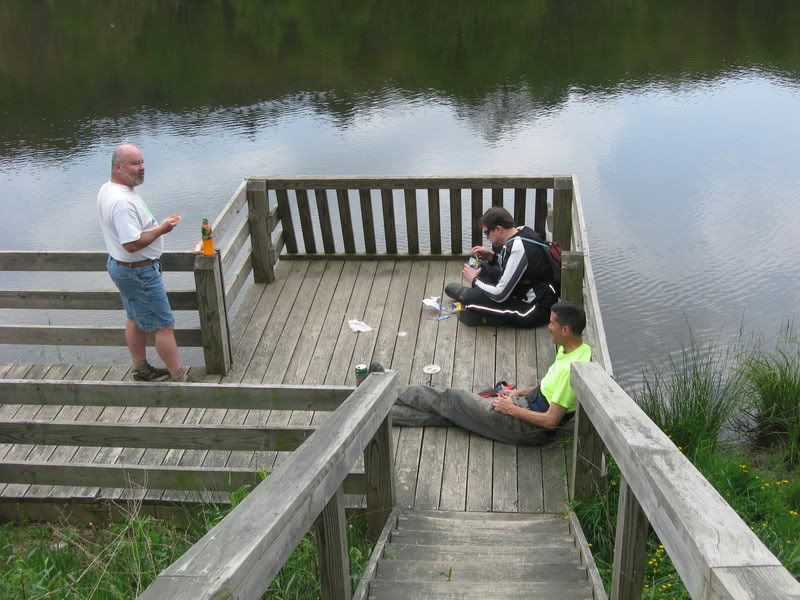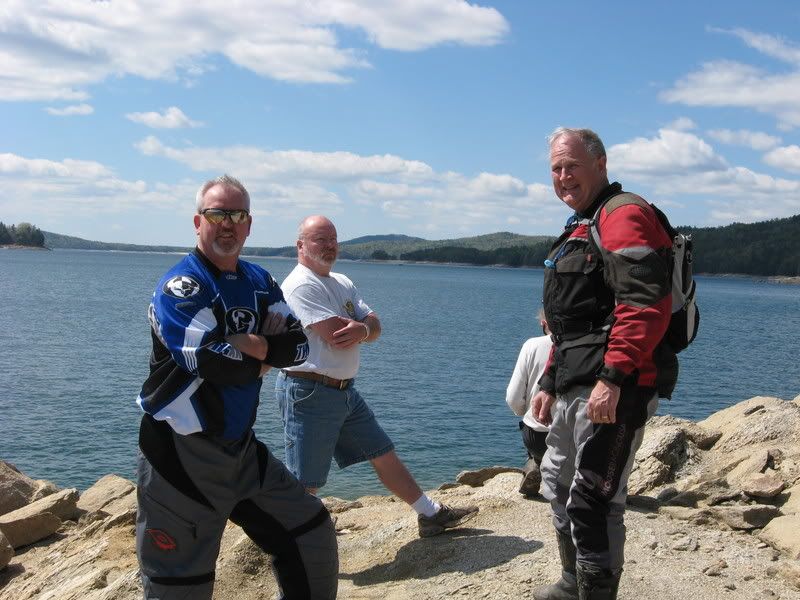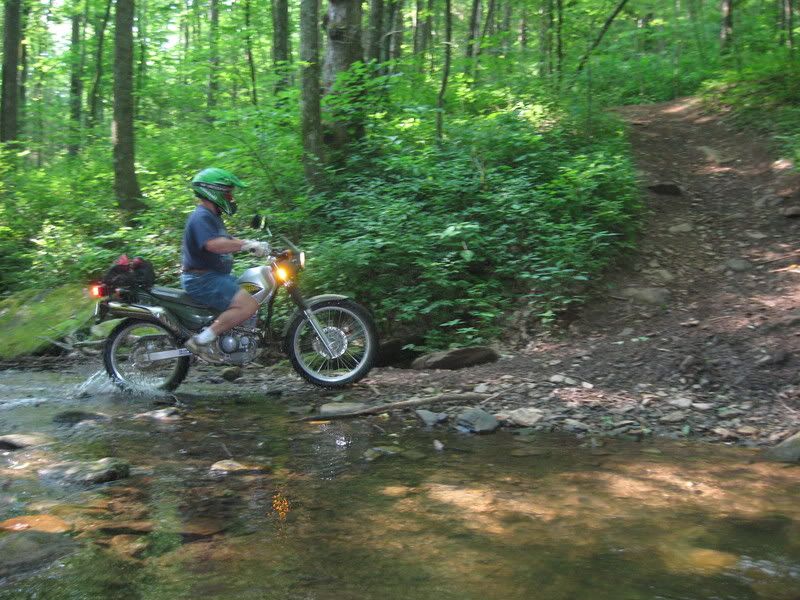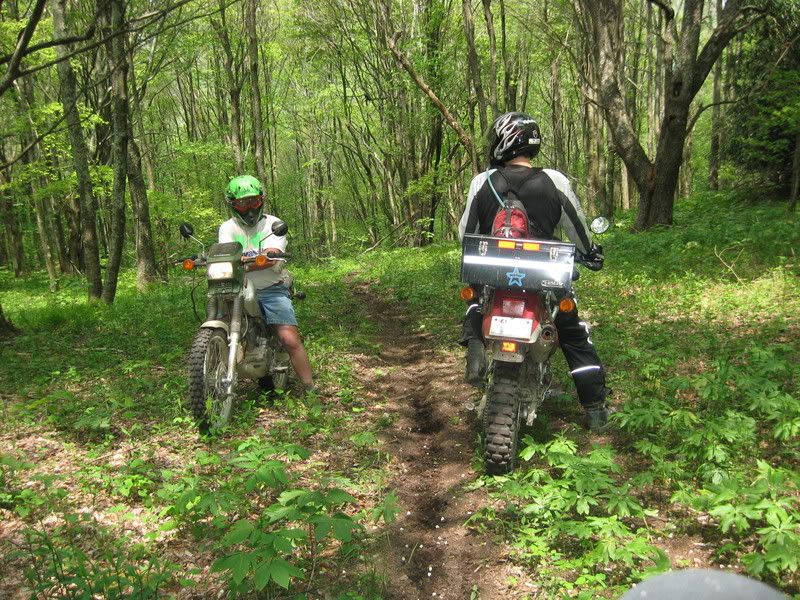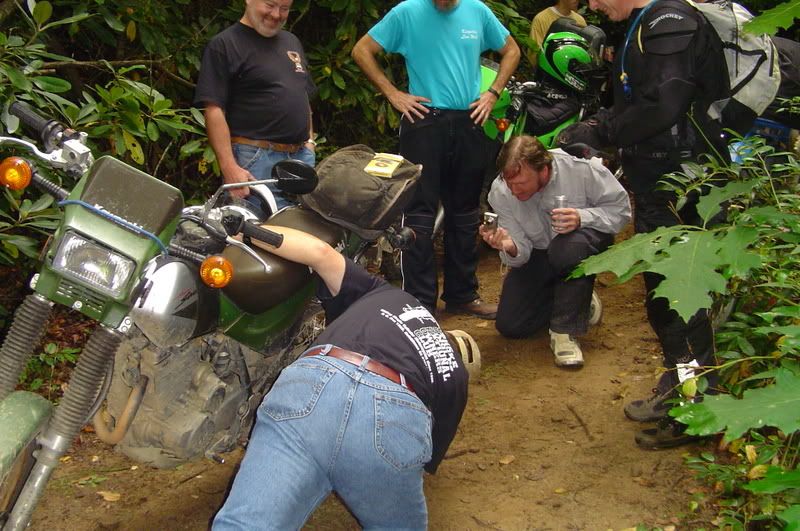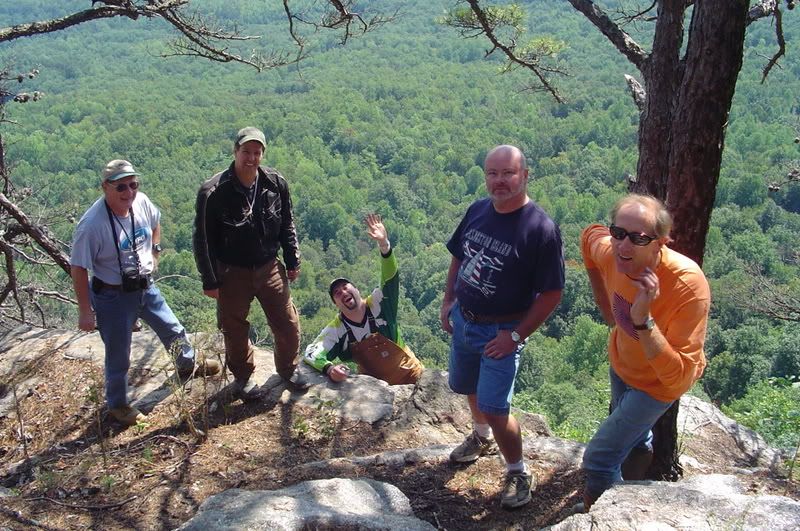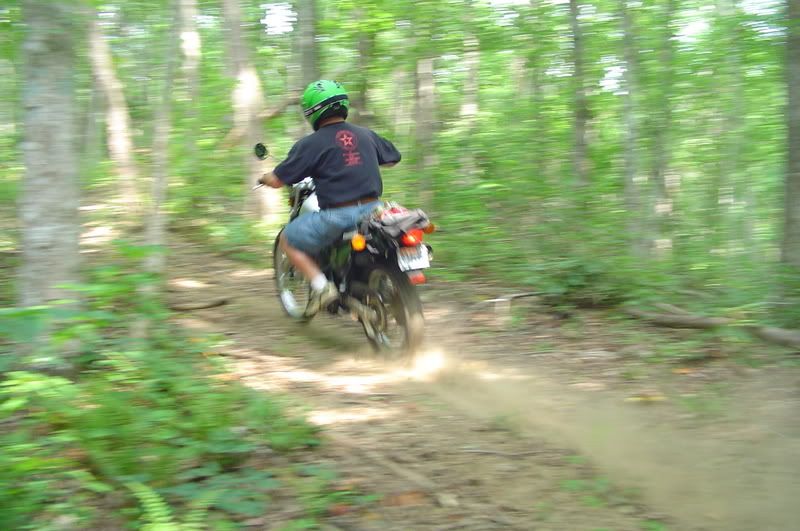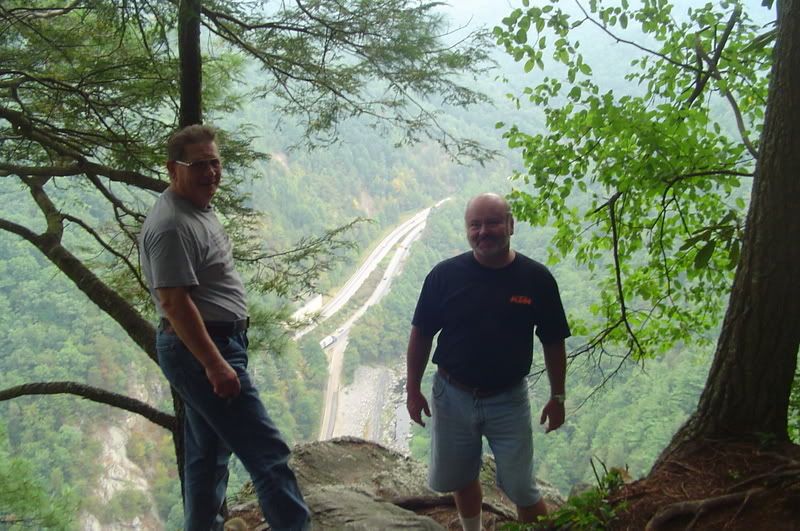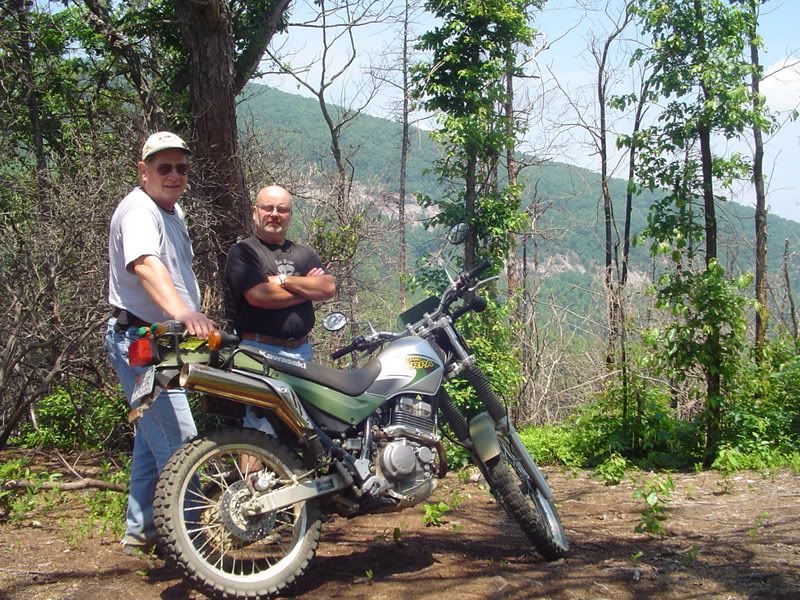 Most of the pics I have of Chris on his bike are blurry, cause I could never keep up with him, he was always going so fast! :ImaPoser:
He was an excellent rider and a good friend and I will miss him dearly.
---
Keep Loving Rides!
My Post:
I got to ride with Chris a couple of times. The first time I met him was at Vic's home. We got to ride Worlds Edge together and also a small part of TDP-II's hooligan ride. I will definitely miss him and will keep his family in my prayers.
Here is a pic of Chris (rear), Vic (middle), & Fred (front):
I had stopped to take a picture and was off the bike for longer than I wanted, so good ole Chris came back to make sure I was O.K. Got this great pic while I was off the bike.
Here is some video that Mel took:
(If you haven't figured it out by now, Chris is the one in the shorts)
http://www.youtube.com/watch?v=KhDTpUBhbHU
http://www.youtube.com/watch?v=ScmqGdogjFQ
http://www.youtube.com/watch?v=zuH5sfS7_ck
---
Keep Loving Rides!
RIP Chris
---
94 KLR,tank guards,sw motech centerstand,Doo done, african switch,mirror dampners, powerpegz, twisted throttle fuses, aluminum skidplate, Bigcee shark disc and jug holder and subframe upgrade, progrip grips,maier handguards/brushguards, avon distanzias,fmf q4 exhaust, headlight guard, handlebar risers, billet rear brake reservoir bracket and guard, dual star shifter,garmin 2820 gps, tmod,disc cover, pcv mod,corbin flat
Our prayers go out to the family....
3rd Gear
Join Date: Sep 2006
Location: Elk Grove, Ca
Posts: 990
Sounds like one heck of a nice guy...I'm sorry for your loss.
---
Quote:
Larryboy, you're brilliant!!
Message from Mel:


Again, thanks to everyone for the kind thoughts.


English Fred and I attended the service together today. It was held outside, nice and simple and brief. Knybanjo and Yellow jacket were there too.

It's funny y'all mentioned the pictures and videos and such---I was compiling what I had to offer to the family.


but they had the coolest display running on a DVD. They had taken all of his moto pics and other pics and made a slideshow that ran during the reception.

They had pics of him from a little kid at Christmas, his time in the Navy, some of his cars, up to his first pics on minibikes, and then his first motorcycles. The man had a lot of bikes in his lifetime! Lots of very cool iron. THuMBUp A lot more than he had ever told me about. Right up to the latest pics of him on his KTM super moto at the dragon.

I always knew that Chris was into bikes, but after seeing all those pics, I can tell you that he was REALLY into bikes!

Truly a skilled rider, motocycle nut and a good guy.
---
Keep Loving Rides!
Message from Vic (Yellow Jacket):



This will be a very difficult post for me to write but I would like everyone to know a little about my friend Chris. I relocated to this area 11 years ago and met Chris about a year later. I suppose that were I to name one person as my best friend it would have to be him. We hit it off right away and spent 100ís of hours riding together. His dirt riding went back a lot further than mine so he was much better in the dirt than me. He had to pick my bike up off me dozens of times and only once did I have to do the same for him. Chris was a commercial truck driver and as such there wasnít much that he didnít take notice of and it showed in the woods. He always seemed to be able to pick a better line than I could. Chris was also a mountain bike rider, something I was never into and in recent years he returned to it so we didnít ride together as much but still rode whenever we could.
If I were to describe him, I would say he was a very honest, sincere working man who loved his job. Outside of work, motorcycles and mtn. bikes were his primary interests. He also had a keen mind and was very aware of currant issues. He would write letters to the local newspaper and had over a dozen printed over the years.
I will surly miss Chris in the upcoming rides, he was a good friend. No one knew much about his demons, much less understood them, but in the end they became too much and he chose to end his life. The rides now will be a little shorter and not as much fun. Rest in peace my friend, you will be greatly missed and remember forever.


A special thanks to all who expressed wishes on the forum, he had many more friends than he ever realized.
---
Keep Loving Rides!
Guest
Join Date: Jul 2008
Posts: 2
I feel for his family and for you as everyone knows most people go through life to find that friend
Guest
Join Date: Apr 2008
Posts: 16
1st Gear
Join Date: Oct 2006
Location: northern Arkansas
Posts: 81
Vic
Be happy the motorcycle gods gave you those 100's of hours with Chris. Sometimes you just have to take a route that's hard to explain to everyone.
Jim
---
KlR650 x 2 F650gs XL185
Similar Threads
Thread
Thread Starter
Forum
Replies
Last Post
KLR loss of power advise wanted!

markturnip

KLR & Other Motorcycle Related Discussion

10

07-23-2008

06:42 PM