Neutral
Join Date: Aug 2008
Location: midwest
Posts: 2
Can KLR carry the Big & Tall Dawg? :)
---
Greetings all!

As I approach retirement, I look forward to doing some significant touring on two wheels. In the past, I have been through various parts of Canada, including Labrador, Nova Scotia and Newfoundland. Next trip may be Alaska - with a desire to get above the Arctic Circle:)

I currently have a GS 1100 Beemer with all the bells & whistles (and I have the credit card receipts to proove it!) It has taken me on 50k worth of touring miles, and has always been kind enough to wait until I was back in town to break down. Am now looking for something that is both lighter, and more easily worked on by "local" mechanics. (I am NOT a wrench!)

MY PROBLEM: I am 6'5" tall, and weigh in at 290 on a light day. With associated camping gear & clothing, we're looking at +/- 350# on the bike. The GS carries all of that without a problem. OTOH - if it breaks down - there aren't a lot of places that can/will work on it!!!!

Will a new KLR carry me & my gear up the Dalton or TLH? Am open to suggestions - especially from any other "Big & Tall Dawgs" out there who are riding KLRs. Enough leg room? Seats? What type of suspension and/or frame mods might I be looking at to make this possible? (I hear the 08s actually have binders that work fairly well - true?)

Any & all suggestions greatly appreciated:)

jm
3rd Gear
Join Date: Oct 2006
Location: Evansville, Indiana
Posts: 815
A V-Strom sounds more in line with what your looking to do. Especially if most of it's road riding.
Others around will say the KLR is great for adventure riding, but I can't see how unless you spend some cash, which by then you could have had the better street bike. If I was traveling long term on a motorcycle, I can definitely say the KLR would not be my choice due to it's lack of power and lack of smooth road manners. It's definitely a matter of what your terrain intentions are.
If you do like the KLR, you might consider a trailer for it?
http://www.klrforum.com/showthread.php?t=4292
They have videos of the trailtail in action, it can/will handle most terrain anyone will actually throw at it. When you arrive at your destination, leave the trailer at camp and go exploring. Seems a bit much, but it's a trailer versus carrying stacks of gear on the back rack for extended periods.
---
Last edited by TheWanderer; 08-12-2008 at

02:17 PM

.
5th Gear
Join Date: Sep 2006
Posts: 4,700
I'm not much less than you as far as weight, at 6' 1", and I've put 15K on my '02, and much of that loaded down like a mule.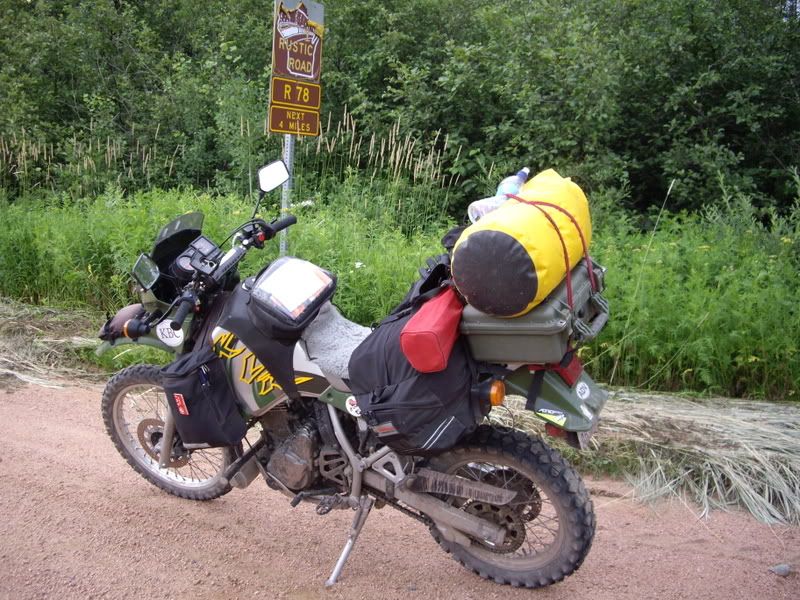 Just did 1500 miles in a bit over 4 days a month ago while camping in the U.P. of Michigan. And that was with a '08 Goldwing sitting at home.
3rd Gear
Join Date: Oct 2006
Location: Evansville, Indiana
Posts: 815
5th Gear
Join Date: Sep 2006
Posts: 4,700
Quote:
That is truly remarkable Paper. Is that a kitchen sink in the wolfman duffle?
Clothes, sleeping bag, blanket, tent, air mattress, chair, lights, cooking gear, food, tools, etc..
I did a quick overnighter this last weekend and didn't take a third of that stuff..
Guest
Join Date: Aug 2008
Posts: 3
I just purchased an 08 klr. P reviously owned an 07. I have to say that the 08 has considerable more torque and hp over a much better range than the prvious model. As far as the ride goes there isn't much more vibration than some of the bigger street machines that I have owned. The newly designed binders are excellent for stopping power. It has a 405lb total load capacity, you and your gear. i have been able to go 275 mile between fills highway driving averaging 60 to 65 mph. I believe with my past experience with the 07 model and the improvements of the 08 you should be able to travel anywhere with this bike. I would recommend the corbin seat for longer travel comfort. Also after the first 300 to 400 hundred miles no matter the bike it comes out in the wash as far as our rumps go. The klr is also , in my opinion, more versatile than the v-strom if you're talking going to Alaska and above. Also the klr is known world wide it is simple to work on and if you are traveling thru Canada or Mexico part availability and personnel to work on the bike , if you're not a wrencher, are much more likely than most other bikes out there. This is just my own humble opinion. Good luck with your choice. Either way if you choose the klr you'll soon understand it's popularity with the dual sport adventurers and if you don't you won't be able to miss something you have never tried.
Guest
Join Date: May 2008
Posts: 106
I'm 230 and traveled with a girl on the back who weighed around 150. There was a drop in performance with the girl on the back but nothing to write home about. Then again, doing 100+ mph in a split second is not high on my list of what I must do while riding a bike.

I've heard that the cold is not a friend of the vstrom. You might want to visit their forum to confirm this.

I agree, a lot depends on the road (or lack of) that you'll be riding on.

Strickly pavement....I'd go with a cruiser w/ good storage
Pavement with dirt.....the KLR is fantastic
Mostly dirt or snow.....I'd say the KLR is the only one to look at.