1st Gear
Join Date: Sep 2015
Location: sw florida
Posts: 39
buy a KLR when price is no object?
---
just curious, there seems to be a lot of internet focus on the low buy-in and inexpensive ownership of klrs. during months of research when the klr won me over, i saw on some forums the bike is hailed as a tremendous bargain, while on others it seems to represent some dark and dangerous cult of cheapness.

what a shame! the bike has a lot to offer. i never considered one when i started bike shopping, and even brutally shot down a salesman who suggested one through a dealership website. purchase price wasnt important to me and i figured on something very different at the outset.

im pretty average, and if this was my experience i know there are others in here in the same boat. lets all speak up! its a real service to others researching bikes to write down honest and clear-cut strong points of these bikes without all the static surrounding the money aspect.

so why buy a klr if you just dont care what you spend? heres why, for me at least:

1) minimal technology: this year has seen a series of large and small failures of the technology and computers in my life. the last thing im in the mood for is engine modes, smart suspension, and digital readouts of amazingly trivial info. ambient temperature? really?

2) carburetor: my work vehicle continues since march to suffer a fuel injection glitch which neither mechanic nor witch doctor can cure. i will leave it to you to imagine the expense and inconvenience of this.

3) real-world riding conditions: here in southwest florida we have paved, unpaved, and forest service roads. "trails" are something ive seen in pictures, and im not planning any desert races or circumnavigations.

4) fuel economy and range: florida is usually less than 200 miles coast to coast, but many times on various sportbikes ive been caught up riding backroads and then sweated out the search for a countryside gas station. my sons car gets better mileage than my last sportbike.

5) owner serviceability: there seems to be a huge push, led by the auto industry, to produce vehicles which require dealer maintenance and repairs. even if the mechanics are trustworthy and the rates are fair, i simply like to work on things myself, and i sleep easier when i do.

so there you have it. when these things are taken into consideration, there are VERY few bikes left to choose. the klrs interstate highway ability is what lifted it over the remaining competition. so in the end, i purchased a bike which i had flatly and rudely dismissed at the beginning! i owe brian the salesman an apology if i ever come across him, and i couldnt be happier than i already am at two months and 1600 miles of weekend rides.
5th Gear
Join Date: Jan 2011
Posts: 4,387
Glad you like your KLR650!
Then again, a KTM 690 weighs about 100 # less, and has about twice the power . . .
DISCLAIMER: You said, "Price is no object!"
1st Gear
Join Date: Sep 2015
Location: sw florida
Posts: 39
i looked at ktms, couldnt find a new one that wasnt fuel injected. i do like them though!
KLR as opposed to??
---
I don't know of many competitors that will do 50 plus mpg. That's a big plus for me.
I like the seating on my KLR. Not really into the crotch squeeze seating.
I do ride my KLR more than my GL1800 on long trips. Seating more comfortable for me.
( Disclaimer: I put a soft pad on my KLR's seat. However, my GL1800 also has a soft pad on it, and I still feel uncomfortable on it.)
---
Ageing Gracefully
2017 Yamaha XT250
1990 Honda NX250 (Green/White)
2011 Kawasaki KLR 650 (Orange & White )
My KLR Page..
http://www.powers31.info/2011_KLR650.htm
Mod's to KLR:
Power socket, L.E.D. Battery Indicator, Camera bag holder
Custom Saddlebag frames .
Louder horns, Firstgear Onyx tail bag.
Custom Aluminum Skid Plate.
Cut down seat with Custom pad.
Go Pro Camera mount.
Doo-Hicky
1st Gear
Join Date: Apr 2011
Posts: 29
Great story I know if you get a $1500 set of cases it will help ya with that cheapness too.
I like mine a lot
2nd Gear
Join Date: Feb 2013
Location: Maine
Posts: 368
Quote:
Glad you like your KLR650!
Then again, a KTM 690 weighs about 100 # less, and has about twice the power . . .
DISCLAIMER: You said, "Price is no object!"
I'm sure that KTMs are great motorcycles. I hope I'm never like a KTM owner.
I often read KTM owner messages similar to the comments of Harley Davidson owners. I'll paraphrase them both as "when are you going to get a real bike" and "you honestly want to do what I do and if you don't it's because you don't know what you're missing."
Motorcycling is an experience and there is no single correct experience. I'm pretty sure that we're each doing something different even if the basics are the same.
All of my motorcycles are "underpowered" by today's standards. They're mostly heavy by today's standards. More power is attractive occasionlly but never a long-term priority. Ligher weight would be fine.
For "Price is no object" I'd probably have a custom frame with a production engine, perhaps Honda 500 or Suzuki 650. Until then my KLR is a great motorcycle.
I'm sure there are KTM owners who can say "whatever floats your boat" and mean it honestly and not as a dismissal of Japanese bikes. The dismissive ones seem to be more vocal.
Am I depriving myself of a good motorcycle because of the culture surrounding it? Perhaps. The closest KTM dealer is also a few hours away.
---
People should not be afraid of their governments. Governments should be afraid of their people.
4th Gear
Join Date: Aug 2010
Location: Kelowna, B.C.
Posts: 2,396
I own KLR's for reasons that have nothing to do with their relatively cheap price. I had three KTM's in my garage a couple years ago and they are great bikes; I've ridden most of them including the 200XC, 300XC and XCW, 625, 640, 450/500 EXC, 950 and 990 Adventure, etc.
They are technically superior and have many strong points, but NOTHING (regardless of price point) offers the following advantages that a KLR650 has;
- reliability and ease of repair
- longevity
- availability of parts both stock and aftermarket
specifically when comparing to the 690 Enduro, I believe the KLR is simpler, more robust and I don't like the ergonomics of the KTM. They aren't equipped with a decent fuel capacity and it's hard and expensive to change that. Luggage carrying ability is also lacking.
I can easily afford to buy one but chose the KLR for these reasons.
...that said a stock KLR is no comparison to the capabilities of the 690 Enduro.....which is why mine are extensively modified. I've done;
- proper bars and handguards
- IMS tank
- knight designs pegs
- ricochet skid plate
- antigravity LiFePo battery
- LeoVince X3 silencer
- Cogent DDC's and springs and a Cogent Moab shock
- 320mm IMS rotor and Eagle SV caliper bracket and caliper
.....and a couple of dozen other mods.
.....the result in the case of my 2000 KLR is a bike with less than 1000 miles on it that I picked up for $3700.00 Can. and I've spent about $3000.00 in upgrades. I believe this bike to be as capable offroad as a stock 690 Enduro R whilst maintaining the other advantages of the KLR as mentioned above.
....it was never about the money for me.
KLR #1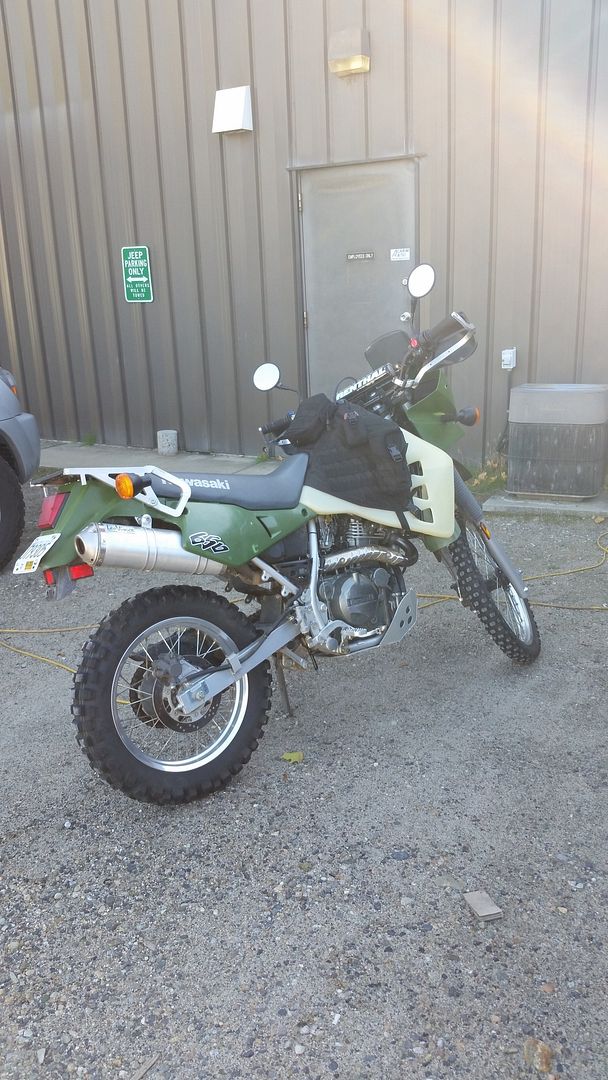 KLR #2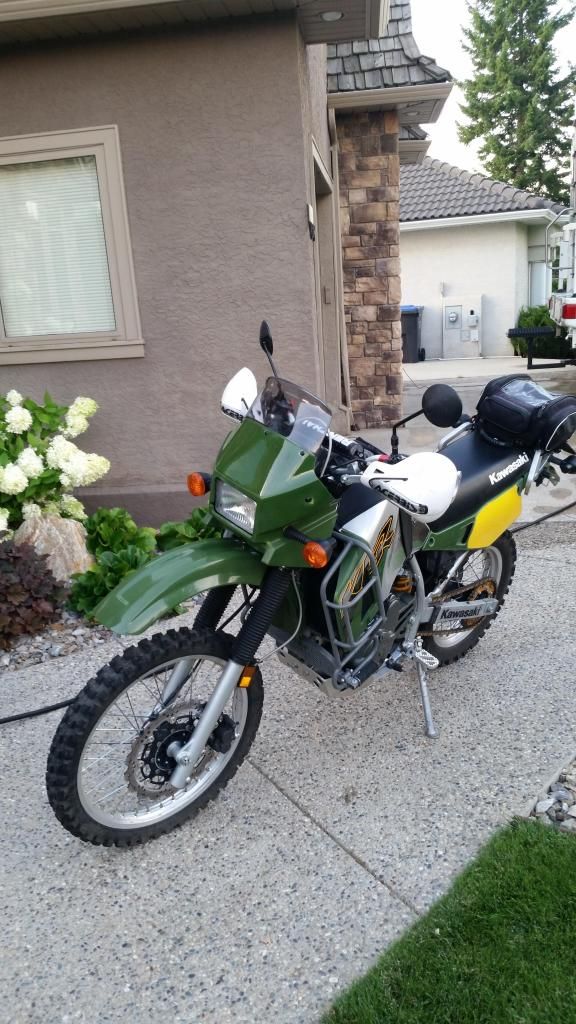 Dave
4th Gear
Join Date: Aug 2010
Location: Kelowna, B.C.
Posts: 2,396
Quote:
Glad you like your KLR650!

Then again, a KTM 690 weighs about 100 # less, and has about twice the power . . .



DISCLAIMER: You said, "Price is no object!"
You are right, of course....but in my case: A 690 Enduro weighs in at 306 - 308 lbs depending which source you use. This is wet weight and a Gen 1 KLR weighs 398 - 399 lbs (yes, I know you were talking about a Gen 2 and they're a bit heavier... :-) )
That said, there is a 3 gallon fuel capacity disparity which means the KLR is carrying up to 18 lbs more fuel....so to compare apples to apples, the real weight difference is about 70 - 75 lbs.....though I've managed to shave off another 25 lbs off mine bringing the difference to around 50 lbs ....not insignificant but alot better than 100lbs.
As far as power goes, I prefer to look at the torque figures as more accurate means of comparing the two bikes and the KTM has 37% more torque.
Obviously the KTM has real and significant advantages in the weight and power department though I'd suggest the tradeoffs are in the areas of reliability and longevity. After having spent some seat time on both, I remain convinced that my "improved" Gen1's are a match for the 690 offroad.
....now compare either to a 500EXC and they're hopelessly outclassed offroad.....but then the EXC sucks on pavement and like all things dual sport, it's all about compromise.
Cheers,
Dave
1st Gear
Join Date: Oct 2015
Posts: 39
I own 6 bikes total, including 3 Ducati's and an Aprillia. I don't want to sound like an idiot and say money wasn't an option when considering a new bike, but i don't give it much thought.
My decision to buy a pair of KLR's for an upcoming trip was 90% based on the toughness, aftermarket and reliability of the KLR. I wanted simple go anywhere enginering and that's what the KLR gives me. The price is just a big plus.