1st Gear
Join Date: Oct 2015
Posts: 39
2015 Apocalypse KLR650 Build Thread
---
Hey All
Every Winter I like to purchase a bike and either restore it to its former glory or customize it to suit a very specific purpose.
Last year I turned a very hum-drum Ducati 696 into a Tri-Color street racer. The year before that I built a custom M109R drag bike. The year before that was a 1956 BMW R26.
This year I have planned a round trip on the well know Trans Labrador Highway. This 4000+ KM trip will take me from St. John's Newfoundland, through Labrador, Quebec, New Brunswick, Nova Scotia and back through the center of Newfoundland via the Abandoned Railway bed. I will be leaving in June of 2016. It will involve at least 2300 KM's of gravel and should be a real test for any motorcycle.
My whole idea with this build was to construct a KLR650 that could withstand the apocalypse and still go looking for more. I want to build an absolutely bullet proof bike that is as tough and simple as a bag of nails. The AK47 of motorcycles if you will.
I will post pictures as I progress on this forum. Please remember to leave your comments, thoughts or suggestions as I go.
Without further ado, here is the brand new 2015 KLR650 I am starting with:
1st Gear
Join Date: Oct 2015
Posts: 39
Rolled the bike onto the lift in my little workshop last night. Here she is before the tear down.
1st Gear
Join Date: Oct 2015
Posts: 39
Started tearing down at noon today. 90 minutes later here was the result:
1st Gear
Join Date: Oct 2015
Posts: 39
4th Gear
Join Date: Apr 2011
Location: Kansas
Posts: 1,205
All it needs is the lighting and a machete and sawed-off shotgun holder and make sure you get rid of the ugly front fender. Zombies are attracted to the stock fender.
---
Kawasaki KLR650 - Adventure Lite
Tagged KTM250XCF-W - Rocket
Tagged KLX300 - Trail Tractor
'84 XR250R - Retro Ride
RMZ250 - Dirty
CRF80 - Kids
CRF70 - Kids
1st Gear
Join Date: Oct 2015
Posts: 39
Gun holder is being worked on. Going to use the existing Motech quick mount system and a hard Pelican case.
As for the machete, maybe not. However I might throw a trout filleting knife in there somewhere.
As for the stock fender, I kinda like it in an ugly sort of way.
I like your tie-down platform. Does it have dolly wheels for work space management?
1st Gear
Join Date: Oct 2015
Posts: 39
Getting past the 1/2 way mark. Here are the new additions:
Moose Headlight Guard: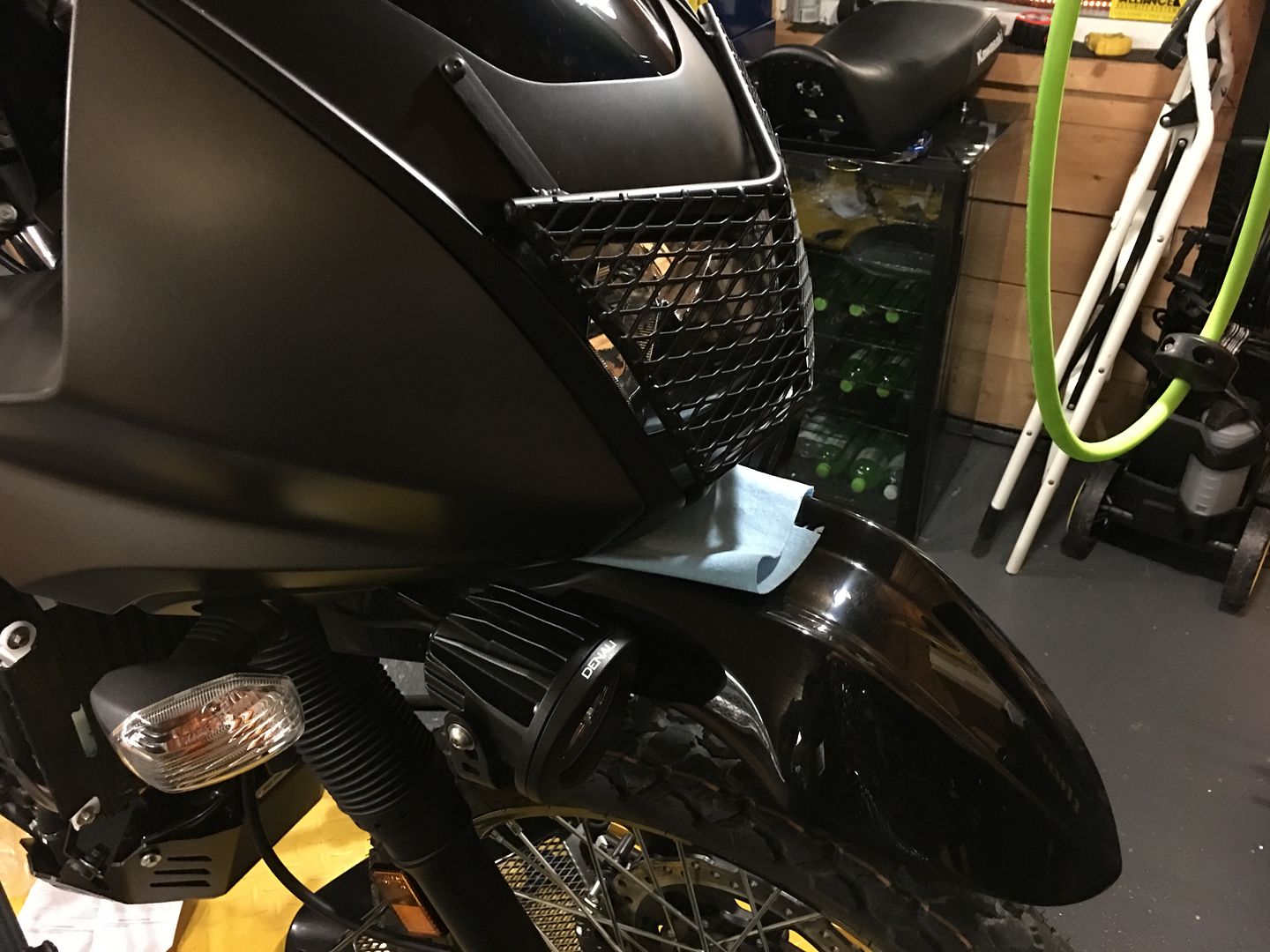 Moose Brake Piston Guard:
Zumo 590LM hard wired for constant power with auxiliary USB plug on the dash for iPhone or other USB powered item:
Oxford Adventure Heated Grip. I mounted the controller on a SW Motech Switch Mount:
Denali Light's are wired to the high-beam switch with a separate master switch on the dash:
Rear Dry Tube for behind the Motech Bags:
SW-Motech Skid Plate: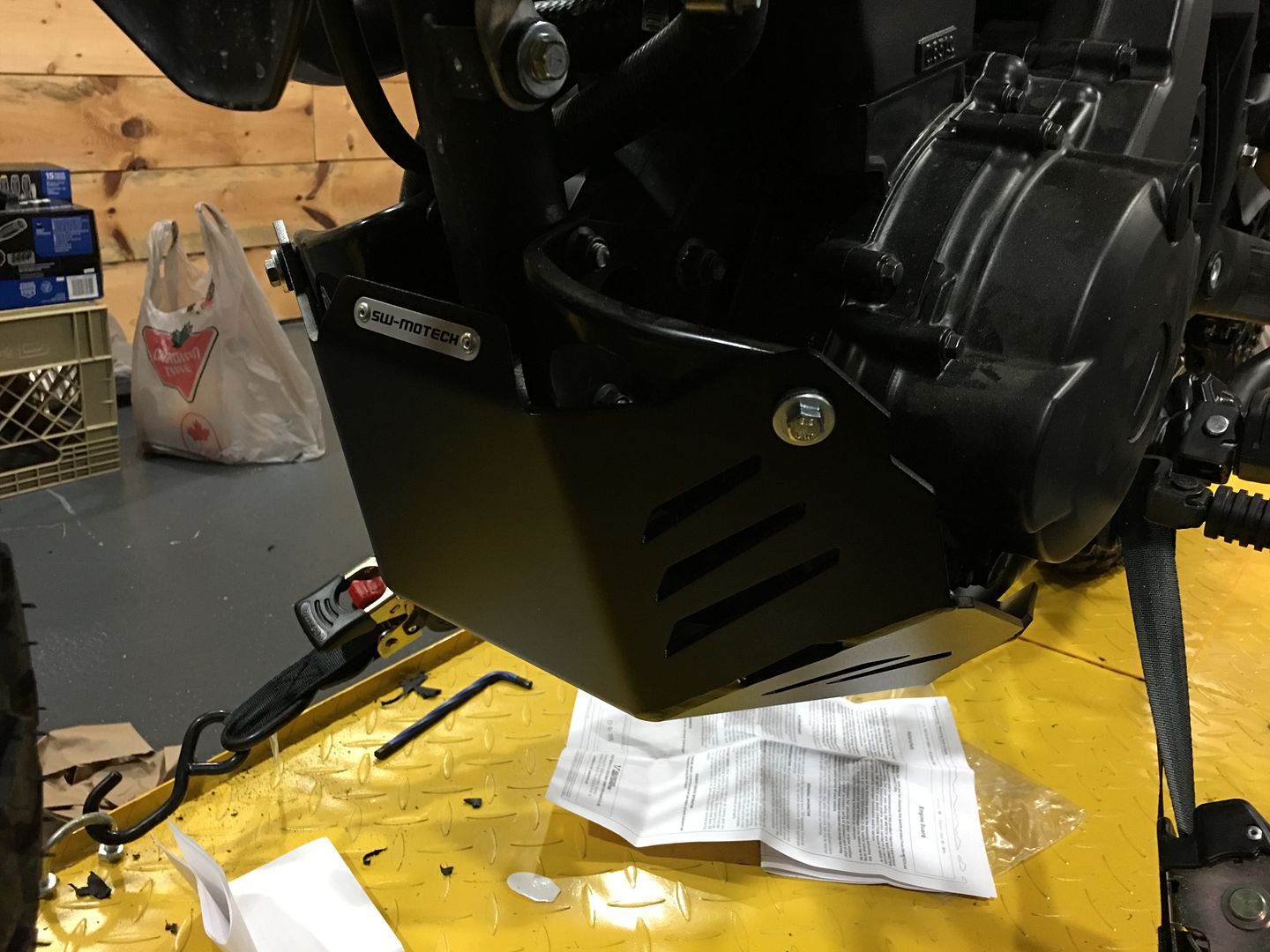 Neutral
Join Date: Aug 2015
Posts: 1
Looks great! I'm looking forward to future posts as well.