Guest
Join Date: May 2008
Posts: 47
Getting ready for a trip
---
I have a set of Corbin saddle and tail bag. I have done the maint. on the bike and think I have packed well for a 3 day trip. I know how to pack for hiking trips and feel this is similar gear wise but am open to help.
Any tips, suggestions or advice ? We are riding on pavement and gravel roads possibly , due to the fact my riding buddies have cruisers(not everyone is a enlightened as us KLR owners).
Got tools?
Air?
Extra tubes?

I am a few day's away from taking a five day trip (getting lost) make sure you have the basics to wrench on your bike if you have to. I made a "tool tube" for my bike, just for piece of mind. carries alot of tools, and keeps them at a lower center of gravity.

Have a great trip! and please post up your pictures.

Ride safe,

MB4
---
PPMC # 3

Yo! To the brothers.

RIP Darin, Ben, Carey


"I am the muffin man"
On one trip we figured out we had no type of tools that would make removing the front wheel easy. Go Figure. Also, just for reference, there is not 'one' single bolt and nut on the bike to replace a lost battery cable bolt and nut. Don't ask how we found out. LOL.. Carry spare bolts and nuts of all sizes.
This is what I carry, and how I carry it.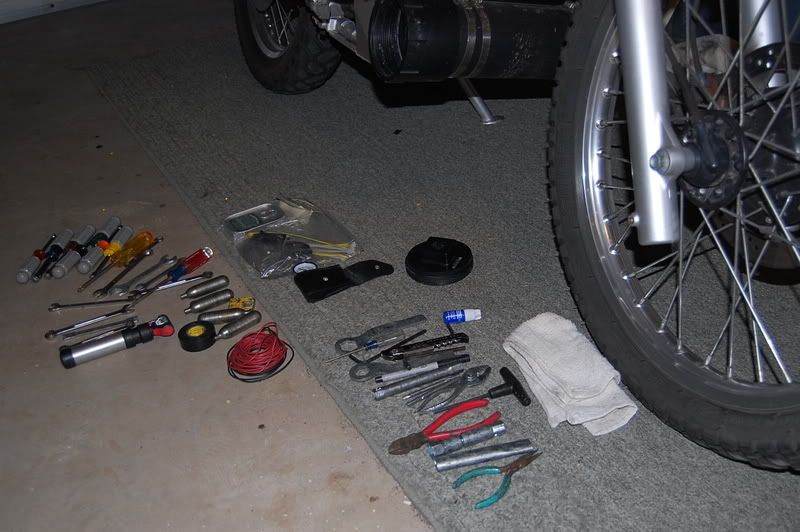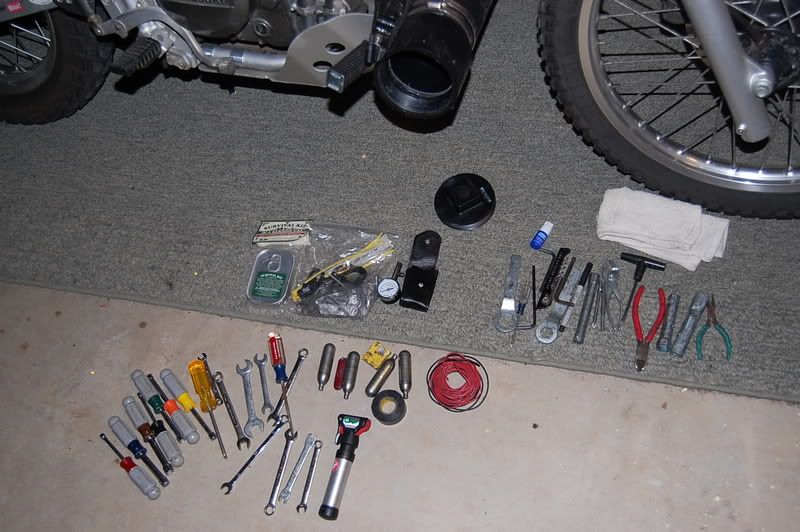 ---
PPMC # 3

Yo! To the brothers.

RIP Darin, Ben, Carey


"I am the muffin man"
Guest
Join Date: May 2008
Posts: 47
Cool stuff. Yes some tools and air. Might need to pick up a few tubes just in case. Definitely will take and post some pictures. We are traveling along sand dunes and the west side of MI.
I have no clue where i'm going... But, it should be fun. I might post my "Find me spot" link so you all can laugh, and my wife can get mad at me for going without her
Have a good trip!
MB4
---
PPMC # 3

Yo! To the brothers.

RIP Darin, Ben, Carey


"I am the muffin man"
Keep in mind, you only need to carry a spare front inner tube. In emergencies it can also be used in the rear tire to get you out and to a repair shop.
5th Gear
Join Date: Sep 2006
Posts: 4,700
If you have the tool issue covered, work on your own comfort.
A patch of sheep skin under your butt will double your comfort with any seat. Also, find a way to carry a liter bottle of water while riding..
The reasons I say this is that if you're thinking about your sore butt, or that you're thirsty, you're not thinking about your riding or enjoying the pleasure of the trip.