Guest
Join Date: Sep 2008
Posts: 26
Diesel??
---
Does anyone know how much the diesel model is going to be, I have heard they are going to start to sell this model to the public. Also, is there a conversion kit for gasoline to diesel?
Guest
Join Date: Sep 2008
Posts: 26
wow
5th Gear
Join Date: Sep 2006
Posts: 4,700
I don't know the price, but I do know they make an already slow bike, even slower..
They had a couple at Aerostich's Very Boring Rally II a month ago. They look nice..
http://www.hdtusa.com/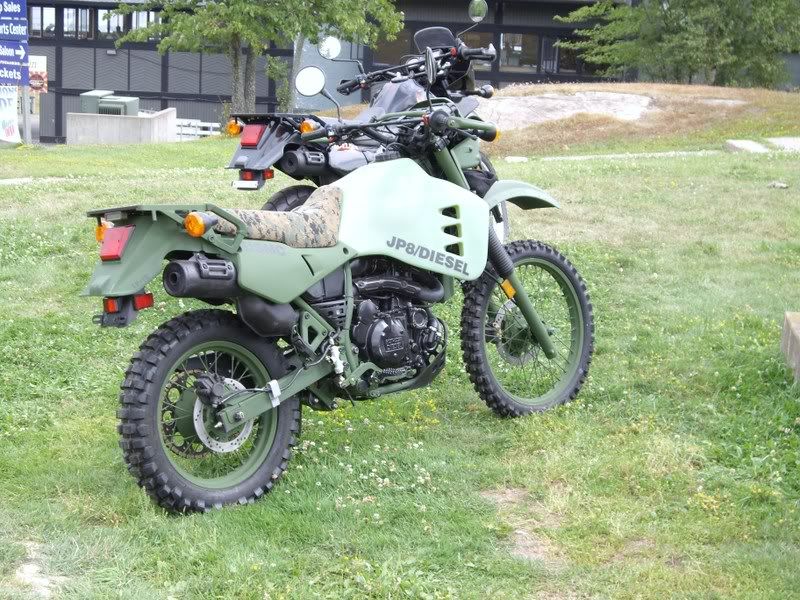 One Miltary and one Non-Military..
Here's the specs on the non-military model
ENGINE:
Type: 4-Stroke, IDI, single cylinder, liquid cooled.
Displacement: 667cc
Power: 35 PS @ 5400 RPM
Torque: 43 ft-lbs @ 3300 RPM
Lubrication: Wet sump
Air Filtration: High capacity, 3-stage, oiled foam, reusable
Transmission: 5-speed, constant mesh, return shift.
Final Drive: Self lubricated, sealed, O-ring roller chain.
WEIGHTS & MEASUREMENTS:
Dry Weight:369 lbs
Max Width:37 inches
Max Length:85 inches
Max Height:49 inches (w/o mirrors)
Wheel Base:57 inches
Ground Clearance:10.7 inches
PERFORMANCE:
Acceleration: 0-30 mph (53 kph), 3.1 sec
0-60 mph (106 kph), 9.3 sec
Gradeability: 60% (32 degrees)
Turning Radius: Less than 7 feet
Maximum Speed: In excess of 100 mph.
MinimumConstant Speed: Less than 3 mph.
Fording Depth: 24 inches
Fuel Mileage: 105 mpg @ 45 mph (Tested)
Range: 630 miles @ 45 mph
---
Last edited by Paper; 09-15-2008 at

05:07 PM

.
3rd Gear
Join Date: Oct 2006
Location: Evansville, Indiana
Posts: 815