What year klr do you think is the best looking?
---
Hey guys something a little different here, what year klr do you think is the best looking? If you have them post a pic?
1st Gear
Join Date: Sep 2008
Posts: 31
My 2015 KLR650 in lime green and black. I've owned 9 different KLR650s since 1991 and have always liked the Kawasaki lime green color.
OverDrive
Join Date: Jan 2011
Location: NW MO
Posts: 5,386
Although I ride an '09 Gen2, I would have to vote for the Dark Green (not Lime Green, "Forest Green" maybe?) Gen 1. I'm also not a fan of the newer Gen2 black engine and rims.




2nd Gear
Join Date: Apr 2016
Location: Trinidad Colorado
Posts: 241
I really like the new 15-16 in Camo...
---
"Things are made out of Stuff"
Bill Nye~

"Singularity is a scientific term for - We Just Don't Know"
Neil DeGrasse Tyson~

(2011 KLR)
The first run of Gen 2 is my favorite, but the 2015 have the best decals.
---
'11 KLR 650: KLR Full Bag Kit, 22¢ Mod, Thermo-Bob w/ Overlay, Angular Mirrors, Studebaker Doo, Tusk Drain Plug, UNI Filter, K761's, ODI Emig Grips, LED Cluster & Tag, Digital Clock w/ Temp, Eibach 400# RR, Progressive FR w/ adj Pre-load caps, ZG Double Bubble
'07 Aprilia Tuono 1000 Factory '17 Highball Suede Nuclear Sunset Orange
Slammin' Tunes!
1st Gear
Join Date: Sep 2008
Posts: 31
I owned one of the lime green 2008s.....
Literally first day.
(2009 KL650E9F)
Completely thrilled that finally a black dirtbike was available and the fact
that I've had KLR pics on my walls since being a teen caused a major black-out.
Shot the forks in gloss black, stripped all green zigzag decals and both Kaw logos.

Then, over time, the batcycle evolved with more black stuff in gloss, flat, and satin
all with silver fasteners for contrast.

I too, like planalp, like the wheels silver but many parts fell to the rattle can.
Brake calipers, swingarm, header shield,engine (with silver fins and caps)
handlebars, rear master cylinder, etc, etc.

Love my bike as-is (mostly). Then, just to make oddball dirtbike bling, I ran the
orbital over the rotors and sprocket ending up at 1200 grit and a mirror polish. lol
An HD chrome trim strip from a bagger side case (dumpster diving piece) runs
2/3 the length of the trimmed front fender and stiffens the fender wonderfully.
Runs right down the center from under the headlite out nearly to the down bend.
I have the tailpiece from a bagger also as the outlet on the debaffled exhaust.

It's just what I like, and have come to love. The '09 was the perfect platform fer
the Cheapster.
---
This is my son, with whom I am well pleased." ----God
Mine is fugly, well I think they all are fugly, so won't post a pic here. If at all I do kinda favor the camo scheme.
---
'01 KLR 650, '09 Suzuki DL650, '08 Suzuki Bandit 1250, '16 CRF1000L, '09 KLX 250s
5th Gear
Join Date: Aug 2010
Location: Kelowna, B.C.
Posts: 2,536
I prefer the looks of the Gen1 compared to a Gen2 so I like any from 2000 - 2007 but my favorites are the dark green ones;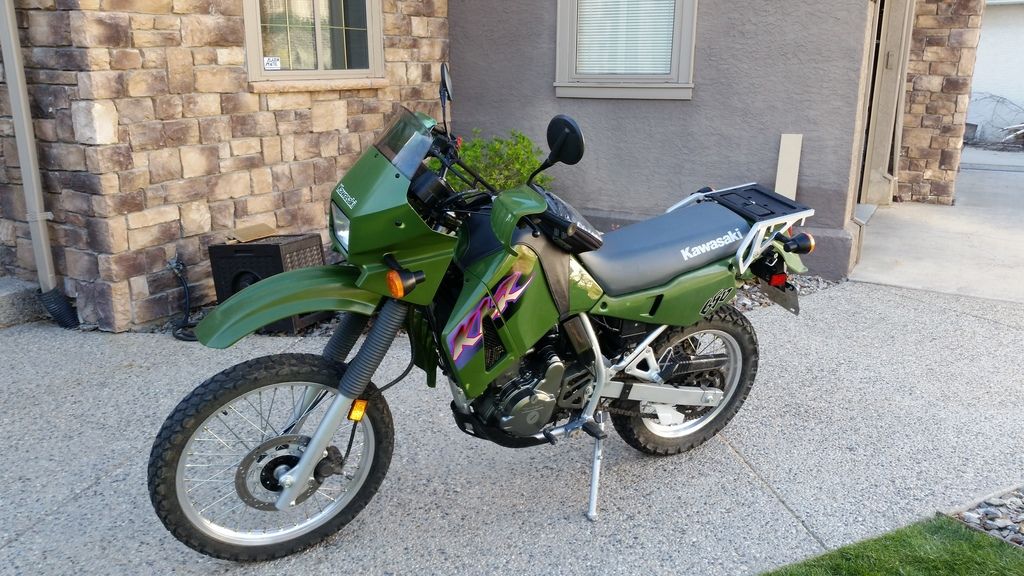 Dave
5th Gear
Join Date: Aug 2010
Location: Kelowna, B.C.
Posts: 2,536