Front Fender or Something Is Not Right
---
First time riding in light rain and wet roads coming home this morning and got a surprise. My front tire sprays up water right into my face. NOT FUN!! I guess the tire is throwing excess water forward and up and my forward movement causes me to take it right in the face! Some mods are just useless! Thanks Mr. PO!
Looking at pic of KLR fenders I would say that mine has been cut back, way back!
I have a dr 650 front fender in the garage and redrilled that for a temp fix. It does not protect the radiator like the OEM so I'm looking for a gen 1 front fender if anyone has one for sale.
Pics of the "mod"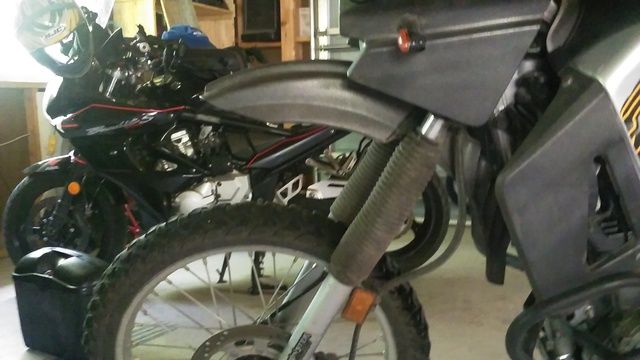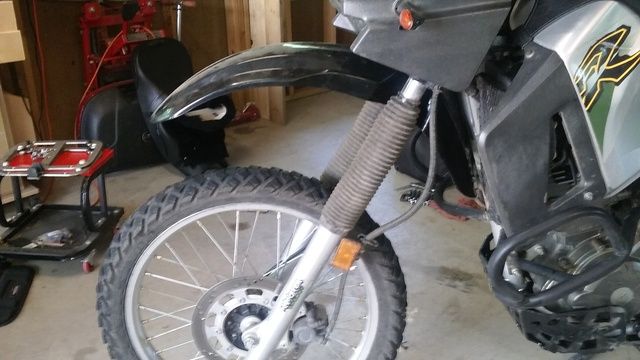 ---
'01 KLR 650, '09 Suzuki DL650, '08 Suzuki Bandit 1250, '16 CRF1000L, '09 KLX 250s
---
Last edited by frostbitevinnie; 06-09-2016 at

01:41 PM

.
Pretty in Pink, dunno why
Join Date: Feb 2009
Location: Redondo Beach
Posts: 7,605
Yours is a Gen 1, mine is a Gen 2.
Gen 2 front fenders are known to get knocked about in the wind, making the bike a bit twitchy in the wind.
I ride in all sort of weather, including rain.
The fender I installed is Cycra motocrossy thing; it's pretty small. When I ride in the rain there's a lot of water coming off of the front wheel and over the windscreen.
My thoughts on it are this:
Every single ride I take involves wind. It's either nature's wind or the buffeting off of big rigs.
Not many of the rides I take involve a lot of rain and, if they do, I'm usually pretty well suited up.
I trade seldom-needed wet weather protection for stability in the wind and think it's a good trade-off.
It doesn't help much with this unless I'm moving pretty good.
Question: Are those Havaianas?
Tom
---
Tom
[email protected]
ďThe kid poured him another straight rye and I think he doctored it with water down behind the bar because when he came up with it he looked as guilty as if he'd kicked his grandmother.Ē
-Philip Marlowe
ď'Why'
and
'How'
are words so important they cannot be too often used.Ē
-Napoleon Bonaparte
Sting like a butterfly.
Noli Timere Messorem
---
Last edited by Tom Schmitz; 06-09-2016 at

02:47 PM

.
4th Gear
Join Date: Aug 2010
Location: Kelowna, B.C.
Posts: 2,396
Yep, it's been butchered.....usually people do that thinking that the poor fender is responsible for some highway instability (that is usually a suspension set up issue).

Supermoto fenders are equally useless IMO. I have the stock fender on my 2000 and a Polisport on my 2000 and both work well with the Polisport looking a bit "leaner".

I'd give you one of mine but you're too far away! Good luck.

Dave
4th Gear
Join Date: Aug 2010
Location: Kelowna, B.C.
Posts: 2,396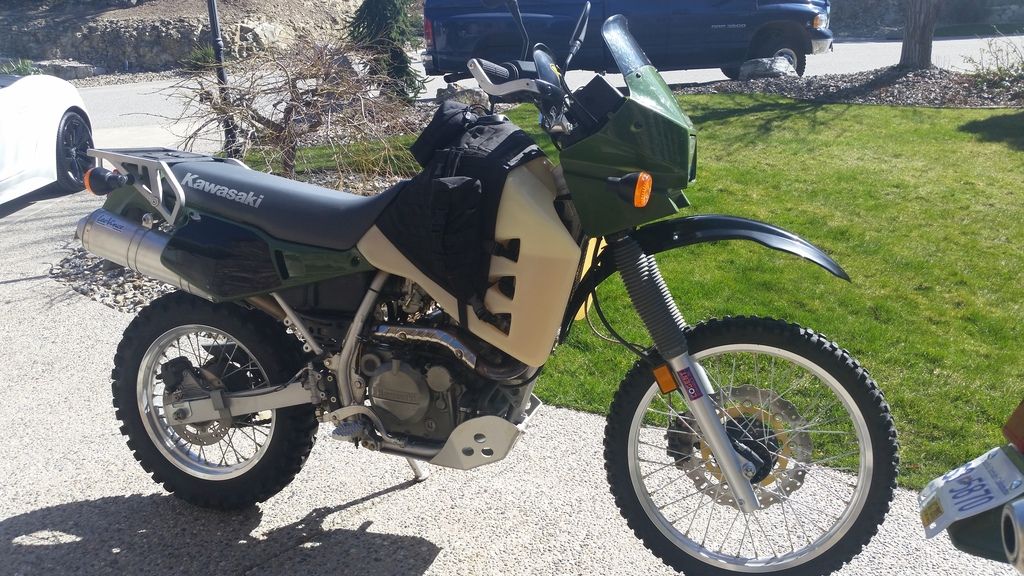 Front fender
---
I installed an Eagle Mike's fork brace, and lowered the OEM front fender down on top of the brace. Haven't ridden in rain yet, but it does keep front of bike a little cleaner. I don't get as much wobble from wind, or big trucks.
Here's what I did.......
https://www.youtube.com/watch?v=RMfYgm_aGew
Should help keep water from coming back up over the front of fender.
---
Ageing Gracefully
2017 Yamaha XT250
1990 Honda NX250 (Green/White)
2011 Kawasaki KLR 650 (Orange & White )
My KLR Page..
http://www.powers31.info/2011_KLR650.htm
Mod's to KLR:
Power socket, L.E.D. Battery Indicator, Camera bag holder
Custom Saddlebag frames .
Louder horns, Firstgear Onyx tail bag.
Custom Aluminum Skid Plate.
Cut down seat with Custom pad.
Go Pro Camera mount.
Doo-Hicky