Guest
Join Date: May 2009
Posts: 2
KLR Swimming Lessons
---
So I'm new to the world of thumpers and this is the first thread I've ever posted. That aside, the other day I got some new Dunlop knobbies (D606's) and decided to test them out. After a few meager mud holes I set my sites for one that appeared to be a little more challenging. Little did I know that my curiosity would eventually kill my 2007 KLR. Upon entering the mud hole the sinking sensation in my stomach was realized when my head light dipped below the water level. Realizing it was too late to turn around I did want any respectable red-neck would do and hammered down. Needless to say I didn't make it that far and managed to stall out the KLR.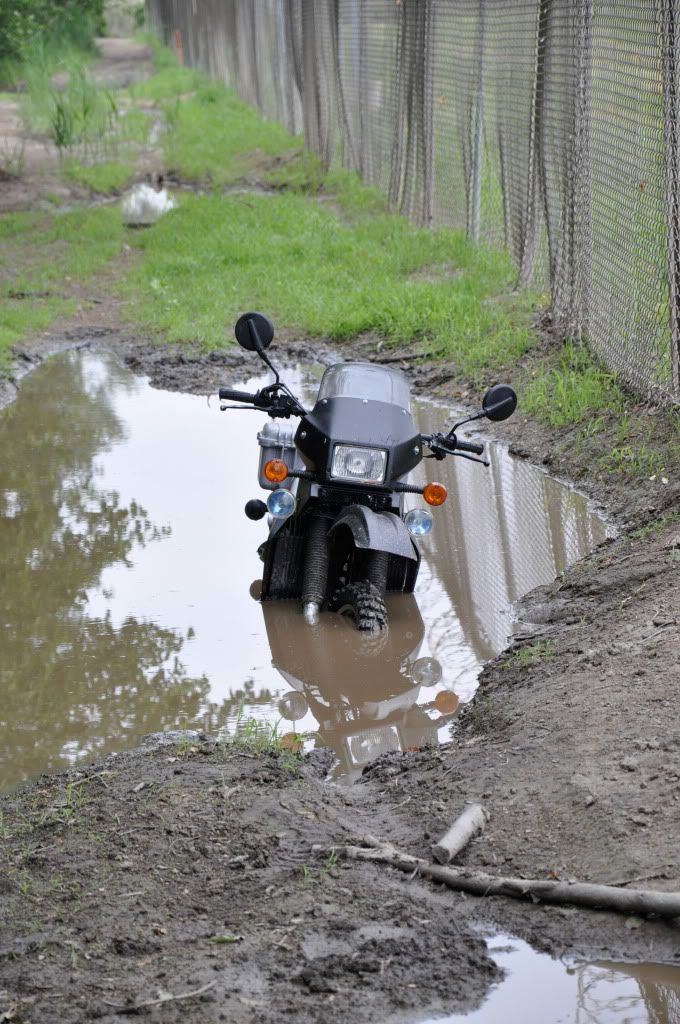 Now comes the real reason for posting this thread. While spending the next hour and a half tugging my bike out of the mud hole I managed to fill up the air box, carburetor, cylinder, and crank case with muddy water and various forms of sediment.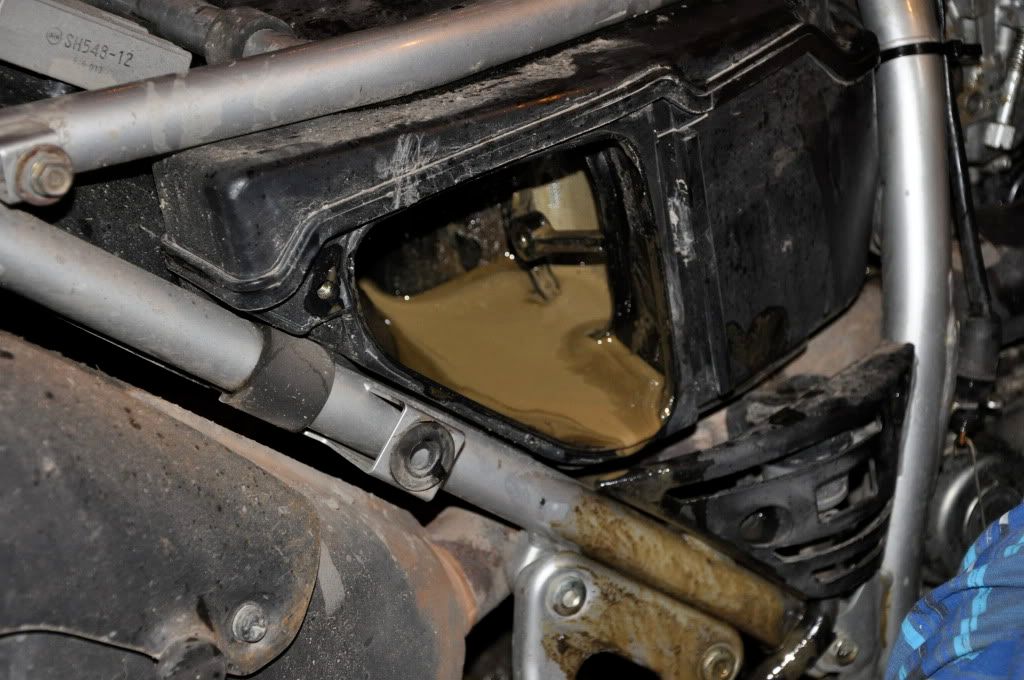 So after many hours of cleaning out various engine parts (carb, cylinder, new sparkplug, several oil changes later) I was able to get the bike running. Unfortunately its still not back to the way it was before though. It idles fine and runs ok at wide open throttle, but everywhere in between it seems like it's choking. I'm thinking it's a fuel problem (probably in the carb, which I know nothing about). What should I do now.....? I completely disassembled the carb and cleaned all ports/jets and as I said earlier it had a new sparkplug. I'm kinda at a loss, any suggestions?
Guest
Join Date: Apr 2009
Posts: 79
Take the plug off the adjustment screw, and just keep playing with it until you get the midrange. If that doesn't work, new jets may be in order.
Guest
Join Date: May 2009
Posts: 2
I'll try that.... It's been tricky. It only seems to choke up when the engine is warm.
5th Gear
Join Date: Sep 2006
Posts: 4,700
First of all, Welcome!! I love the fact that you started posting with what you posted!!! FANTASTIC!! My suggestions to you are..
1. Check depth before crossing, if you can..
2. When you're sunk, shut the bike down and don't try to run it until you've tipped the bike upside down and pulled the spark plug to get all the water out.
3. I'm at a loss as to why it's running the way it is, but hey, what better way to get a badly running bike than a huge sink hole and photos of it!!!
I'm sure you'll get the runnability issue sorted out.. Take you time and eliminate all the simple things first.. You've got mechanical ability, judging by your last photo.. On the other hand, you've got questionable common sense, judging by the first photo!!
Again, welcome and thanks for the photos!! I wish I had a camera the time I had my CR250 buried in muck so deep I didn't know if I was gojng to be able to get my boots out of it.. We've all been there and while the bike might not run quite right today, you'll get it figured out and be laughing at this for years to come!!
+1 Paper.
You'll get there bud.
---
"In a car you're always in a compartment, and because you're used to it you don't realize that through that car window everything you see is just more TV." R. Pirsig
PPMC #1.
Soon, we ride.
AKA JD Mader or you can call me "Dan" just not early for dinner.
Click my handle for a link to my homepage/blog...which has nothing to do with MCs. Free literature and music! Viva La Revolucion!
-------------------
2008 KLR 650
RIP DM - Soon, we ride.
Wow! Thanks for the education! Best of luck getting her up and running. Wish I could help but I'm useless in such matters!
5th Gear
Join Date: Sep 2006
Posts: 4,700
Just to add..
Check the depth.. (I did with a stick, and then rode through, and took the photo of my buddy riding through after me)..