Neutral
Join Date: Feb 2010
Posts: 2
Riding 2 up
---
I am considering the purchase of an 08 or newer KLR but I am not sure if it will be the right fit. I want a dual sport for commuting and easy trail rides and the KLR seems to be a more real world practical dual sport than a BMW GS 1200 or GS 800. Somehow I don't know if I could ever get used to the idea of dropping a GS on a trail.

Although I am sure at least half of my riding will be alone, how practical is a KLR for riding with a passenger? The combined weight of rider and passenger would be around 300 lbs. and based on other posts it does not seem that the weight itself will be a problem. I am more concerned about the comfort of my wife. The KLR can't be compared to a Goldwing, aside from having two wheels, but I was hoping to hear from current or previous owners who did some day trips or overnighters with a passenger. Thanks for any insight you may be able to offer.
Look at the smile...
Do yourself a favor, buy a top case
Take care, and ride safe.
MB4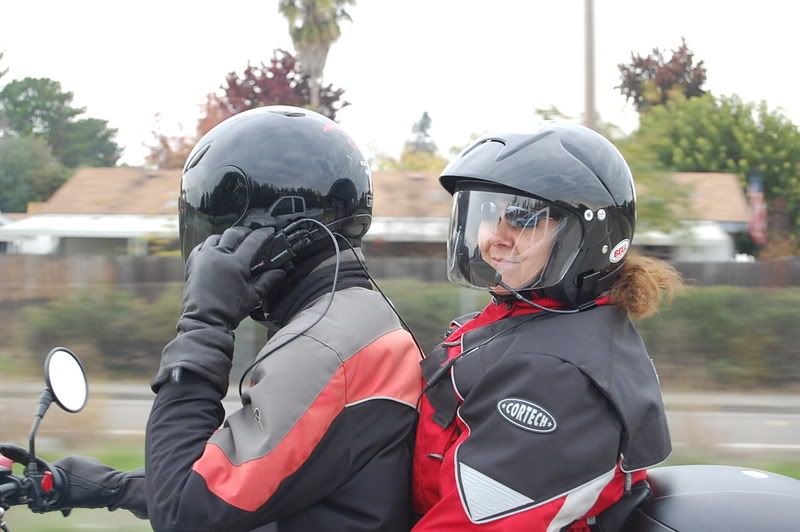 ---
PPMC # 3

Yo! To the brothers.

RIP Darin, Ben, Carey


"I am the muffin man"
Hope it's flat where you live. I am actually looking for something with more power. I have heard the Vstrom 650 is supposed to be more doable 2 up. Not to mention more comfortable for 2 up. Of course you could put in the 705 or 750 kits, then maybe you'd have the power. My buddy did the 705 and loves the power, but for the price you could get a used GS. I have had the wife on my 06 with me and I was quite uncomfortable too. But I am 6'1" so need a little stretch room.

IF you do decide to do it, I would beef up suspension and do the subframe upgrade. If you 2 up and have gear, the bolts have been known to fail.

The main question is an overnite two hours away, or long rides, and frequent. If you are doing it once or twice a year and not going to the mountains, KLR should be fine. But, I do sometimes regret not going with a better 2 up bike, and getting the KLR for my fun bike.
---
You got red on you.
KLR 37HP, BMW 800GS 85HP. Of course you're looking at over twice the purchase price for that power.
---
Two Brothers muffler, Dyno jet carb mod, HT PD nerf bars/w EG-3 and skid plate, HT OSR side racks, Eagle fork brace, TPI comfort flat seat, HT center stand, rear master cylinder guard, Thermo-Bob, Fieldshear saddlebags, T-bags Helmet bag as top box.
Neutral
Join Date: Feb 2010
Posts: 2
Thanks for the info. We live in a fairly flat area so I am not too worried about hills but I am 6'2 and hearing from Fourstroke650 will certainly give me something to think about as far as ride comfort. I do like the top case idea too.
Thanks again.
1st Gear
Join Date: Jan 2010
Location: Rocky Mountains, Alberta, Canada
Posts: 90
300 lbs is pretty light for two and you won't be racing, so for the odd two-up tour around the countryside, I don't think it will be too bad at all. I often took by better half for a rides on my old BMW F650 which had 42.5 HP - about the same as a current KLR, although there are other factors to consider. Seat comfort/position might be more of an issue as you're tall. I will be riding two-up in the Rockies this summer for sure and I'm confident my '09 KLR will be up to the task.
Yes, I am an optimist.
I ride 2-up with wife on occasion (total weight 400 lbs) I set the rear suspention to 4 and have upgraded the sub frame bolt. At first it felt sluggish (too be expected on any 650cc) I jetted and piped with L mod and my 2008 does just fine 2up. I usually ride country roads and mountainous terrain. Logging roads with heavy errosion is a challenge. Keep your rpm's up (around 3500 - 4500) and you'll have all the tourqe you will need. As far as comfort. Well on long rides I find myself pushed up farther on the tank and often I have to stop because I am getting numb. 2 hours between stops is normal for our rides. I like the idea that another post said about putting on a trunk so your 2nd up will have a back rest. I also use highway pegs to stretch out on the flats. All in all the KLR650 is a versatile bike. If you want to go 2up all the time, go for a Concourse or a Goldwing.
I ride the wife fairly often but she hates it compared to the Goldwing.
The sloped seat and no backrest means she can't relax and enjoy the ride.
She has to keep sliding herself back and always uses the grab rails to stay in place.

She likes riding,just not on the KLR.
Neutral
Join Date: Mar 2010
Location: Boston Ma
Posts: 5
Did you have to remove the skid plate to install the highway pegs?
The highway peg install comes with most radiator/water pump guard kits. None of them require removal of the skid plate. Your foot position is near the bottom of the radiator yet up from the skid plate. It feels as if your front tire may hit your foot on a hard turn. If your turning that hard I hope your foot isn't on the highway pegs. The ones I have were purchased on the KLR650.com site.