Travel Gear
---
What items do you carry when you are...
...travel camping?
...traveling?

To help with gas mileage, engine performance, suspension load, and personal comfort, I am trying to reduce the weight of my items. The first thing I dropped was my 16" laptop and the accessories. I do have an iPhone though I will not be using it in Canada.

So what do you carry and what can you do without?

Which of these do you use? Saddlebags, Dufflebag, Topbox, Side cases, Tankbag, Handlebar bag, Panniers, Fender bag, Tool tube, ???

Other than stock windshield or not?

Gasoline. Do you carry additional gasoline? If so, how?

Do you carry anything special / out of the ordinary?

Thanks for sharing.
---
Tim

2005 KLR 685
2015 Yamaha Super Tenere ES, 5/23/2015
2012 Yamaha Super Tenere; Purchased 7/30/2011; Sold 5/23/2015
5th Gear
Join Date: Sep 2006
Posts: 4,700
Camping..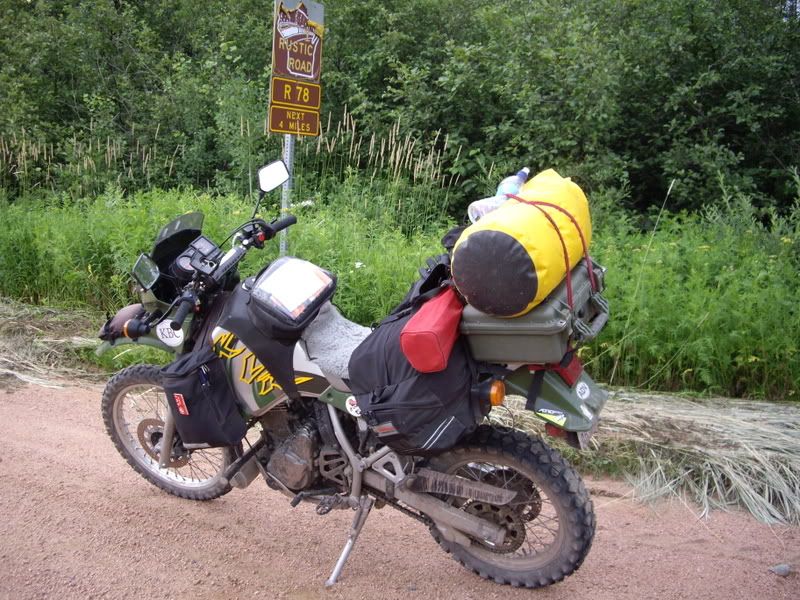 I carry everything I need to be comfortable.. I use a 2 man lightweight tent, an inflateable air mattress that puts me about 6" off the ground.
In the yellow dry bag is a fleece blanket and a cold weather Cabela's down sleeping bag, giving me options depending on temperature at night.
The red bag has a camp chair.
And in the Wolfman bag is everything else.. Clothes, tent, air mattress, air pump, towel, toiletries, shoes, cooking gear to make a light breakfast or dinner, tea/coffee/dried foods (ramen noodles and such)
The tank panniers carry flashlights, a few tools, maybe a quart of oil, first aid kit, extra gloves, etc..
Tank bag carries an extra fleece pullover, maps, hat, and other light and soft items.
The bike will be seeing a change in the next month with the addition of full size aluminum panniers that I purchased from a user here. I've painted these flat black and will be getting them mounted on the KRL as soon as I get some spare time.
I'm looking forward to not needing the Wolfman Alpha bag and have waterproof storage on the KLR.. This will also put the weight lower on the bike.
I'm planning on a few camping trips up to the U.P. of Michigan again this year.. The KLR is made for this type of riding, wandering the old logging roads in the big woods.
AM Express for the unforseen

Jeffer
My bikes looks like paper's bike when packed (but mines packed neater)
Seriously tho, I will always overpack. Better to have something and not need it as opposed to needing it and not packing it.
---
'06 KLR650
'06 DL1000 V-Strom
VTX1300R....Gone
1st Gear
Join Date: Dec 2008
Posts: 23
small tent, down sleeping bag, and small sleeping pad all help. I have also saved space and weight by packing less clothing, as much non cotton stuff as possible and wash on the road. Also, I know it sounds lame, but I have practiced packing a few times as well.
Small Camping Chair
---
I hear of riders traveling with a small camping chair. What are the brand and name of these chairs? Thanks.
---
Tim

2005 KLR 685
2015 Yamaha Super Tenere ES, 5/23/2015
2012 Yamaha Super Tenere; Purchased 7/30/2011; Sold 5/23/2015
5th Gear
Join Date: Sep 2006
Posts: 4,700
I use a cheapo from Walmart, but while seemingly disposable, I've been using the same chair for 5 or more years..
The king of camping chairs is the Kermit Chair..
http://www.kermitchair.com/history
It's not cheap, but it's very, very nice for a motorcycle chair.