Neutral
Join Date: Sep 2010
Posts: 2
Comfy seat
---
Is the KLR seat, in stock form, comfortable enough for a ride from Boise, Id to Las Vegas, Nv to L.A. Ca to S.F. Ca to Coos Bay, Ore and back to Boise in about 12 days. Only done a couple of day rides since I bought this 2008 650.
5th Gear
Join Date: Sep 2006
Posts: 4,700
You're asking us a question that you really need to ask your own butt..
I was looking for a different seat for my KLR within 20 miles of owning it.. But I have a friend who rides an identical bike with a stock seat and has no problem with it..
I now have a Russell Day Long saddle that's easily comfortable for 200+ miles without a single stop..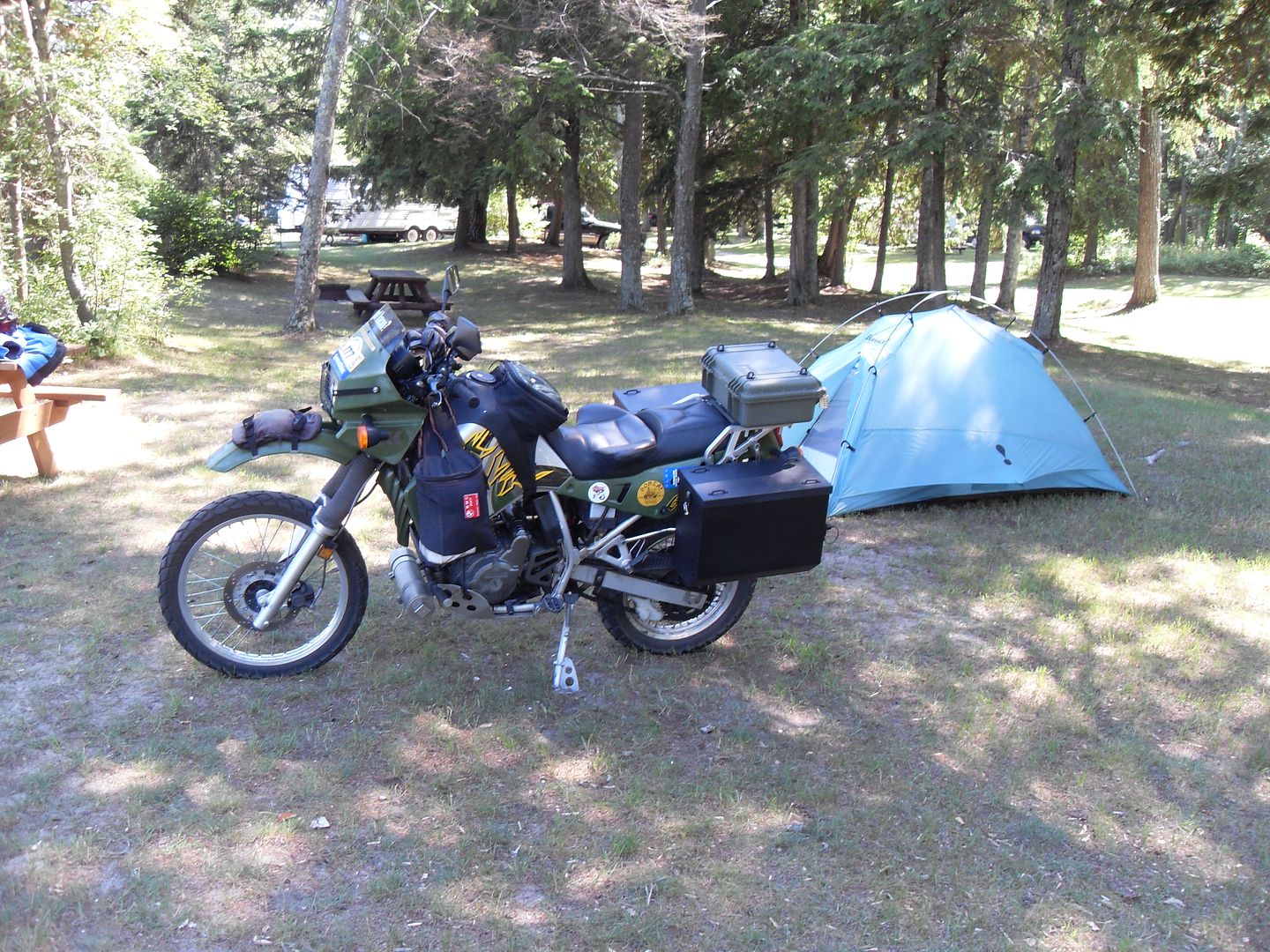 It all depends on your own comfort level.. If it were me, I wouldn't consider it, but my friend would do the same ride and not even think about it, with the same bike.
Quote:
Is the KLR seat, in stock form, comfortable enough for a ride from Boise, Id to Las Vegas, Nv to L.A. Ca to S.F. Ca to Coos Bay, Ore and back to Boise in about 12 days. Only done a couple of day rides since I bought this 2008 650.
Start doing longer and longer day rides back to back if you can. It'll get your butt toughened up or convince you to buy a different seat.
Also start carrying the stuff you would for your trip, that will work out any bugs with your packing and hopefully cut down on stuff.
---
No eye has seen, no ear has heard, no mind has conceived what God has prepared for those who love him. 1 Cor 2:9
On my last trip I put over 300 miles a day on with my stock seat.
But I ride my bike alot and I've gotten used to it.
Every 100 miles or so just pull over and stretch your legs for 5 or 10 minutes.

Paper, your seat looks way comfortable !
I couldn't go more than 45 minutes at a time sitting on the stock seat. With a Corbin custom seat I've logged 2500 miles in 7 days, one of those days was a 16 hour 861 mile marathon. For some people the stock seat suites them fine. As Paper said it's something ya gotta figure out for yourself.
2nd Gear
Join Date: May 2008
Location: Nanaimo, BC, CANADA
Posts: 269
man was i ever glad to say goodbye to my stocker. i got a corbin dished which i love, although it is very firm, and you gotta get your butt in shape for long rides. i just did 3800 km in 10 days with little or no riding prior but i added a lamb skin, which totally made my trip. didn't get numb bum till day 8 or so. my $.02
---
02 klr - heated vest and grips, corbin dished, EM doo, petcock mod, MB PCV mod, stainless oil filter, bash plate, mayher hand guards, low mount fender, power socket, tall windscreen, jardine exhaust, jetted, studebaker shifter, magnetic plug, airbox mod, k&N, kenda knobbies, DIY pelicans, HID light
96 zx11 - bone stock - saving for a collector plate
2011 BMW f800 GS -
[email protected]
crash bars, altrider skid plate, barkbusters, kako, aeroflow med, heated corbin, wolfman, kenda big blocks
At only 150-160 lbs the stocker with Wal-Mart atv seatcover was fine
for me even from Indiana to New York and back. Great day to day too.

Each butt likes its own seat type. See if you can sit on other's bikes at motorcycle shops,
group rides and such to see what fits your backside best before plunking down up to 300 bucks.

CheapMark
---
This is my son, with whom I am well pleased." ----God
1st Gear
Join Date: Aug 2010
Posts: 31
I find the stock seat pretty functional, but . . . after asking around about a Corbin I seemed to get a near universal response that Corbin seats were too firm and a terrible company to deal with. However, I felt a firmer seat would suit me better for a variety of reasons. In spite of so many negative responses about Corbin, I ordered a Corbin flat seat. I loved the firmness and "cushion." The only complaint was that I slid back on acceleration. I talked with Corbin and asked to exchange it for the low rider step saddle. They were very helpful and accomadating, moreover, the tush molded saddle design solved my sliding back on acceleration. I do find the firmness of the Corbin taking some getting used to, but unlike the stock seat I can ride the Corbin for hours without the cushion ever deflating down to the seat shell of the stock seat, which is more uncomfortable for me on long rides than twice as long rides on the Corbin. I really do agree that seats and butts are quite varied and what works for one person is random to what works for 100 other folks.
Moderator
Join Date: Mar 2007
Location: Fort Sask , Alberta, Canada
Posts: 3,548
I have no problem doing 300+ mile days on the stock seat. Allow yourself some break time. What works for me is sliding to different places on the seat and putting my feet up on the rear pegs.
---
My Kaw Barn - 2004 KLR, 2006 Concours (sold), 1997 Bayou 400.
"It's a friggen motorcycle, it's not supposed to be comfortable, quiet or safe. The wind noise is supposed to hurt your ears, the seat should be hard and riding it should make you shit your pants every now and then. "
<--- Please fill in the 'Location' on your personal profile page. User CP/Edit Your Details

This information makes it much easier for other members to answer/comment on your posts.
What 4Ever said too. By not having a bucket seat, one can shift about
to a variety of leg and posture positions to keep the juices circulating
down south. Highway pegs allow even more movement.
---
This is my son, with whom I am well pleased." ----God
Similar Threads
Thread
Thread Starter
Forum
Replies
Last Post
upgraded seat???

ultramaxplus1

Gadgets & Gizmos

33

03-29-2010

06:01 PM

Will 600 seat fit on 650 ?

Bethlehem

1987 to 2007 Wrenching & Mods

3

02-28-2010

11:23 PM

what seat

klr1st

2008+ KLR650 Wrenching & Mod Questions

6

05-20-2009

10:06 PM